Postgame grades: Whiteside's career night not enough as Heat fall to 76ers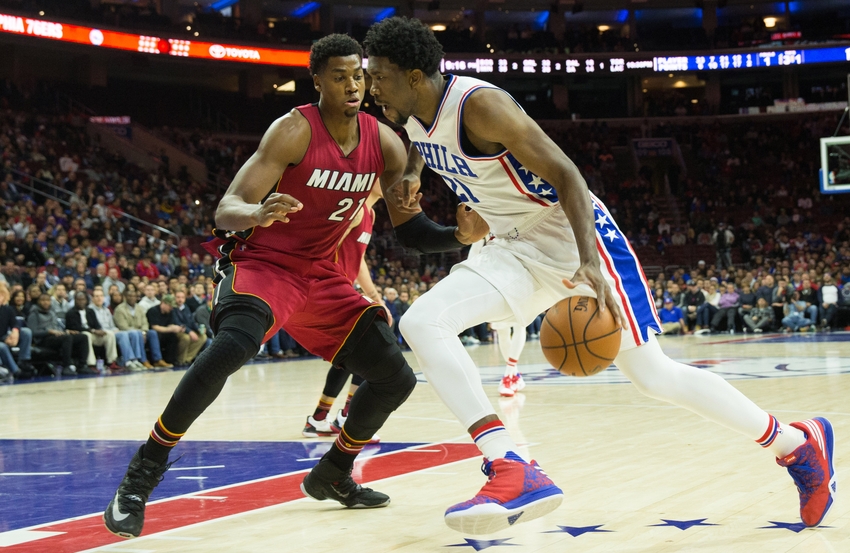 The backcourt struggled despite Hassan Whiteside scoring a career-high 32 points in the Miami Heat's loss to the Philadelphia 76ers.

94
101
Hassan Whiteside had a career-best 32 points and 13 rebounds, but it was not enough for a struggling Miami squad as the Heat dropped to an abysmal 4-9 on the season. Dion Waiters scored 19 points on 6-for-15 shooting and Goran Dragic struggled to find his mark as the Heat fell to 2-4 on the road.
Joel Embiid continued his early case for Rookie of the Year with another impressive outing, scoring 22 points and grabbing five rebounds while blocking three shots in the process. Gerald Henderson and Jahlil Okafor dropped 19 and 15 points respectively as Philadelphia moved to 4-10 through 14 games.
While the 76ers held the lead for the majority of the second half, Miami was able to claw back and tie the game at 89 with 4:43 remaining on a Whiteside tip-in. Despite the effort, Philadelphia would go on to score nine of the next 11 total points, securing a 98-91 lead with just over two minutes remaining. Embiid's pair of free throws with 2:27 left sealed the deal, and the Heat fall to a sub-.500 team for the first time this season.
Reeling from injuries and sub-par supporting cast play, its time the Heat take a look in the mirror, before the train flies off the tracks even more.
On a side note, while the "MVP" chants for Embiid were hilarious in their own right, it's about time 76ers fans have something to cheer about.
Goran
Dragic
PG,
Miami Heat
C-
Dragic's offensive inconsistencies continue to plague him as he once again struggled with his shot, finishing just 4-for-13 from the field. Dropping just 10 points and 7 assists, the former All-NBA point guard is still attempting to find his niche with this franchise. Even with a player of Dragic's talent, the clock is ticking. He has to produce consistently or its going to be a long year.
Dion
Waiters
SG,
Miami Heat
C+
After a hot start in the first quarter, Waiters found his early fire extinguished rather quickly. Finishing with 19 points and five assists in 32 minutes, Waiters played a key part in keeping Miami afloat throughout the first half and third quarter, but would eventually cool off, finishing just 6-for-15 from the floor.
Josh
RIchardson
SF,
Miami Heat
F
Simply put, Richardson's performance was pathetic tonight. For a player of his potential, 4 points on 1-for-11 shooting is simply unacceptable for a starter in the NBA. Primarily a sharpshooter, his anemic 1-for-8 mark from three point range certainly didn't aid his efforts in that category. Going forward, the Heat will need much more out of Richardson to have a chance at any real shot of securing a seventh or eighth seed.
Derrick
Williams
PF,
Miami Heat
D
In a wild rotation known as the Babbitt-Williams saga, Williams once again received the starting nod tonight, playing 18 minutes and scoring 7 points in the process. Finishing 2-for-6 from the floor, Williams accounted for nearly 15 percent of Miami's total three pointers made, and he only made one. On top of the poor shooting, he only hauled in one rebound. For a player that runs about 6'8, that could potentially turn into a problem. Needless to say, Miami needs a fix at the Power Forward position, quick.
Hassan
Whiteside
C,
Miami Heat
A
Long story short, Whiteside was magnificent on the offensive end of the floor. dropping a career-high 32 points while grabbing 13 rebounds and swatting two shots in the process. All-in-all, the Heat center is making a strong case for Most Improved Player, and at the rate he's going, it'd be awfully hard to try and argue against that logic. 17.7 points and 16.2 rebound per night numbers don't necessarily hurt his chances, either.
Tyler
Johnson
SG,
Miami Heat
F
Johnson's play tonight certainly didn't warrant the size of the check he received in the mail just the other day. In a head-scratching struggle of a performance, he scored just 3 points on 1-for-7 shooting. While he did grab 9 big rebounds, Miami didn't pay Johnson the salary he's receiving for stinkers such as this one. Maybe there's undisclosed injury issues, but there's obviously something wrong with his game right now, and it would be better to deal with it now rather than later down the road.
Rodney
McGruder
SG/SF,
Miami Heat
B-
While nothing McGruder did was "eye popping," it was certainly impressive to see an undrafted journeyman experience moderate success on the professional level. He only scored 5 points on 5 shots, his season-high seven rebounds was the most of his young career and one could argue Miami wouldn't have four victories under its belt if not for his contributions. His effort, hustle and heart more than make up for any statistical flaw.
Miami (4-9) will travel to Detroit for a Wednesday showdown with the Pistons at 7:30 PM ET.
This article originally appeared on