Postgame grades: Miami Heat starters struggle in loss to Thunder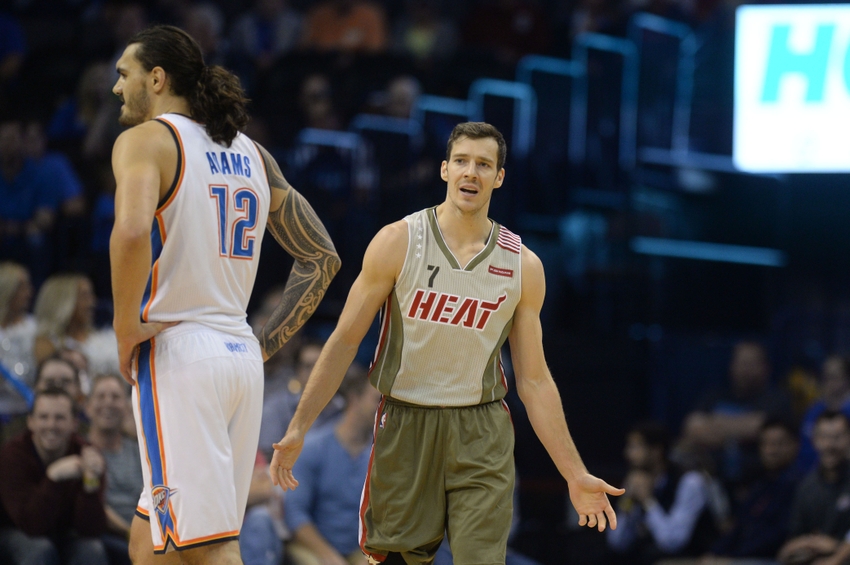 The Oklahoma City broke the game open with a 20-0 run in the third quarter to cruise to victory.
Final: Oklahoma City 97  Miami 85
The Oklahoma City exploded out of the blocks, outscoring the Miami Heat 39-28 on their way to 97-85 win. The Heat managed to recover from their slow start, and bridged the gap to 55-51 just a couple of minutes into the third term. However, the Thunder then pulled off a 20-0 run and never looked back, holding the Heat to just 14 points in the third quarter.
Enes Kanter led way for the Thunder, posting 24 points and 10 rebounds in just 20 minutes off the bench. Rookie Domantas Sabonis also impressed, hitting four triples on his way to 15 points and 10 rebounds. The team's leading scorer, Russell Westbrook, shot just 5-of-16 but still managed to contribute 14 points and 11 assists.
On a night where the team shot just 36.9 percent from the field and 23.5 percent from the three-point line, the Heat's starting five contributed just 35 points for the game. James Johnson was the standout with 18 points and six rebounds off the bench. Five Heat players scored in double figures, however the team as a whole contributed just 12 assists for the night.
Overall, it was a forgettable night for the Heat, who capped off a two-game road trip averaging just 86 points per game on 37.9 percent shooting.
Goran
Dragic
PG,
Miami Heat
C-
Dragic, like much of the team, was quite subdued throughout the game. Playing just 25 minutes, Dragic posted 11 points and four assists in what was certainly his quietest game for the season. Whilst the Thunder defence was terrific, Dragic never seems to get into the flow of the game, and hence his influence on his teammates as the point guard was fairly negligible.
Dion
Waiters
SG,
Miami Heat
F
27 minutes, two points on 1-of-9 shooting. This represented back-to-back nightmare performances for Waiters, who has clearly not backed up his impressive 20-point showing in the victory over Sacramento. If these struggles continue, Josh Richardson may certainly find himself in the starting unit before too long.
Justise
Winslow
SF,
Miami Heat
F
Winslow's poor shooting from the field continued, going 2-of-13 from the field and 0-of-2 from behind three. Over the past three games, Winslow has averaged 9.3 points per game on 21.7 percent shooting from the field. Overall for the season, he is hitting at 31 percent from the field and 15 percent from behind three. Despite his excellent defensive capabilities, these numbers are simply killing the team on offence.
Luke
Babbitt
PF,
Miami Heat
C
Babbitt was solid in his 23 minutes, posting 11 points on 4-of-8 shooting to go along with four rebounds and a steal. Although Babbitt offers the team spacing and an outside shooting threat, he is relatively limited in terms of his overall contributions.
Hassan
Whiteside
C,
Miami Heat
D
Whiteside simply looked out of sorts from the commencement of the game, and seemingly didn't improve through. For the night he posted just five points on 2-of shooting, along with 12 rebounds and two blocks. The intensity and focus Whiteside has demonstrated to commence the season simply wasn't there this game. Look for him rebound quickly as his start to the season prior to this game has been terrific.
James
Johnson
F,
Miami Heat
A
Johnson produced by far his best performance as a member of the Heat. Playing 25 minutes off the bench, Johnson produced 18 points, six rebounds, two blocks and a steal and was a team high +15 while on the floor. Johnson offered the team a different look, scoring the ball in a variety ways and demonstrating a great degree of versatility for his size. The Heat will be pleased that this represents back-to-back positive contributions for the 6-foot-9 forward.
Tyler
Johnson
G,
Miami Heat
C
Johnson was steady without making a real impact on the contest. Johnson contributed 10 points, four rebounds and two steals for the night in 27 minutes of playing time. Having scored double figures in each of the Heat's six games this season, Johnson has proven to be the most consistent option off the bench thus far.
Josh
Richardson
SG,
Miami Heat
C
Richardson's playing time increased in what was his second game back after injury. In 25 minutes Richardson recorded seven points and four rebounds, connecting on 3-of-8 from the field. Richardson still demonstrated some rust from his lengthy layoff, with his timing and execution not quite there. However, the Heat will be pleased that he is progressing and getting through these games unscathed.
Willie
Reed
C,
Miami Heat
B+
Reed displayed great energy and intensity during his time on the court, recording a +12 during his 17 minutes of action. He contributed 11 points on 4-of-4 from the field, along with four rebounds and two blocks. Following a couple of subpar games, this was an encouraging performance for the backup center.
The Heat now have a couple of days to rest and regroup before playing host to the emotional homecoming of Dwayne Wade and the Chicago Bulls on Thursday night.
More from All U Can Heat
This article originally appeared on