Postgame grades: Miami Heat come up short in Dwyane Wade's homecoming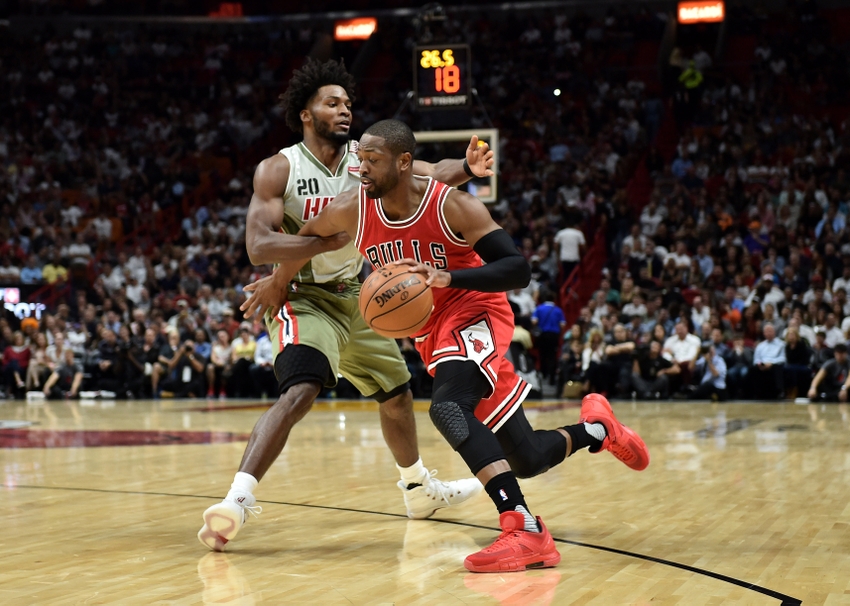 The Miami Heat lose another very winnable game at home, fall to 2-5.
Final: Chicago 98  Miami 95
Although Dwyane Wade was the main attraction for Heat fans this game, they were also desperate to see the team avert a two-game losing streak and avoid a 2-5 record to commence the season. And while Wade had a subpar game by his standards, the Chicago Bulls still managed to top the Miami Heat, 98-95. Jimmy Butler led the Bulls with 20 points and point guard Rajon Rondo contributed 16 points and 12 rebounds. The center matchup was an interesting battle, with Hassan Whiteside producing 20 points and 20 rebounds and Robin Lopez having 16 points and nine rebounds for the Bull.
After posting 53 points in the first half, the Heat struggled and shot just 36.6 percent in the second half. It didn't help that point guard Goran Dragic suffered an ankle injury with five minutes remaining in the third term and did not return. His process will be monitored moving forward. Dion Waiters added 16 points for the Heat and Josh Richardson had his most impressive performance since returning from injury, also notching 16 points.
Much like the Heat's home opener against the Charlotte Hornets, this was a very winnable game at home. There were 19 lead changes throughout the game, with the Bulls never leading by more than six points at any stage of the game. Dragic's injury was certainly a key factor, however there were multiple missed key free-throws down the stretch of the game. As a team the Heat shot 10-of-15 for 67 percent from the line. For the season, the Heat are now ranked 27th in the league from the free-throw line, converting at just 70.6 percent.
Goran
Dragic
PG,
Miami Heat
D
Dragic was unable to stamp his influence on the game prior to his injury where the Heat were trailing 66-63. In his 22 minutes, Dragic had six points, four assists and two steals but was outplayed by fellow point guard Rajon Rondo. He also had an uncharacteristic four turnovers. Overall, a forgettable night for Dragic.
Dion
Waiters
SG,
Miami Heat
B-
Waiters produced a bit of everything this game – some great drives and finishes, excellent passing, but also some needless turnovers and over forcing the action. For the night he finished with 16 points, six assists and four rebounds but shot just 6-of-15 from the field. Although it was an up-and-down night for Waiters, it was a vast improvement over his recent two-game road trip.
Hassan
Whiteside
C,
Miami Heat
B+
Whiteside's box score was very impressive – 20 points, 20 rebounds, three blocks and was 4-of-4 from the foul line. However, he did have multiple possessions during the game where he either wasn't fully attentive or was not putting in the effort required. Although his numbers were terrific, Whiteside didn't seem to have the impact of previous 20-20 outings.
Justise
Winslow
SF,
Miami Heat
A
It was a welcome return to form for Winslow, who was unquestionably the Heat's best player on the night. Winslow posted 15 points, six assists, five rebounds and four steals in 38 minutes of playing time. Most encouraging was his shooting touch, hitting 6-of-12 overall including 3-of-5 from downtown. If this is a sign of things to come, the Heat won't be far away from their next win.
Luke
Babbitt
PF,
Miami Heat
D-
Babbitt started again however was non-influential in his 16 minutes on the court. Babbitt made one three-pointer on his way to three points and very little else. After a seven game sample size, Babbitt's position in the starting lineup must be up for review very soon. Despite head coach Erik Spoelstra imploring the team to run at every opportunity, starting an un-athletic, one-dimensional player on an ongoing basis makes very little sense.
Josh
Richardson
SG,
Miami Heat
B+
In just his third game for the season, Richardson demonstrated some of the form he displayed in the latter part of his rookie season. Richardson posted 16 points on 4-of-7 from behind three in his 28 minutes on the court. With improvement coming in each game this season, it's only a matter of time before Richardson is inserted into the starting 2-guard spot.
Tyler
Johnson
G,
Miami Heat
B
Johnson continued his impressive early season form, and stepped in admirably at the point following the injury to Dragic. For the night Johnson posted 14 points, eight rebounds and four assists in 32 minutes of action. His 4-of-7 from the free-throw line was certainly not ideal, and he finished just 4-of-11 overall from the field. Still, Johnson was again a big contributor for the Heat.
The Heat will enjoy a day off before playing host to the Utah Jazz on Saturday night.
This article originally appeared on