Postgame grades: Hassan Whiteside's big night can't lift Heat over Hawks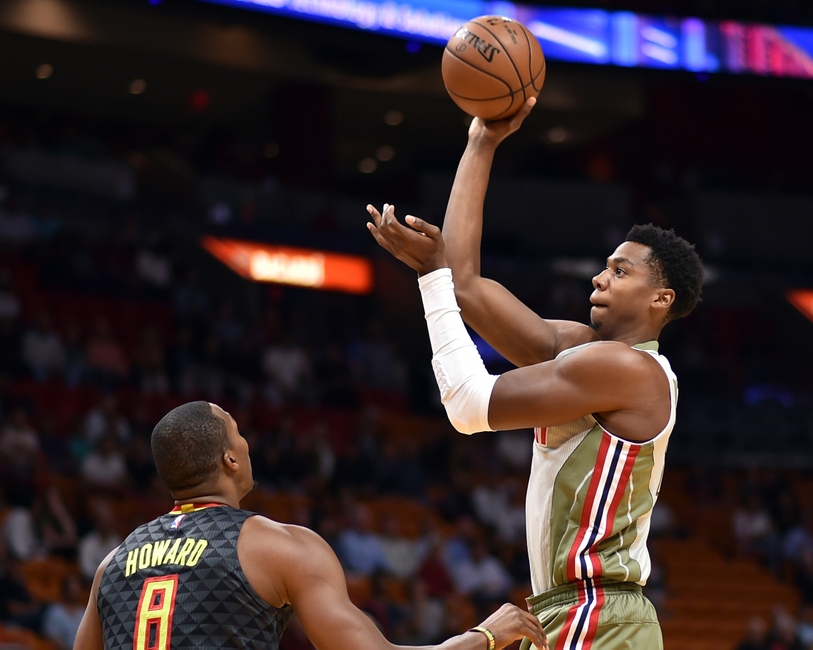 Hassan Whiteside grabbed more rebounds than any player has in a game this season, but it wasn't enough to give the Miami Heat the edge.

90

93
After struggling mightily on the road to the heavily favored Spurs just one night ago, it appears as if Miami's woes have followed them back home to South Florida. Granted, Atlanta came into this contest at 7-2 and clearly superior to the reeling Heat, who have now dropped six straight games.
Despite excellent defense yet again, Miami couldn't find a will or way to close the deal down the stretch. Should these problems continue to occur on a regular basis, it could potentially derail any shot the Heat have at securing a playoff spot come April.
For Miami, Hassan Whiteside scored 19 points and grabbed a season-high (league-high as well) 25 rebounds, but was unable to will his team to a victory in front of the home crowd. Josh Richardson bounced back from a less-than-stellar performance against San Antonio to match Whiteside with 19. Overall, five players finished in double figures for the Heat, and yet it still was not enough.
Dennis Shroder led the Hawks with 18 points and 4 assists. Paul Millsap and Tim Hardaway Jr. both scored 15 as Atlanta was held to 17 points below their scoring average, perplexing the minds of Heat fans around the globe even more.
While the Heat have been nearly unbearable to watch at times, they do have this under their belt: every loss has come to a team currently above .500, as Miami's $98 million man was sure to point out in the locker room:
"We're not losing to bad teams," Whiteside pointed out. "We're right there. It makes no sense to get down on ourselves. It's not like we're getting blown out. We're still a top-five defensive team. We're just trying to get the offense there. We're going to get it right."
Able to pull within one twice within the final half-minute of action, Miami's comeback attempt fell short after four made free throws by Shroder and Kent Bazemore.
Josh
Richardson
PG,
Miami Heat
A-
After struggling to shake off the rust early on, the young guard hailing from Tennessee lit the Hawks defense up for a season-high 19 points on 8-for-14 shooting. On top of that, he added 4 rebounds, 2 steals and 3 blocks. Mightily impressive for a player I was highly critical after Monday's loss to the Spurs. Richardson would have earned an A+ had it not been for his quiet fourth quarter.
Dion
Waiters
SG,
Miami Heat
F
After an impressive 16-point fourth quarter outburst in San Antonio Monday night, Waiters once again reminded the entire sports world just how inconsistent and unreliable he can be at times. Tonight, not only did he finish with more shots attempted(18) than points scored(11,) he shot an abysmal 28 percent from the floor and piled on 5 fouls.
Rodney
McGruder
SF,
Miami Heat
C+
McGruder proved to be an effective threat off the bench in both preseason and opening night. His effort on both ends of the floor helped keep Miami afloat at times, but against one of the better teams in the East, 8 points on 4-for-11 shooting just won't cut it. While he did grab 4 rebounds and collect a pair of steals, the 6'4, 205-pound guard just isn't ready for the physicality at the Small Forward position.
Derrick
Williams
PF,
Miami Heat
D-
It's quite clear Williams hasn't quite solved Miami's problem at the four spot just yet. Struggling offensively once again, he knocked down just 3 of his 8 attempts for 6 points and only managed record a mere one rebound. Piled up with a -15 plus/minus rating, a donut from beyond the arc(0-for-2,) as well as 3 fouls, expect to see Spoelstra to tweak the rotation quite a bit over the next few weeks.
Hassan
Whiteside
C,
Miami Heat
A-
For the second night in a row, Whiteside was once again playing his usually stat-sheet stuffing role. While he struggled shooting the ball (6-for-15 from the floor,) he pulled down a season and league-high 25 rebounds to go with 19 points. To his credit, Whiteside stepped up and knocked down 7 of his 8 free throw attempts and played big late, but once again, close…but no cigar. On another note, bad Whiteside flashed his ugly form tonight, once again visibly showing frustration early on. That's where the minus comes in to play.
Tyler
Johnson
SG,
Miami Heat
C-
While Johnson's numbers continue to warrant the salary now being paid to him, his ball security tonight certainly did not. Committing 6 on the night, he more than doubled his amount of assists, which stood at just 2. Yes, 14 points on 50 percent shooting is very respectable and Johnson did hit a timely three late in the game to help keep Miami afloat (which is the lone reason he passed,) but he committed 26 percent of the Heat's 23 turnovers, and that simply does not get it done.
James
Johnson
SF,
Miami Heat
C+
For someone who's been relatively quiet through these early games, Johnson contributed in a big way offensively, knocking down 5 of his 8 field goal attempts (3-for-5 from deep) for a respectable 13 points. While he did turn the ball over four times and commit five fouls, he managed to haul in 4 rebounds and keep Miami's physicality on the defensive end alive. Overall, a solid game for Johnson.
Miami (2-8) will remain home for a Thursday showdown with the Milwaukee Bucks at 7:30 PM ET.
This article originally appeared on