Post-Game Grades: Indiana Pacers vs Philadelphia 76ers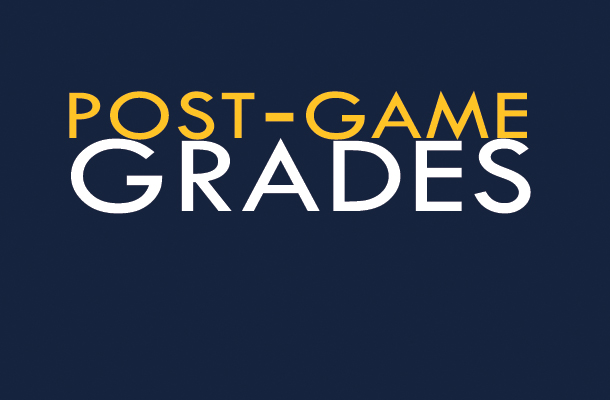 105
109
The Indiana Pacers lost their fifth game of the season while giving the Philadelphia 76ers their first win.
The Good: The Indiana Pacers fought, like they always do. Fighting and getting 14 steals is good, but getting outrebounded 54-40 isn't.
Unfortunately, it didn't end the way they wanted. Nothing else good in this one.
The Bad: The Pacers are now the first team to lose to the Philadelphia this season. The game went to overtime (again) and will now have to battle tired legs with a game tomorrow night against Boston.
MVP: Joel Embiid. Shot poorly (6-18), but was the go-to guy down the stretch for the Sixers and willed them to their first victory of the season.
LVP: Myles Turner. Early foul trouble was the beginning of a rough night for Myles Turner. He struggled to be effective and had just 2 points through 4 quarters. Hit a big three in overtime, but soon after fouled out of the game.
X-Factor: Ersan Ilyasova. Played like a veteran and really was the catalyst for a late Sixers run after making a four-point play. He finished with 14 points and 11 rebounds.
Paul
George
Small Forward,
Indiana Pacers
B
Sprained his thumb during the first half, but returned to the game. Finished with a team high 26 points on 9-20 shooting. Added 9 rebounds and 4 assists.
Monta
Ellis
Shooting Guard,
Indiana Pacers
B
Took his demotion to the bench like a true professional. Responded well in the role, scoring 19 points with 6 rebounds and 5 assists. Made some big defensive plays down the stretch, too, but it wasn't enough.
Jeff
Teague
Point Guard,
Indiana Pacers
C+
Played an efficient game, shooting 5-10 from the field for 13 points. Turned it over 4 times, but controlled the game at times with his speed.
Myles
Turner
Center,
Indiana Pacers
C-
Played 20 foul-plagued minutes. Struggled to find some rhythm. Only scored 5 points, but hit a big three-pointer in overtime. Added 5 rebounds and 1 block.
Thaddeus
Young
Power Forward,
Indiana Pacers
C+
Was reliable in his 7 shot-attempts, scoring 11 points. Knocked down a three-pointer. Grabbed 9 rebounds, but some of the loose balls just didn't go his way.
C.J.
Miles
Shooting Guard,
Indiana Pacers
C
Made his first start of the season with Monta Ellis going to the bench. Scored 13 points on 4-9 shooting, but was lost at times on defense. It was a solid night for C.J. Only starter with a positive plus-minus rating (+9).
Al
Jefferson
Center,
Indiana Pacers
C
Scored 10 points off the bench with 3 rebounds in 22 minutes, but had his struggles on the defensive end containing the Sixers' big men.
Lavoy
Allen
Power Forward,
Indiana Pacers
C
Had to guard Joel Embiid down the stretch, but got overpowered at times. Lead the Pacers in terms of plus-minus, posting a +14.
Aaron
Brooks
Point Guard,
Indiana Pacers
D
Struggled to contribute to the team. Didn't record any assists in 18 minutes, and only scored 2 points.
Kevin
Seraphin
Center,
Indiana Pacers
C
Came in due to foul trouble for Myles Turner and Al Jefferson. Played some really impressive defense on Joel Embiid, and made a couple strong finishes around the rim. Picked up 4 quick fouls, but had 4 points in 7 minutes.
More from 8 Points, 9 Seconds
This article originally appeared on