Post-Game Grades: Indiana Pacers vs Oklahoma City Thunder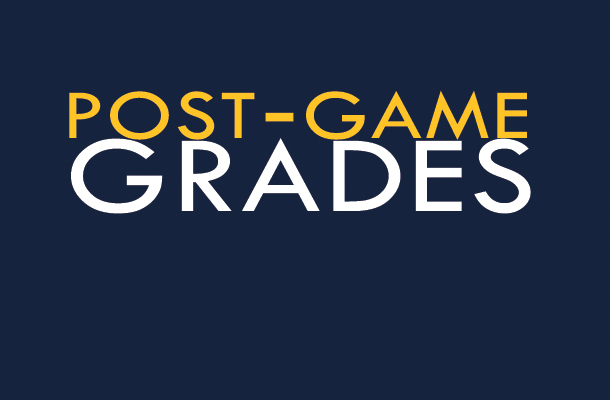 115

111
The Indiana Pacers got their first road win of the season after battling it out with the Thunder in overtime.
The Good: The Indiana Pacers are officially in the win column in road games. They played with amazing heart and energy in this overtime win over the Oklahoma City Thunder. Despite being undermanned, the Pacers scored a lot of points and had a ton of balance for once.
The Bad: Myles Turner appeared to hurt his ankle late in the game. Depending on how he feels by tomorrow, his status for tomorrow's game against the Golden State Warriors could be in jeopardy. The good news is that he played through it to help the Pacers close out the Thunder.
MVP: Jeff Teague. Teague was unbelievable on both ends. He filled the stat sheet with 30 points, 5 rebounds, 9 assists and 6 steals. His defense on Russell Westbrook was very impressive. By the way, Teague did all of this while feeling under the weather.
LVP: Steven Adams. Adams couldn't get it going tonight. He only scored 8 points in 32 minutes, and the Thunder were a -15 when he was on the court. Adams also turned the ball over 4 times tonight. He's typically an All-Star caliber player for OKC.
X-Factor: Aaron Brooks. Brooks only played 12 minutes, but those 12 minutes were absolutely crucial. He knocked down tough, timely shots. When OKC was making a run, Brooks was able to bail out the Pacers with his scoring.
Monta
Ellis
Shooting Guard,
Indiana Pacers
B
Monta turned the ball over 8 times tonight, but his unselfishness was key for the Pacers. He handed out 7 assists, and shot an efficient 5-10 from the field with one three-pointer for 12 points.
Jeff
Teague
Point Guard,
Indiana Pacers
A+
Teague balled out and played pretty solid defense on Russell Westbrook in the process. He finished with a massive line of 30 points, 5 rebounds, 9 assists and 6 steals. He also shot 9-16 from the field (56.2%). He did all this despite feeling under the weather.
Myles
Turner
Center,
Indiana Pacers
B+
Myles shot just 2-8 from the field tonight, but he got to the free-throw line a ton tonight. He connected on 11-12 of his free-throw attempts. He also made some clutch plays. He added 9 rebounds and 2 blocks to go with his 15 points.
Thaddeus
Young
Power Forward,
Indiana Pacers
A
Thad was aggressive right out of the gate and had a really solid night for the Pacers. He made some timely buckets down the stretch and also got 50/50 balls for the Pacers. He finished with a double-double of 20 points and 11 rebounds. He also made 2 three-pointers on 5 attempts.
Rodney
Stuckey
Point Guard,
Indiana Pacers
C+
Stuckey attacked, per usual. He shot 3-9 from the field, but his fearlessness was nice to see. He only made 1 of his 4 free-throw attempts, but he should knock them down at a better rate than that in the future. He scored 8 points off the bench
Al
Jefferson
Center,
Indiana Pacers
D+
Big Al struggled again. He made his first shot of the night, which was encouraging, but missed the rest of his 5 field goal attempts. He also picked up 4 fouls in just 14 minutes of action. He's just not in rhythm right now and his playing time has been taking a hit.
Lavoy
Allen
Power Forward,
Indiana Pacers
B-
His statline doesn't particularly show it, but Lavoy Allen had a big impact on this game. He was good on the defensive end and also saved possessions for the Pacers by scrapping to get the ball. He finished with 2 points and 3 rebounds off the bench.
Aaron
Brooks
Point Guard,
Indiana Pacers
B+
12 minutes was all Brooks was able to see, but he made the most of it. He made huge shots for the Pacers tonight and scored 10 points. Timely buckets.
Glenn
Robinson III
Small Forward,
Indiana Pacers
A
III played a career-high 44 minutes tonight. The Pacers needed him, and he delivered. He recorded the first double-double of his young career, posting 16 points and 11 rebounds. His energy was crucial for the Pacers tonight. Jeff Teague made sure he gave Glenn some shine during his post-game interview.
More from 8 Points, 9 Seconds
This article originally appeared on