Post-Game Grades: Indiana Pacers Survive Scare From Philadelphia 76ers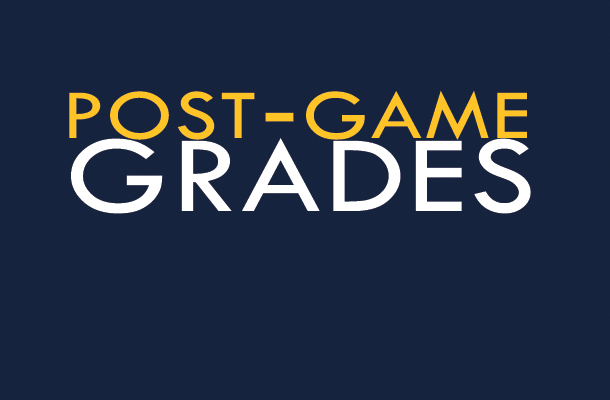 122
115
The Indiana Pacers overcome late deficit & their own mediocrity to avoid embarrassing home loss.
The Good: Is there any good that comes from going to overtime against a winless team with the worst offense in the league playing without their best player? Not much. The Pacers put one in the win column instead of the loss column. That's the only good that comes from this game.
The Bad: The defense. It's bad. It's really, really bad and it doesn't appear like it's going to get better anytime soon. The Pacers allowed the worst offense in the league score 109 points through regulation. Alleged basketball players named Hollis Thompson and TJ McConnell were granted free access into the lane repeatedly, leading to easy baskets and open looks from the perimeter. The Sixers shot 48% from the field and hit 14 three-pointers.
MVP: Welcome to the 2016-17 season, Jeff Teague. 30 points, nine assists, and only one turnover. That'll work.
LVP: Monta Ellis was all kinds of awful throughout the game. His off ball defense is bad more times than not, as evidenced by losing Gerald Henderson on a 3-pointer with under 10 seconds left, but the six turnovers only exacerbated his bad night.
X-Factor: Paul George. The superstar arrived in time to save the Pacers with a game-tying shot with 3.9 seconds left in regulation. 28 and 8 with clutch buckets. The blue & gold will take that every night.
Paul
George
Small Forward,
Indiana Pacers
B+
Early foul trouble & lazy defense overshadowed an 11-point 1st quarter. He made up for it with 13 points in the 4th quarter & overtime. His offense sealed the game.
Monta
Ellis
Shooting Guard,
Indiana Pacers
D
You can't have sub-par defense that nearly loses the game AND six turnovers. You got to pick a struggle.
Jeff
Teague
Point Guard,
Indiana Pacers
A-
This is the point guard Pacers fans thought they were getting when the trade was made. He overcame a bad start by getting back to what he does, getting into the lane & wreaking havoc on opposing defenses with his own scoring or setting up teammates. Easily the best he has looked this year.
Myles
Turner
Center,
Indiana Pacers
B-
A solid 15 & 9 for the 20-year old, but he did struggle defending Jahlil Okafor on the block. Next up, Joel Embiid. Good luck, young fella.
Thaddeus
Young
Power Forward,
Indiana Pacers
C
Played a lot of minutes. Did a few Thad things, but not nearly enough.
C.J.
Miles
Shooting Guard,
Indiana Pacers
B
Continued his hot shooting (3 of 4 from 3-pt range) and was a +18 off the bench. Another solid performance.
Al
Jefferson
Center,
Indiana Pacers
B+
His best game as a Pacer. Scored 10 of his 18 points in 3rd quarter while the offense wen through him while Turner was in foul trouble.
Lavoy
Allen
Power Forward,
Indiana Pacers
C
Did Lavoy stuff, wasn't actively harmful. Nothing to see here.
Aaron
Brooks
Point Guard,
Indiana Pacers
B
Five assists, no turnovers in 12 minutes. Couldn't ask much more from a backup point guard.
Glenn
Robinson III
Small Forward,
Indiana Pacers
C
Hit a 3-pointer, but got owned on the block a few times by Gerald Henderson's veteran savvy.
More from 8 Points, 9 Seconds
This article originally appeared on