Post-Game Grades: Indiana Pacers Play Defense, Beat Orlando Magic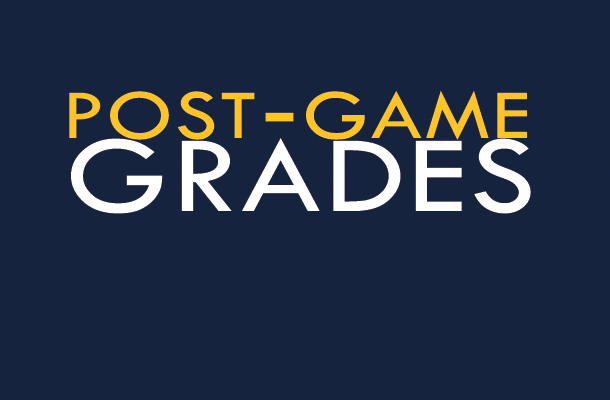 88

69
The Indiana Pacers had their best defensive outing of the season, beating their old coach Frank Vogel and his Orlando Magic.
The Good: The Pacers played a very together game. They easily had their best defensive game of the season, holding the Magic to just 69 points. The last time that happened was when Frank Vogel was coaching the team back in 2014.
Despite the low score, five different players were in double-figures tonight for the Indiana Pacers.
The Bad: The Pacers' offense wasn't like it has been this season, finishing with just 88 points. They played a majority of the game in half-court sets, like we've seen from Frank Vogel's old Pacers teams. The defense definitely made up for it, though.
MVP: Paul George. Paul struggled with his shot, shooting just 5-16 from the field, but he impacted the game in a bunch of other areas. He played great defense, and also finished with 6 rebounds, 5 assists, and 2 steals.
LVP: Jeff Green. Jeff Green started for the Orlando Magic, but was nearly invisible all night long. He finished with just 3 points on 1-4 shooting in 22 minutes. He didn't do his team any favors on the defensive end, either.
X-Factor: Kevin Seraphin. The Magic were still hanging around until Kevin Seraphin made some serious hustle plays to help put the game away for the Pacers. He finished with 6 points, 10 rebounds, 3 assists, a block, and a steal.
Paul
George
Small Forward,
Indiana Pacers
B
Shot wasn't falling (5-16 shooting), but contributed all across the board for the Pacers. Recorded 6 rebounds, 5 assists and 2 steals to go with his 13 points.
Monta
Ellis
Shooting Guard,
Indiana Pacers
B
Three-point shot wasn't falling for Monta, but he did what he had to do with his limited shot opportunities. Scored 13 points on 6-11 shooting. Also did a great job defending Orlando's top scorer, Evan Fournier, holding him to 14 points on just 4-15 shooting.
Jeff
Teague
Point Guard,
Indiana Pacers
B
Only got 9 shots up (hitting 4 of them), but like Paul George, still impacted the game in other areas. Teague had 8 rebounds, 5 assists and 3 blocks. He also did a good job of pushing the pace when needed.
Myles
Turner
Center,
Indiana Pacers
C
Wasn't the best night for the 20-year-old. Shot just 4-11 from the field, recording 9 points with 7 rebounds. He, unusually, didn't block any shots. He stayed active, though.
Thaddeus
Young
Power Forward,
Indiana Pacers
B-
Thad played how he always plays. Didn't demand the ball, but scored 11 points on 8 shots. He knocked down his lone three-pointer, and displayed a soft touch around the rim. Also kept possessions alive for the Pacers.
C.J.
Miles
Shooting Guard,
Indiana Pacers
B+
Shot 5-12 from the field and 4-8 from the three-point line, totaling 16 points off Indiana's bench. He was very active and made some impressive defensive plays, too. He added 2 steals and 2 blocks.
Al
Jefferson
Center,
Indiana Pacers
F
Really a bad match-up for Big Al going up against Orlando's backup five in Bismack Biyombo. Played just 5 minutes and went scoreless. Kevin Seraphin took most of his playing time tonight.
Lavoy
Allen
Power Forward,
Indiana Pacers
C
Was his usual self. Not filling up the box score, but made winning plays and kept possessions alive for the Pacers. Finished with 2 points and 3 rebounds in 15 minutes.
Aaron
Brooks
Point Guard,
Indiana Pacers
C+
Brooks' shot wasn't falling tonight (2-9 from the field) but he kept shooting with confidence and made plays. Finished with 7 points and 4 assists in 17 minutes. Also finished with a plus-minus of +15. Despite the poor shooting, Indiana should be happy with the production from the backup point guard tonight.
Kevin
Seraphin
Center,
Indiana Pacers
A
Was the absolute difference maker for the Pacers tonight. Brought a ton of energy off the bench and made winning plays. Played 19 minutes, finishing with 6 points, 10 rebounds, 3 assists and 1 block.
More from 8 Points, 9 Seconds
This article originally appeared on