Post-Game Grades: Indiana Pacers Pick Up Win Over LeBron-Less Cleveland Cavaliers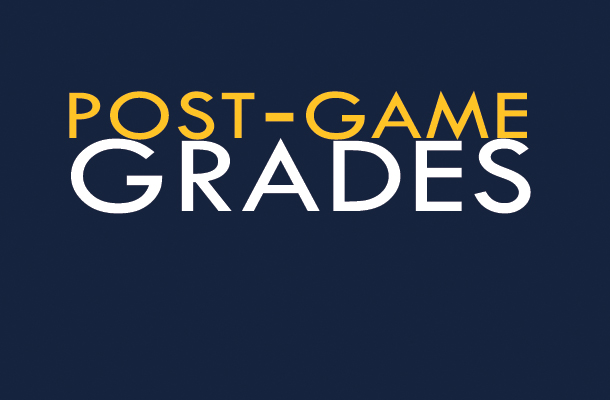 103
93
No LeBron James or J.R. Smith, but the Indiana Pacers put together a solid game at Bankers Life Fieldhouse and picked up the win.
The Good: While LeBron James took the night off — as well as J.R. Smith — the Cleveland Cavaliers are a deep team that still had Kevin Love and Kyrie Irving on the floor. With that in mind, picking up a win against the Cavaliers in these circumstances is still impressive. It doesn't have the luster of a full-squad win, but considering the Indiana Pacers' struggles this season, getting the win tonight was important.
The defense showed up for a second straight game, holding Cleveland to 40.7% shooting from the field and 36.7% from deep.
Perhaps it isn't foolish to be optimistic about this team.
The Bad: If you bought tickets hoping to see LeBron James, you probably weren't happy that LBJ sat out.
MVP: He didn't have to contain LeBron James tonight but that allowed him to put his energies elsewhere. The Pacers were always maintaining and building a lead with him on the floor and for what it is worth, he finished the night with a +/- of +24.
Surprisingly, this was his first double-double performance of the season as he ended the night with 21 points, 11 rebounds, and 5 assists. PG had two near-misses with 9 rebounds earlier this season and he's averaging 21 points and 6.6 rebounds a game.
X-Factor: Jeff Teague's 20 points and 8 assists kept the Pacers humming along smoothly. Teague shot 7 of 12 from the floor and 2 of 4 from 3-point range while keeping his assists down to only two. After a slow start to the season, Teague is looking like the player Indiana hoped they traded for when they send George Hill packing this offseason.
Paul
George
Small Forward,
Indiana Pacers
A
Grabs his first double-double of the season with 21 points and 11 rebounds.
Jeff
Teague
Point Guard,
Indiana Pacers
A
Over the past five games, Jeff Teague is averaging 18.8 points and 6 assists His shooting is much improved from the beginning of the season as he's shooting 48.4% from the field over the last five games, as well as 33.3% from beyond the arc.
Myles
Turner
Center,
Indiana Pacers
B+
A solid showing from Turner with 12 points, 8 rebounds, and 4 blocks. He's only 20 but he has gotten verticality down so far and is swatting 2.4 shots a game this season.
Thaddeus
Young
Power Forward,
Indiana Pacers
A-
A little bit of a bounce-back game for Thaddeus Young after some mediocre nights. 16 points and 7 rebounds while shooting 7 of 14 from the field, including 1 of 1 from 3-point range.
Monta
Ellis
Shooting Guard,
Indiana Pacers
B
Monta Ellis had 5 blocks (?!) while also picking up 6 rebounds, 4 assists, and a steal. A well-rounded (if unexpected) stat line.
C.J.
Miles
Shooting Guard,
Indiana Pacers
B
A little below-average for C.J. Miles' standards this season as he had 10 points on 4 of 7 shooting, including 2 of 5 from deep. He's averaging 14.4 points a game this season, so we can accept a little drop off for Miles.
Aaron
Brooks
Point Guard,
Indiana Pacers
B
Aaron Brooks had 9 points and 2 assists, but also deserves credit for making a few tough shots when the Cavaliers were fighting to get back in the game. He shot 4 of 7 on the night and was 1 of 4 from deep.
Al
Jefferson
Center,
Indiana Pacers
C+
None of the backup bigs played much, and Big Al only had 2 points and a rebound to show for his 7 minutes of work.
Lavoy
Allen
Power Forward,
Indiana Pacers
B-
Lavoy Allen had the team's fourth best +/- at +7, a reminder that while he only had 2 points, 2 rebounds, and an assist in his 9 minutes of work, he usually makes a positive impact.
Kevin
Seraphin
Center,
Indiana Pacers
C+
Kevin Seraphin only played 8 minutes after his productive outing last time out, but managed to get 4 points off 2 of 3 shooting, and one monster block of Jordan McCrae. The only knock is the defense struggled while he was out there, for what that's worth.
More from 8 Points, 9 Seconds
This article originally appeared on