Post-Game Grades: Indiana Pacers' C-Squad Suffers Massive Blowout to Warriors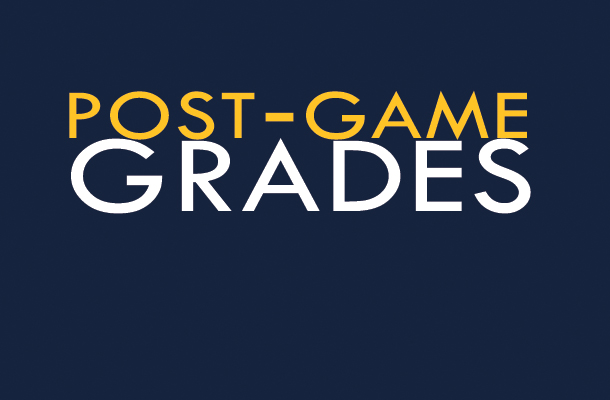 120

83
The severely short-handed and exhausted Indiana Pacers hit an enormous wall against the Warriors new dream team.
The Good: The defense held Golden State under 125 points. Hopefully Paul George, Myles Turner and CJ Miles all got a little healthier by taking the night off and can return to action as soon as Wednesday vs. Atlanta. We can also hope they were taking notes on how to thoroughly dominate an NBA basketball game from beginning to end.
The Bad: The Pacers took 103 shots. The Pacers made 33 of those shots. Not entirely sure the Pacers could have defeated the 76ers tonight, let alone a team as stacked with talent as Golden State. This one got ugly early with Klay Thompson and Steph Curry putting on a clinic while showing all in attendance the power of exceptional ball movement. The Pacers scored a season-low 83 points, a deadly combination of tired legs from playing in overtime last night in Oklahoma City and a swarming Warriors defense.
MVP: Most of the potential MVP candidates were in suits tonight for the Pacers, but it was nice to see Rodney Stuckey score in double figures for the first time this year and begin to look like a serious threat off the bench. The MVP moment ultimately goes to Steph Curry's 3/4 court, double-clutch shot at the end of the first half that didn't count.
LVP: Any Pacer fan who previously bought tickets to this game before the injuries hit in the hopes they would see a competitive game against a highly entertaining opponent.
X-Factor: Injuries. Kevin Durant. Injuries. Free Throw Disparity. Back-to-back games. Injuries. Championship-caliber opponents.
Monta
Ellis
Shooting Guard,
Indiana Pacers
D-
Led the team in turnovers again with 4. This is a recording. Allowed Klay Thompson to go off as usual.
Jeff
Teague
Point Guard,
Indiana Pacers
C
Stayed aggressive throughout the game by attacking the basket before tweaking his ankle and leaving early in the 2nd half. Good news from Coach Nate though as he indicated Teague could have gone back in if he was needed.
Thaddeus
Young
Power Forward,
Indiana Pacers
B-
Hit a couple of 3's, hustled for loose balls and looked like the only Pacer who had any semblance of energy.
Al
Jefferson
Center,
Indiana Pacers
D-
Al got his first start as a Pacer with Myles Turner out due to his ankle injury and he did next to nothing (4 points, 6 rebounds and 2 assists). A huge liability with Golden State's run and gun offense.
Glenn
Robinson III
Small Forward,
Indiana Pacers
D+
GR3 just couldn't replicate last night's exceptional play and was harassed all night. Hit just 21% from the field on 3-14 shooting.
Rodney
Stuckey
Point Guard,
Indiana Pacers
A-
21 points and looked as comfortable from mid-range as he ever has this season. A small beacon of light in a black hole of a game.
Lavoy
Allen
Power Forward,
Indiana Pacers
F
Shot 0-5 from the field and none of them seemed all that close. Not sure he'd get off the bench in a matchup like this if the team was fully healthy.
Aaron
Brooks
Point Guard,
Indiana Pacers
C+
Stayed active with 9 points and 3 assists. Looked very out of place against the Warriors' much bigger backup guards.
Joe
Young
Point Guard,
Indiana Pacers
D-
Also managed to miss all 5 of his shots in his 8 minutes of play during garbage time. Show us something Joe, anything.
Georges
Niang
Guard-Forward,
Indiana Pacers
F
Continues the trend of terrible shooting (0-6) and just doesn't look like an NBA player right now.
Rakeem
Christmas
PF,
Indiana Pacers
C-
The Mad Ant MVP saw his first game action this season and was obnoxiously compared to Dale Davis at one point during the telecast.
Kevin
Seraphin
Center,
Indiana Pacers
B
Returned to the lineup after missing the OKC game with a sore left knee. He continues to look strong on the glass grabbing 14 rebounds.
More from 8 Points, 9 Seconds
This article originally appeared on