Post-Game Grades: Charlotte Hornets Sting Indiana Pacers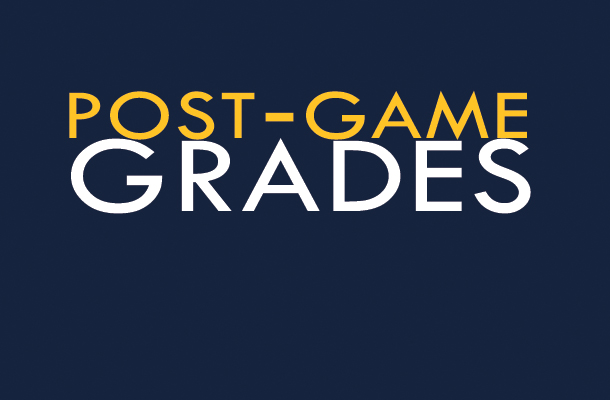 100

122
The bad version of the Indiana Pacers returned in a blowout loss to the Charlotte Hornets.
The Good: The Pacers never rolled over. They tried to fight back, which you like to see considering how ugly the game went. They closed the gap to as little as seven before the Hornets took control again. Al Jefferson had his best game as a Pacer with 12 points and 9 rebounds. C.J. Miles continued his strong play with 23 points on 8 of 15 shooting.
Not much else positive for Indiana.
The Bad: Everything defensively. The Pacers were horrid on defense tonight, allowing 43 points at the end of the first quarter and 122 overall. The Pacers also turned the ball over way too much, posting 18 turnovers.
MVP: Kemba Walker. Walker made it look easy and had another huge night for the Hornets. 24 points on 11 shot attempts in 25 minutes. We've seen this before.
LVP: Thaddeus Young. It was a very rough night for Thad. He didn't score — he missed his four attempts — and played just 16 minutes, which was the lowest among starters.
X-Factor: Cody Zeller. Zeller was good in the pick and roll and was dependable for Charlotte. He scored 13 points and grabbed 5 rebounds. Got a lot of easy ones around the rim.
Paul
George
Small Forward,
Indiana Pacers
C-
Shot wasn't falling tonight (4-12 from the field, 1-6 from deep), but did a good job distributing the ball, posting 7 assists. He also grabbed 6 rebounds but turned the ball over 5 times.
Monta
Ellis
Shooting Guard,
Indiana Pacers
D
Was doomed from the beginning. Had a hard time guarding Michael Kidd-Gilchrist, who got them off to a great start. Picked up 5 fouls in 17 minutes.
Jeff
Teague
Point Guard,
Indiana Pacers
D
Made some very bad plays and had some inexcusable turnovers. Scored 9 points on 3-8 shooting with 6 assists. Turned it over 4 times.
Myles
Turner
Center,
Indiana Pacers
C
Was effective in 20 minutes of play. Posted 12 points on 5-8 shooting with 5 rebounds and blocked a few shots. Missed both of his three-point attempts.
Thaddeus
Young
Power Forward,
Indiana Pacers
D-
Failed to score (0-4) and struggled from the very beginning. Just a rough, rough outing for him.
C.J.
Miles
Shooting Guard,
Indiana Pacers
B+
Continued to play really well and shoot the ball with confidence. Also showed his improved finishing ability and has stayed consistent with putting the ball on the floor and not settling. Has shot at least 40% from three in all seven games this season for the Pacers.
Al
Jefferson
Center,
Indiana Pacers
C+
Had his best game as a Pacer. Scored 12 points on 6-11 shooting and grabbed 9 rebounds in his return to Charlotte. Looked good.
Lavoy
Allen
Power Forward,
Indiana Pacers
C+
It was a tough match up against stretch bigs, but did his job. Grabbed 7 rebounds off the bench and was one of the only Pacers to post a positive plus-minus.
Aaron
Brooks
Point Guard,
Indiana Pacers
D
Got in foul trouble again and was visibly frustrated tonight. Had 7 assists, but shot just 1-7 from the field.
Joe
Young
Point Guard,
Indiana Pacers
C
Got some run in garbage time and with Aaron Brooks in foul trouble. Played with effort and wanted to make a statement. Scored 9 points in 15 minutes.
Glenn
Robinson III
Small Forward,
Indiana Pacers
C-
Got some time and scored 8 points. Made some aggressive plays and knocked down one three-pointer.
More from 8 Points, 9 Seconds
This article originally appeared on