Possible draft options to fill the Cavs' biggest needs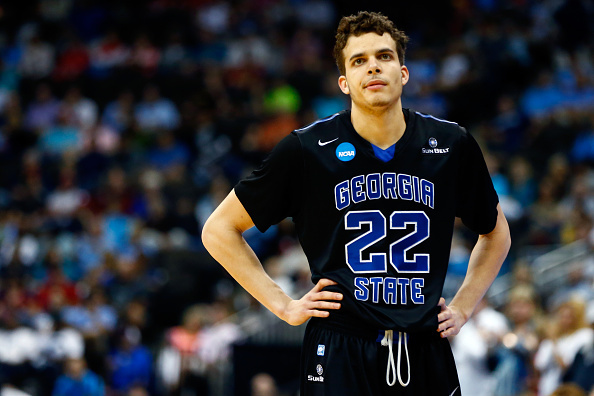 by Joe Gilbert
The Cleveland Cavaliers played valiantly throughout the 2015 NBA playoffs, coming within two games of winning a NBA championship. This run came with Kevin Love and Kyrie Irving either diminished or completely unavailable. The dwindling depth of the Cavs caught up to them in the NBA Finals against the Golden State Warriors. That series will be a basis for what the Cavs front office will look to add this offseason.
With the 2015 NBA Draft on Thursday, I will take a look at some of the possible options at No. 24 who can help fill some of the biggest needs for the Cavaliers. In my opinion, the Cavs biggest needs are: an outside shooting threat, a wing defender, an offensive post player, and playmaking/scoring guard. Here are some of the possible prospects in the 2015 NBA Draft who could fill one of these roles for the Cavaliers.
Outside Shooting Threats
G R.J. Hunter, Georgia State
R.J. Hunter of Georgia State is long distance marksman who can help stretch the floor for his team. As a junior last season, he averaged 19.7 points per game on 39.5 percent shooting from the field and 30.5 percent shooting from three. He has the ability to shoot off the bounce and in catch and shoot situations. He has solid mechanics as a shooter and good size to get off his shot at 6-foot-6.
Hunter would fit nicely with the Cavaliers, giving the team a player who can drain outside shots off the bench. In college, he was asked to be the main scoring threat, resulting in higher usage and more shot attempts, which caused his shooting percentage to be lower than his ability would dictate. In the NBA, especially with the Cavs, he would be asked to come off the bench to give his team scoring and an outside shooting threat.
G Rashad Vaughn, UNLV
Rashad Vaughn of UNLV is a player with deep range and overall good scoring ability. In his only college season last year, he averaged 17.8 points on 43.9 percent shooting from the field and 38.3 percent shooting from behind the arc. He is very good at catching and shooting from outside. His size (6-foot-5) and high shooting release helps him get off his shots over defenders. He gets into good position to get set quickly and take the shot.
Vaughn would be a very good player to play alongside LeBron James. He would help stretch the floor and give James someone to pass to on the outside to knock down shots. Vaughn also has the ability to score off the dribble to keep defenders honest and not get too tight on him. His scoring ability could be something that really interests the Cavaliers on draft night.
Wing Defenders
G Delon Wright, Utah
Delon Wright of Utah has great size for a guard at 6-foot-5 and a wingspan of 6-foot-7. His strongest skill is his defensive ability, using his length to frustrate his man. As a senior last season, he averaged 2.1 steals and 1.0 blocks per game. To go along with his length, Wright possesses very good quickness to slide with and stay in front of his man. He also gets steals off the ball with his anticipation and high basketball IQ.
Wright would add a versatile guard defender to the Cavaliers. He can guard both the point and shooting guard positions because of his quickness and length. He is not just a defensive player, however. Wright can score the ball in multiple different ways and can be a playmaker for his teammates. He averaged 15 points on 53.5 percent shooting in two seasons with Utah,1 but his best strength coming into the NBA will be his defensive ability.
G/F Justin Anderson, Virginia
Justin Anderson of Virginia could be one of the best overall defenders in the entire 2015 NBA Draft. As a junior last season, he averaged 12.2 points, 4.0 rebounds, 0.7 steals and 0.5 blocks per game. Anderson is a very good athlete at 6-foot-6, 231-pounds with a wingspan of 6-foot-11. His length and athleticism gives him the ability to guard multiple positions very well. He can stay in front of smaller defenders because of his quickness and also defend against bigger players using his length and physique.
Anderson would give the Cavaliers a versatile defender who could help the coaches deal with different kinds of lineups they may face. Along with his defense, he can also provide solid shooting ability, shooting 46.6 percent from the field and 45.2 percent from three last season. But, Anderson's best asset is his defense, which should help him gain minutes quickly in the NBA.
Offensive Post Players
F Bobby Portis, Arkansas
Bobby Portis of Arkansas has very good offensive ability, and he could be taken too early for the Cavs to grab him at No. 24. As a sophomore last season, he averaged 17.5 points, 8.9 rebounds and 1.4 blocks a game. He shot well last season, shooting 53.6 percent from the field. His offensive game is very versatile, scoring through jumpers, drives and face-ups in the post. His shot is not a work of art, but he makes it consistently with range as far back as the three-point line.
Portis would give the Cavaliers much needed offense from their big men group. He can handle the ball very well for big man (he's listed at 6-11/246), allowing him to be dangerous off the dribble or facing up in the post. His scoring ability is very difficult to defend because of his size and versatility. His addition to the Cavs would add much needed scoring from a bench big man.
F Chris McCullough, Syracuse
Chris McCullough of Syracuse is a player with a lot of upside on the offensive side of the ball. In his only college season last year, he averaged 9.3 points, 6.9 rebounds and 2.1 blocks per game. He shot the ball from the field at a 47.8 percent clip last season. His potential offensive game is a versatile one with many different ways to score. He has a good basis of a shot with the ability to make shots from the midrange, and he could possibly develop into a three-point shooter.
The Cavaliers could pick McCullough and let him develop over time. McCullough has the athleticism and skill to drive to the basket. His driving ability and shooting makes up his strong face-up game that is tough to guard against because of his versatility. He has the potential to be a good offensive player if he can get stronger and refine his skills more.
Playmaking/Scoring Guards
G Tyus Jones, Duke
Tyus Jones of Duke has great playmaking ability at the point guard position. The 6-foot-1 guard averaged 11.8 points, 5.6 assists, 3.5 rebounds, and 1.5 steals per game in his only season at Duke. Jones is a very smart player with excellent court vision to find his teammates. He looks to get easy opportunities for his teammates or himself in transition. His ball security makes him a coach's dream, limiting mistakes or turnovers as the floor general.
Jones would fit in nicely as a playmaking point guard off the bench for the Cavaliers. Along with his excellent playmaking ability is his solid shooting ability. He can shoot off the dribble or drive to the basket and tough shots in traffic. He is a very versatile offensive player with his ability to pass and score the ball.
G Terry Rozier, Louisville
Terry Rozier of Louisville is a local kid (he attended Shaker Heights High School) and a player who could help shoulder some of the scoring responsibility. As a sophomore at Louisville last season, Rozier played 35 minutes a game, averaging 17.1 points on 41.1 percent shooting from the field and 30.6 percent shooting from three. He also averaged 5.6 rebounds and 3.0 assists a game. He is an aggressive player with the ability to shoot and take it to the basket.
Rozier could add a scoring threat off the bench for the Cavaliers. His aggressive play helps his team gets into transition and score easy buckets on the fast break. His shot selection is one of his weaker areas, as seen in his lower shooting percentages during his sophomore campaign. Rozier would be a good option to fill the playmaking/scoring guard role for the Cavs.
Wright played two seasons at City College of San Francisco before transferring to Utah.
More from Waiting For Next Year: