Positive pieces of Timberwolves' rocky start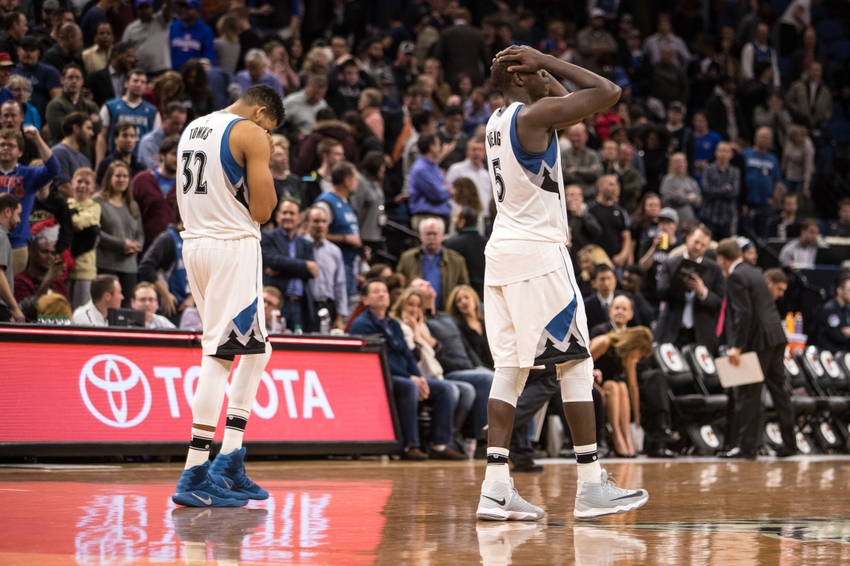 Overall, the Timberwolves have not been lived up to the hype given to the young roster through the first 20 games.
Despite the slow start, however, there is light at the end of the tunnel.
November was a rough month for the Timberwolves; 20 games into this season and the Wolves only have six wins. While everyone is going crazy trying to figure out why the Wolves aren't doing better, let's look at the positives this season.
Last season, Andrew Wiggins averaged 20.7 points per game. He also shot an average of 2.3 threes per game, only connecting on 30 percent of them. This season he's been scoring 22.8 points per game while shooting four threes per game at 39.2 percent.
There were plenty of critics that said Wiggins didn't have a jump shot reliable enough to be successful in the league, but 39.2 percent on four attempts per game is a big jump from where he had been.
Wiggins is getting better before our eyes. He's heard the critics and he knows what he needs to improve on. Timberwolves fans need to look at his season so far and see what a successful scorer he has been.
How could we forget Wiggins' game tying shot that lead to an overtime win in Charlotte? That should prove to be a huge moment in this season for the Wolves.
When people hear about Zach LaVine, they think about dunks — and rightly so. This season, LaVine has shown that he isn't just a guy that can dunk, as he has also been a dangerous scorer this season.
Last season, LaVine averaged 14 points per game. So far this season, he's scoring 19.8 points per game — a big improvement that not many people have been talking about.
LaVine's offense has improved in almost all ways. His field goal percentage is up 0.5 percent from last season: not a big jump but considering he's taken on ten more minutes a game and 4.2 more shots per game, it's impressive. Even his free throw percentage is up to 89.8 from 79.3 percent last season.
More from Dunking with Wolves
LaVine's three-point percentage was 38.9 percent last season and has fallen to 36.7 percent this season. He also only shot 3.9 threes per game last season, while now he takes 6.7. He's taking more threes which is great. A 2.2 percent fall in three-point shooting is a fair trade off for more shots.
It's time to give Zach LaVine the credit he deserves. He's a reliable scorer, he can shoot, and he can attack the basket. The best part is he's only getting better. We as Timberwolves fans can look forward to his career.
Tyus Jones is turning the corner.
Last season, Tyus Jones only played in 37 games for the Timberwolves. He spent some time in the D-League, which was probably good for his game. Everyone also saw him win Summer League MVP. Not exactly the best accolade, but still impressive and still could have added confidence to Jones.
The numbers might not exactly show it, but Jones is a much better player now than he was last season: he's shooting better, he's quicker, he even seems to have better court vision.
Last season Tyus shot 35.9 percent from the field and 30.2 percent from deep. This season he's been shooting 41.9 percent on the field and 42.9 percent from three. This is a big improvement for him. From the free throw line he jumped from 71.8 percent to 93.3 percent this season.
Unfortunately, he has accumulated a few DNP-CD games this season, but it's still been a solid start to the year for Jones. The Wolves play well when he's on the floor, which is something we haven't necessarily seen from the rest of the Wolves' bench players.
He is just the third-string point guard behind Kris Dunn and Ricky Rubio, so no one can expect Tyus to play all the time. For the role he's been in, he's been doing a fine job. Hopefully, he can find more minutes in the future, but for now he's doing a good job considering his limited opportunity.
Karl Anthony-Towns
Last year's Rookie of the Year, Karl Anthony-Towns is, by far, the best part of this season for the Wolves. He's scoring 22.6 points with 10.2 rebounds per game right now. Very, very impressive.
The highlight of this season for the Wolves was on November 30 when they played the Knicks. Towns had 47 points and 18 rebounds. Sure, this game ended in a two-point loss, but Towns was extremely impressive.
Towns is scoring from everywhere on the floor. He's seven feet tall and 244 pounds, so obviously he has no problem scoring in the paint. His jump-shot has continued to be a weapon as well, as the second-year big man is shooting 38 percent from deep on four attempts per game.
It is no secret that Towns is going to be a star in the NBA. Timberwolves fans have a lot to look forward to when it comes to KAT's career.
So sure, this season has been awful so far if you pay attention to things like wins, but there are still bits and pieces to be happy about. So, Timberwolves fans, try not to dwell on the negative and try to focus on the positive.
Eventually this team has to start to perform right?
This article originally appeared on