Portland Trail Blazers season preview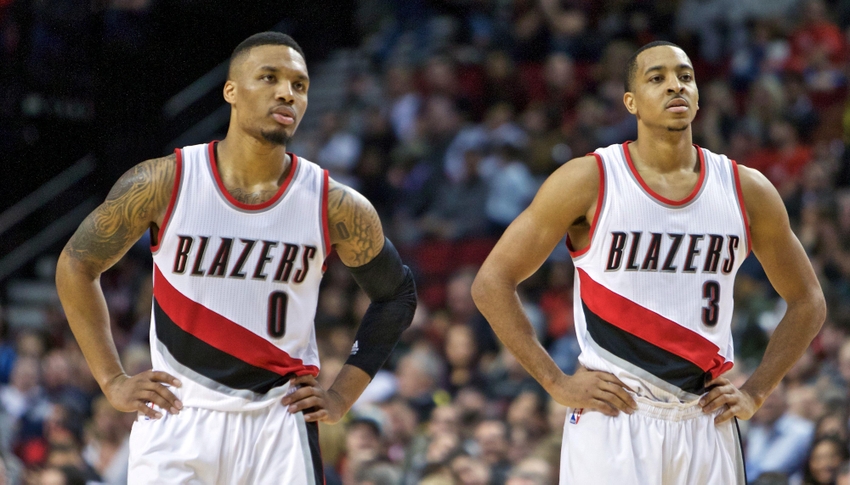 The NBA season will be here before you know it and FanSided is here to get you ready. In the lead up to Opening Night, we'll be previewing two teams each day, reviewing roster changes, discussing important players and challenges, and hearing the perspective of our FanSided site experts. Let's get ready for basketball!
Roster Changes
Inputs: Jake Layman (SF, NBA Draft pick No. 47); Festus Ezeli (C, signed for two years, $16 million); Evan Turner (SG, signed for four years, $70 million); Jake Layman (SG, signed for three years, $18 million); Tim Quarterman (SG, signed for two years, partially guaranteed); Grant Jerrett (PF, signed for one year, partially guaranteed); Shabazz Napier (PG, traded from Orlando Magic); Greg Stiemsma (C, signed for one year, partially guaranteed)
Outputs: Brian Roberts (PG, signed with the Charlotte Hornets); Chris Kaman (C, unsigned); Gerald Henderson (SG, signed with the Philadelphia 76ers); Cliff Alexander (SF, signed with Orlando Magic)
Retained: CJ McCollum (SG, signed a four-year, $106 million extension); Allen Crabbe (SG, signed for four years, $74 million); Maurice Harkless (SF, signed for four years, $40 million); Meyers Leonard (C, signed for four years, $41 million)
Biggest question mark
The biggest question surrounding the 2016-17 Portland Trail Blazers is one all too familiar for this franchise: Can they stay healthy? Portland had a relatively clean bill of health in 2015-16, of their regular rotation players only Meyers Leonard missed more than a handful of games Last year's team was expected to do nothing after losing four of five starters to 2015 NBA free agency, but their continuity and health was one of the reasons they exceeded expectations.
Instead of bottoming out, Portland went 44-38 en route to the No. 5 seed in the Western Conference and made a trip to the conference semifinals. However, this NBA franchise is notorious for injuries to its star players. From Bill Walton to Sam Bowie to Greg Oden to Brandon Roy, perhaps no NBA franchise has been more snake-bitten by injuries all-time than Portland.
On paper, the Trail Blazers have above-average talent at every spot in their 10-man rotation. That could be good enough to give Portland a Northwest Division crown, a top-four seed in the West, and maybe over 50 wins this season. The Trail Blazers have dynamic playmakers in their backcourt with starters Damian Lillard and C.J. McCollum, but an injury to either star player negatively affects this team's overall firepower. This feels like a team that if its fourth or fifth-best player suffers a significant injury, it could be bad news for Portland. The Trail Blazers could be one of the better teams in the West, but they need their core to stay healthy.
Biggest rivalry
Portland will have stiff competition in the Northwest Division this winter. As many as four teams in that division can potentially qualify for the Western Conference Playoffs.
The Denver Nuggets still need one more year to be playoff caliber. Though the Minnesota Timberwolves and the Utah Jazz should be worthy adversaries for the Trail Blazers, Portland's biggest rival this season will be the Oklahoma City Thunder.
Portland and Oklahoma City have the two best point guards in the Northwest Division in Damian Lillard and Russell Westbrook, respectively. Minnesota does have Karl-Anthony Towns, but Lillard and Westbrook will decide who wins the Northwest this winter.
With Kevin Durant now on the Golden State Warriors, Portland and Oklahoma City might be more evenly matched teams than ever before. Their best players are their point guards. C.J. McCollum and Victor Oladipo are comparable two-guards. Mason Plumlee and Steven Adams will keep it interesting down low. Head coaches Terry Stotts and Billy Donovan are keen in player development. Neil Olshey and Sam Presti are two outstanding general managers.
How these two teams fare against one another could likely decide who gets home court advantage in the Western Conference Playoffs. Portland vs. Oklahoma City should be four of the best games on the slate this winter in the NBA.
What does success look like?
— Steven Dewald, @ripcityproject, Rip City Project
The Trail Blazers are in a peculiar spot when it comes to projecting perceived success. The team massively exceeded last year's expectations by finishing 44-38. Their solid finish put them in a position to advance past an injury riddled Clippers squad before being eliminated by a historically dominant Warriors team in the postseason.
Fast forward to now, and we are now looking at a Trail Blazers team that has some lofty expectations. Neil Olshey (GM) has assembled a roster that finishes inside the top five for payroll, but a massive improvement in 2016-17 is far from a guarantee. Portland has a deep roster with several assets at their disposal, but none of the offseason additions suggest that a leap in play is a sure-thing. This hoarding of assets is a clear reaction to the LaMarcus Aldridge departure, so the franchise has put themselves in a position to get some compensation in the future.
We will get back to the assets shortly, as a few baseline expectations have to be set before we can circle back around. The Trail Blazers have to return to the playoffs this year and at least look competent in their opening round series. Improving on defense would be nice, but with Festus Ezeli's frequent health problems that seems unlikely.
Realistically, the season should be considered a success if the Trail Blazers can balance their roster. Finding a long-term solution at the center position should be first. Mason Plumlee is headed for a massive payday and Portland doesn't have the flexibility to hand out another big contract. Olshey should look to the trade market to help even out the cap situation, and possibly find some low cost options to help out in problem areas.
The Trail Blazers are an exciting overachieving team, but they're still in the second year of a rebuild. Future success is dependent on this team taking small steps to remove the flaws in their roster.
This article originally appeared on