Portland Trail Blazers Outlook: Week Five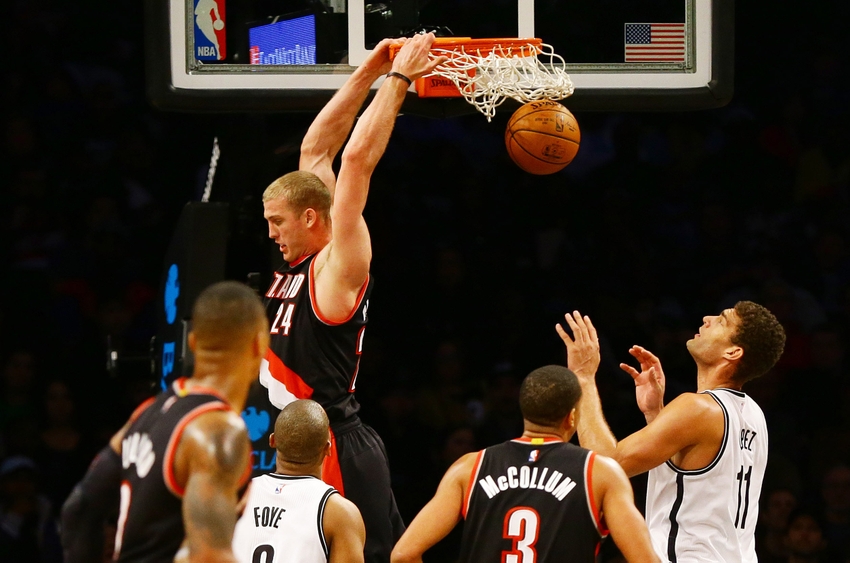 Rip City Project takes a look ahead at the slate of games for the Trail Blazers this week.
At this stage in the season, each loss is volatile and a skid like this has had a big impact on conference standings. Unsurprisingly, Portland's fourth spot in the standings is no more, and they now find themselves in seventh. With the losses come questions: How can the Trail Blazers improve their rebounding and defense?  How can the production from the bench and bigs be increased? Is it time to explore some trades? Is it good or bad that an underperforming Al-Farouq Aminu still had such a vital for this team? But that is getting a little too knee-jerky for my liking, it has only been one week after all. That said, there is definitely work to be done.
Trail Blazers vs Knicks (11/22/16) 
Portland finish their visit to the Big Apple with a trip to Madison Square Garden to face the Knicks. New York is a strange team to call this year. On paper, this is a team filled with heavy-weight players (albeit past their primes). In practice, the squad is inconsistent and still feeling their way towards an identity. This is not surprising given the roster turnover from last season and the number of "stars" that are having to adjust to new roles.
More from Rip City Project
Coming into this one, the Knicks have won four straight at home. A week ago, this wouldn't have deterred me too much from suggesting a Portland win. But having witnessed last week's shortcomings, my confidence in the Blazers being able to silence the MSG crowd has waned. Statistically, the Knicks are a middling to lower strength team. Their SRS/simple rating system (points differential) of -2.95 puts them 22nd in the league.
An even bigger problem for the Trail Blazers, the Knicks rank fourth in Offensive Rebounds per game, and fifth in Offensive Rebounding Percentage. A large part of this is on Joakim Noah's shoulders, whose status for Tuesday (illness) is not yet known. In his absence, expect Kristaps Porzingis to still be more than a handful for the Blazers' bigs. The 7-foot-3 21-year-old can crash the offensive boards with devastating force and his ability to spread the floor will create a myriad of issues for the Portland defense. Is there a Blazer big with the mobility and length to stop him? Not from what we've seen so far.
Let's not forget about Carmelo Anthony, as he is still one of the most versatile offensive threats in the league. He could have a field day against the league's worst ranked defense. Based on current form (and realizing that even Sunday's win was still just a win against the Nets) I'm begrudgingly picking the Knicks to win this one, when really it should be a victory for the Trail Blazers.
*Stat used are taken from basketball-reference.com and nba.com
Trail Blazers vs Cavs (11/23/16) 
Based on last week's performances, this could be like running into a buzz saw. The defending champions are rolling with a 10-2 record to date. So far, only Atlanta and Indiana have got the better of this roster – and versus the Pacers, LeBron James didn't even suit up.
The Cavs are a top five rebounding squad with Kevin Love pulling in 11 per game, Tristan Thompson adding 10.3 and James just outside double figures with 8.4. Just a gentle reminder that the leading rebounder for the Trail Blazers is still Aminu, with a paltry 6.6 per game. Ed Davis showed signs of being able to plug the gap with 11 boards against the Pelicans, but dropped back down to 6 against the Nets. So any success will be hard to come by on the glass, given that the Trail Blazers are still bottom of the NBA in just about every conceivable rebounding category.
One of few areas Portland ranks higher than the title holders is in points in the paint (26 to 28 respectively). But read in to that what you will, though plenty has already been written about the Trail Blazers interior inferiority, it's no surprise that the Cavs don't go inside much. They have three All-Stars in James, Love and Kyrie Irving who score the bulk of the team's points without being dependent on entering the paint. Barring resting two of their stars, this team just has too many weapons for the Trail Blazers to handle.
Pelicans vs Trail Blazers (11/25/16) 
This needs to be a statement game for Portland. Losing to the 4-10 Pelicans was frankly embarrassing. Yes, Anthony Davis had another one of his incredible performances with 38 points, 9 rebounds, 6 assists and 4 blocks. But in addition to this, New Orleans got 46 points from their bench unit. The Trail Blazers bench unit? Just 25 points. Ok, admittedly 21 of the Pelicans bench points came from Jrue Holiday, who will likely be back in the starting five for this meeting, but this was his first game this year. Switch Holiday's stats with former Trail Blazer, Tim Frazier, and the New Orleans Bench still have a 37-25 advantage.
Apply to Rip City Project.
Start your application process by filling out the fields below
The Trail Blazers strength lies in the three ball. Currently second in the league in attempts and eighth in 3P%, this will again be the weapon they need to exploit to secure the win. Luckily, the Pelicans are the sixth worst team at defending the three. It should also be pointed out that in the last meeting, New Orleans shot way above their season average field goal percentage of .438, with a blistering .549. This has to be a win for Portland, anything less and well, we don't want to think about that.
Rockets vs Trail Blazers (11/27/16) 
Another shot at revenge here after a 126–109 whooping last Thursday. Haven fallen victim to a James Harden triple-double and five other rockets scoring in double-digits, the Trail Blazers will need to cool off the league's third highest rated offense to win.
The Rockets are 4-4 on the road and 4-1 at home so far this season. Strangely Mike D'Antoni's squad is scoring more as the visitors, albeit by a razor-thin edge. Even stranger, Houston also improved their shooting from 44.5% to 47.4% away from the Toyota Center.
As with last week, the key to defeating the Rockets will be neutralizing Harden. With a usage rate that easily puts him in the top ten, it's not surprising to learn that Harden, like his Rockets, also have better stats on the road. Harden's assists jump from 10.6 to 13.6, his steals from 1 to 1.5 and his points lift slightly from 28.6 to 28.8.
A good spread of points among his teammates in last week's encounter was (and is) the result of the attention Harden draws, leading to easy buckets elsewhere. Again, Portland's defensive weaknesses will be highlighted here, but this time on the perimeter. Damian Lillard in particular was lit up in this match-up. Giving up 15 buckets on 23 attempts against him, that's a head shaking 65.2%.
It'll be interesting to see how Terry Stotts looks to tweak the line-up and cover Harden. In the last match-up the Trail Blazers went with a small ball five, playing Maurice Harkless at the four and Allen Crabbe at the three. Maybe, if Aminu is still not back, we get to see Evan Turner start and try his hand at slowing a potential MVP candidate.
Realistically, a 2-2 record for the week will be satisfactory. Anything better will help get the season back on track.
This article originally appeared on