Portland Trail Blazers: Damian Lillard Making Case For MVP?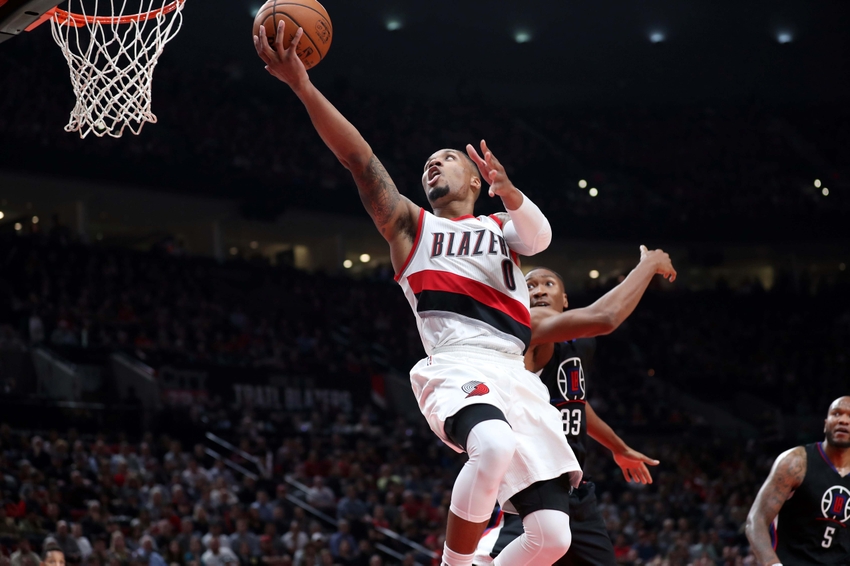 After a few strong performances by Damian Lillard to start the season, is the Portland Trail Blazers guard already making a case for MVP?
Damian Lillard is no joke as an MVP candidate.
His first three games have cemented his case as one of the top point guards in the game. He clearly sees an opportunity this season to claim his seat on the throne.
Averages of 35.0 points, 8.0 rebounds and 5.3 assists per game with a slash line of .549/.444/.905 don't do his performance justice.
Raw numbers are an important part of any award case, but the MVP makes up more than that.
The MVP award is about crazy statistical performances, yes. But it also encompasses leadership and a willingness to take over more than just when necessary.
Lillard has done all that and then some for the Portland Trail Blazers.
Currently 2-1, the team's loss isn't on Lillard's shoulders. He's been efficient, unselfish and dominant all at the same time.
Efficiency isn't easy to pull off when you're a guard relying on perimeter shots as the bulk of your points. Guys like Stephen Curry and Lillard are revolutionizing the game and his slash line proves it.
A 50/40/90 season doesn't come along often, so Lillard's entering into historical territory if he keeps it up for the rest of the season.
And there's little reason to think he won't. He has plenty of options on offense around him to keep him in check. Lillard doesn't have to take 40 shots a game like another MVP candidate in Oklahoma City.
But the biggest reason why he's on the cusp of efficiency greatness is his improved ability to finish inside.
Almost half of Lillard's total career shot attempts (41 percent) have come from beyond the arc. To start this season, it seems that trend has broken.
Lillard's taken 18 3-pointers and 53 2-pointers. That's a greater split than nearly half (25.3 percent), and it's improved his ability to score because of less predictability.
Opponents can't just go up on Lillard and force him into a contested deep shot. His improved handle and finishing at the rim gives defenses a little cause to pause.
Lillard's a threat from all three levels on the floor, as his offensive game has risen to new heights.
But it's not just his percentages that have evolved.
Having a sense of when to take over and when to defer makes up the backbone of leadership in basketball. Lillard came into the league as an assassin on the court ready to score and score again.
He's developed more as a point guard and has a better understanding of when to start and stop.
One play you'll see Lillard explode at the rim or jack up a 3. The next he'll slow things down and let C.J. McCollum or Evan Turner initiate the offense.
Coaches call plays, but the point guard runs them and ultimately makes decisions when things break down. Maturity comes from trust in others and being there when things go wrong.
He finished the team's game against the Denver Nuggets Saturday night, scoring the winning bucket in overtime.
This is an emergence of a force for years to come. He had a coming-out party as a top perimeter threat last year, but this is a little different.
Putting your name in the MVP conversation has a greater impact on one's career.
Lillard is there, and he's only getting started.
This article originally appeared on