Portland Trail Blazers: Can Damian Lillard Sustain His Otherworldly Play?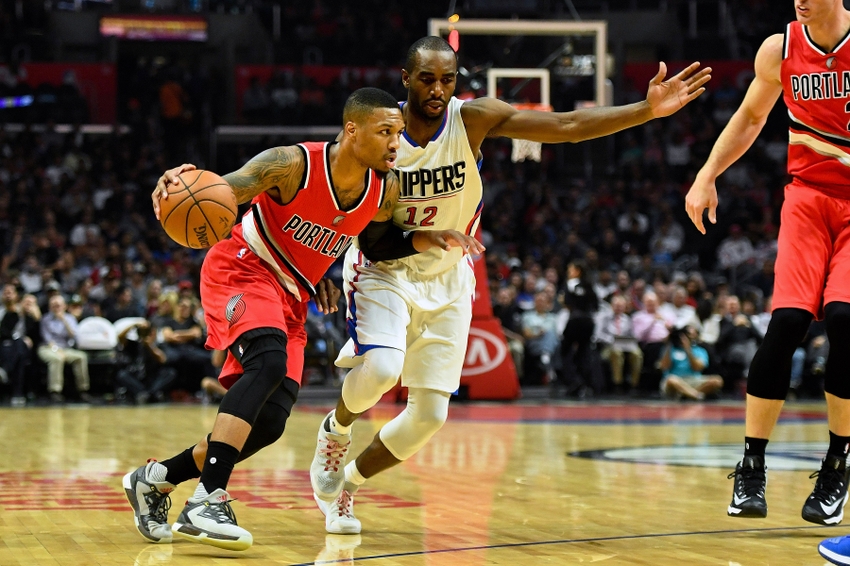 Damian Lillard has come out the gates in a blaze (pun intended) this season. Can the fifth-year guard make this MVP form permanent?
You'd be hard-pressed to find another player in the NBA, save Russell Westbrook, who plays with as much of a chip of on his shoulder than Damian Lillard.
But unlike Westbrook, or the Michael Jordans and Kobe Bryants of eras past, who channeled their antagonistic vexation in berating their teammates with overbearing expectations, Lillard, by all accounts, alternatively motivates and uplifts those around him with his optimistic aspirations.
Even former teammates, like Will Barton, unequivocally swear by Lillard's leadership skills, describing Dame to PickandPop.net as the following: "Here's an All-Star who works like the 15th man on the roster."
His current backcourt running mate of the Portland Trail Blazers, C.J. McCollum, also routinely vouches for Lillard's unrelenting influence.
"We have a really young team and he's done a great job of leading by example and being consistent with his effort and his approach," McCollum told Paul Flannery of SB Nation. "Not only in games but in practices as well. He talks when it's necessary and people listen. People respect him because of his accolades and his work ethic."
Not surprisingly, someone with Dame's work ethic and ambitious profile comes back every offseason with having something relevant added to his already polished game.
This year, Lillard is a noticeably better finisher around the rim than in seasons past.  He is looking to penetrate at every turn by leveraging his ability to pull-up at a moment's notice from Stephen Curry range.
Lillard keeps defenders on their heels with hard hesitation moves, and unlike previous seasons, where Dame would go out of his way to throw his body at rim-protecting bigs, he's concentrating more on evading the shotblocker to finish strong at the tin.
It also helps that he is no longer bothered by a lingering planar fasciitis injury on his left foot, as he was last season.
His newfound pain-free state has given Dame the explosive capacity to come out of the gates looking like a legitimate MVP candidate, averaging 30.0 points, 5.1 rebounds, and 4.2 assists per game through nine regular season contests.
More encouragingly, he's posting a career high in True Shooting Percentage (.636) and free throw rate (.500) — two connected aspects that were not seen as strengths of Lillard's game coming into this season.
The impetus for his increased efficacy?  His increased willingness to take it all the way to the rack.
In fact, Dame ranks fourth among all NBA players thus far this year in drives per game at 11.9 and second in points scored off of said drives at 10.8, per NBA.com.  In comparison, Lillard only took it to the hole 9.8 times a game last season, which yielded 7.8 points per contest.
However, it would be disingenuous not to notice that Dame has been, for the most part, unconsciously hot to start off the 2016-17 NBA campaign. Most notably, the Weber State alumni is finishing at the rim at a 70.2 percent rate, while nailing his long two attempts (16 feet – three-point line) at a 48 percent clip. He has even hit four out of his five three-point attempts from 30-34 feet.
In other words, he's finishing at the rim like LeBron James, nailing midrange Js like Michael Jordan, and converting on his "at-the-logo" heaves like he's Stephen Curry.
Certainly, one would have to assume such shooting numbers will drop back down to normalcy as the season rolls along. But, just how far will his overall efficiency dip as a result? Can he sustain his 30 points-per-game pace?
Given his increased aptitude in driving the lane, finishing with conviction, and drawing fouls as a result, even if his shooting comes back down to earth somewhat, he'll still have a new aspect of his game he can now lean on.
And when you add in his career-high usage rate and utter determination to be an unquestionable All-Star, All-NBA performer and perennial MVP candidate, I wouldn't put it pass Damian Lillard to maintain this ridiculous, torrid form.
This article originally appeared on