Portland Trail Blazers: Best Backcourt In The NBA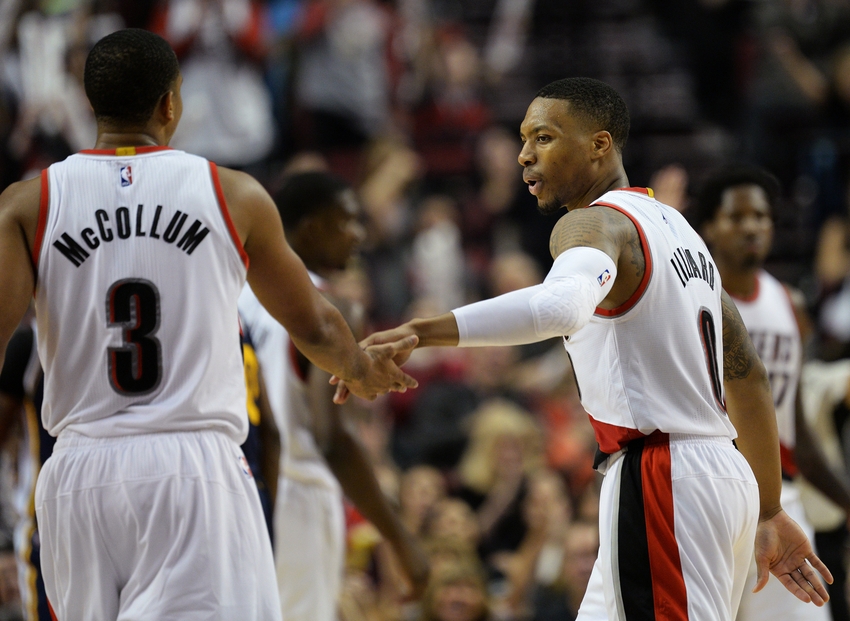 The Portland Trail Blazers are off to a 6-4 start, but their backcourt duo in Damian Lillard and C.J. McCollum are emerging as the best backcourt duo.
Last year the Portland Trail Blazers were one of the NBA's more surprising teams as they finished with a 44-38 record. They rewrote the script after losing four of their five starters through free agency and trade, as most projections had them winning somewhere in the vicinity of 26 games.
C.J. McCollum was also a pleasant surprise in 2015-16. For those who hadn't heard of him previously, McCollum was drafted out of the mid-major Lehigh University, but his game was mature enough to make him one of the top players in the draft. After being caught up in a deep backcourt rotation for his first two seasons, it was easy to forget that the Trail Blazers ever drafted the 6'4″ shooting guard.
He quickly reminded everyone last season why he was worth the no. 10 overall pick in the 2013 NBA Draft by averaging a career-high 20.8  points per game as he won the league's Most Improved Player Award by a landslide. It couldn't have come at a better time when the Trail Blazers needed someone to step up the most.
Damian Lillard was handed the keys to the franchise after guys such as LaMarcus Aldridge, Nicolas Batum, Wesley Matthews, and Robin Lopez all found themselves in new destinations. The organization had confidence that Lillard could eventually lead this team to multiple postseason appearances, but it's safe to say not many thought they would see success as quickly as they did.
The tandem began hinting their candidacy for one of the best backcourt duos. Golden State's Stephen Curry and Klay Thompson had the top spot in a stranglehold that nobody could break. Behind them came in Toronto with Kyle Lowry and DeMar DeRozan, Washington's John Wall and Bradley Beal (with the consideration if Beal could stay healthy), and Los Angeles' duo of Chris Paul and J.J. Redick.
Live Feed

portland trail blazers
Fast forward just one year later, Lillard and McCollum have become the clear frontrunners as the league's top backcourt. Curry and Thompson's stock has dropped significantly due to Thompson's slow start. Many want to blame it on the Kevin Durant effect, but Thompson just isn't knocking down open shots right now. His 28.1 percent success rate from three is far off from his 41.7 percent over the first five years of his career.
We are only 10 games into the season, but their success is not something that's going to drift off into mediocrity. Lillard and McCollum are pouring in a combined 52.8 points per game. Last year during Golden State's historic 73-win season, Curry and Thompson averaged 52.2 points per game combined.
Now, Portland isn't going to come close to 73 wins, but that's not to say their backcourt shouldn't get the same praise that Curry and Thompson did. Lillard and McCollum are two of the most offensively versatile backcourt players the league has to offer. They can make you pay from beyond the arc, and in Lillard's case 10+ feet behind the line, or they can create for themselves off the dribble and pull-up in the midrange.
The biggest improvement for both players is their willingness to attack the basket and get to the free throw line this season. Lillard's free throw rate has increased from last season's 31.5 percent to 49.7 percent. McCollum's has taken a leap as well going from 15.8 last year to 23.5. But it isn't about just getting to the charity stripe, it's about cashing in when you get there and they've done that as well by putting together a combined free throw percentage of 89 percent.
The most impressive stat that Curry and Thompson posted last season was their combined 43.9 three-point percentage. This season, Lillard and McCollum are shooting 41.3 percent from deep. Again, not on their level necessarily but it's quite impressive considering Curry had arguably the greatest shooting season in NBA history.
Even with Lillard and McCollum posting tremendous numbers, the Trail Blazers sit with a 6-4 record. Their backcourt's production won't lead them anywhere in the conversation to a 73-win season, but to get to 50-55 wins is definitely in the cards. The Trail Blazers don't have the supporting cast that the Warriors did last season. You could make the argument that if they did, getting to 70 wins wouldn't be unrealistic either.
That's how special Lillard and McCollum have been thus far. It's a long season with 72 games to go, but these two are proven professional scorers that put up crooked numbers on a consistent basis.
Maybe they should be getting more credit than they are.
This article originally appeared on