Portland Trail Blazers: 2016-17 Season Outlook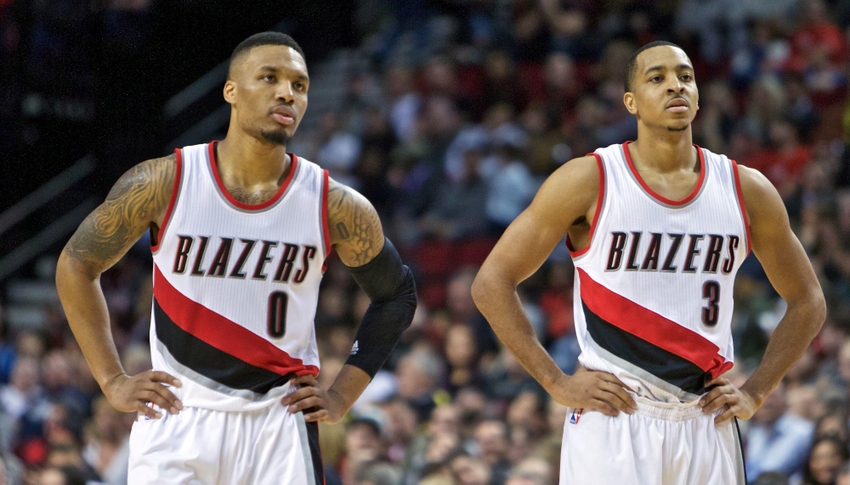 After a surprisingly successful playoff run last year, are the Portland Trail Blazers heading for growth or regression? Here's their outlook for the 2016-17 NBA season.
For a team with such a young core, the Portland Trail Blazers are in a somewhat precarious position entering the 2016-17 NBA season.
After shocking the world by winning 44 games and reaching the second round of the playoffs, Rip City proved they were far more than the tanking outfit most projected them to be. The depressing vibes from LaMarcus Aldridge's departure were quickly replaced by optimism in Damian Lillard's leadership, C.J. McCollum's breakout year and the future of a budding core.
However, in a down year for the West, it was hard to buy too much into Portland's feel-good season. General manager Neil Olshey didn't seem to agree, splurging in the offseason to keep the team's young core intact while also adding Evan Turner and Festus Ezeli to the mix.
In a three-point-heavy, offensively oriented attack, the Blazers marginally shored up the defensive end. Once again, their greatest chance at building on last year's success lies in another year of internal development under head coach Terry Stotts.
The world was wrong to doubt Lillard and the Blazers in 2015-16, but are predictions of a Rip City regression in 2016-17 just as likely to be proven wrong? Here's a look at what to expect from the Portland Trail Blazers in the upcoming NBA season.
2015-16 Vitals
44-38, 2nd in Northwest Division, 5th in Western Conference
105.1 PPG (6th)/104.3 OPP PPG (20th)
108.8 Offensive Rating (6th)/108.0 Defensive Rating (20th)
Team Leaders
Scoring: Damian Lillard, 25.1 PPG
Rebounding: Mason Plumlee, 7.7 RPG
Assists: Damian Lillard, 6.8 APG
Steals: C.J. McCollum, 1.2 SPG
Blocks: Mason Plumlee, 1.0 BPG
Honors
Most Improved Player of the Year Award: C.J. McCollum
All-NBA Second Team: Damian Lillard
2016-17 Roster
Al-Farouq Aminu, SF
Pat Connaughton, SG
Allen Crabbe, SG
Ed Davis, PF
Festus Ezeli, C
Maurice Harkless, SF/PF
Grant Jerrett, PF
Jake Layman, SF
Meyers Leonard, PF
Damian Lillard, PG
C.J. McCollum, SG
Luis Montero, PF
Shabazz Napier, PG
Mason Plumlee, C
Tim Quarterman, SG
Greg Stiemsma, C
Evan Turner, SG/SF
Noah Vonleh, PF
Offseason Additions
Festus Ezeli (free agency, Golden State Warriors), Grant Jerrett (free agency, unsigned), Jake Layman (47th overall draft pick, Maryland), Shabazz Napier (trade, Orlando Magic), Tim Quarterman (free agency, undrafted), Greg Stemma (free agency, unsigned), Evan Turner (free agency, Boston Celtics)
Offseason Subtractions
Cliff Alexander (waived), Gerald Henderson (free agency, Philadelphia 76ers), Chris Kaman (free agency, unsigned), Brian Roberts (free agency, Charlotte Hornets)
Quick Thoughts
For the most part, the Blazers spent their summer splurging on their own free agents. C.J. McCollum got a four-year, $106 million extension; Meyers Leonard enjoyed a four-year, $41 million payday; Allen Crabbe saw his four-year, $75 million offer sheet from the Brooklyn Nets matched; and Maurice Harkless earned a four-year, $40 million deal of his own.
Rip City got a major discount with one of their biggest new arrivals, Festus Ezeli, but the oft-injured backup is already on the mend, nursing another knee injury. And then, of course, there was the most controversial deal of Portland's offseason: Evan Turner's four-year, $70 million contract.
Though Turner brings playmaking, defensive versatility and experience off the bench, that's a hefty price to pay for a sixth man who averaged 10.5 points, 4.9 rebounds and 4.4 assists per game and can't spread the floor from three-point range.
Turner won't be the make-or-break piece of Portland's 2016-17 season, since the Blazers pretty much went all in another year of internal development under Terry Stotts. Only time will tell if unproven youngsters like Leonard, Harkless, Vonleh, Ezeli and Plumlee can take the next, necessary step forward.
Three Key Storylines: 1. What Does Another Year Of Growth Look Like?
Last season, the Portland Trail Blazers were the feel-good story of the Western Conference. Not only did they win 44 games in a season they were expected to tank, but they even made it to the second round of the playoffs without four of their five starters from the year before.
However, it was hard to gauge where the Blazers needed to go after that. Damian Lillard and his young cohorts were terrific, but they likely wouldn't have made it past the first round without season-ending injuries to Blake Griffin and Chris Paul.
In fact, if the West had been as strong as it was in 2013-14, when 48 games wasn't enough for a postseason berth, Portland wouldn't have been there at all.
Like that 2013-14 Phoenix Suns team that won 48 and missed the playoffs, the Blazers were at a crossroads. Did they buy into the success that might not have been sustainable and push forward? Or did they continue on with the long-term in mind?
Unlike that Suns team, the Blazers managed to straddle the line. Their goal for 2016-17 is still building on last year's playoff run, but most of their offseason moves — Evan Turner excluded — were about buying into the roster's long-term potential more than their prospects for the upcoming season.
That being said, it's hard to see how much more Terry Stotts can coax out of this roster, even if it's fairly young across the board.
Perhaps this question is more a reflection on the massive amounts of money the front office spent this summer, but is it possible to build on last year's success? Or will last year be revealed as a one-year fluke if the West goes back to its normal, wild self?
The Thunder lost Kevin Durant, but they'll still be in the playoff hunt. The Rockets are going all in on a high-powered offense under Mike D'Antoni. The Jazz got significantly better with their offseason additions, Rick Carlisle is a warlock who always has the Mavericks in the playoffs, the Clippers are healthy, the Grizzlies added Chandler Parsons, the Pelicans still have Anthony Davis and even dark horses like the Minnesota Timberwolves and Denver Nuggets can't be written off.
Portland's ability to take the next step forward relies on younger players proving themselves as long-term complements to the Lillard-McCollum backcourt.
Can Meyers Leonard become the stretch-5 starter the front office envisions? Will Mo Harkless build on his strong finish to the 2015-16 season? Is Noah Vonleh any good? How much better will Allen Crabbe be after his payday? Is Festus Ezeli a legitimate starting center, or is Mason Plumlee as good as it's going to get for now?
On a roster that stayed largely the same over the summer, the Blazers went all in on internal development. Will there be growth from last year's success, or is Rip City due for some regression?
Three Key Storylines: 2. Bench Turner-round
Ok, so maybe the "Turner-round" pun doesn't really work here, since Rip City's second unit wasn't terrible last season. They ranked 17th in points per game and 12th in plus/minus according to NBA.com, so they were pretty much in the middle of the pack.
With Evan Turner added to the mix, however, the Blazers' bench will operate a bit differently in 2016-17. Last year, McCollum often functioned as the second unit's floor general, running the offense whenever Lillard needed a breather.
McCollum won't need to fulfill that duty anymore, but perhaps Stotts will continue staggering his star backcourt and just add another playmaker to the mix with Turner. The only problem with Turner logging heavy minutes alongside Dame and McCollum is his complete lack of three-point efficiency.
Last season, Turner made 24.1 percent of his 1.0 three-point attempts per game. For his career, the six-year vet has made just 30.5 percent of his 1.3 three-point attempts per game.
Long story short, he cannot be relied upon to spread the floor, which is a concern for a Blazers squad that finished sixth in attempted threes, fifth in made threes and fourth in three-point percentage last year.
Turner operates best with the ball in his hands, from the midrange, and can be prone to over-dribbling. Those traits might not mesh well with Stotts' movement-heavy offense, especially since Dame and McCollum are effective with the ball in their hands, while Turner's lack of shooting touch and movement make him a less than satisfactory threat off the ball.
However, Turner is also a very well-rounded player who contributes in most categories. The gravitational pull of shooters like Lillard, McCollum and Aminu flanked around him could open up his favorite area of the floor for that one-on-one creation he specializes in.
His biggest impact might be on the defensive end, since his versatility should help improve last year's 20th ranked defense. He's not the most athletic defender, and his foot speed is lacking, but he makes up for it with positional awareness and solid defensive principles (for the most part).
Evan Turner is most certainly overpaid, and his fit in Portland might not be ideal, even for a bench unit that could do with some additional playmaking, scoring and defense. How he adjusts to this young team — and vice versa — will play a role in whether the Blazers can build on last season's success or fall back in the playoff picture.
Three Key Storylines: 3. The Star-Studded Backcourt
Last year, Lillard and McCollum answered their own respective questions about their blossoming careers; Dame proved that he was more than capable of being a franchise player and charismatic leader without LaMarcus Aldridge, while McCollum earned his stripes as a long-term backcourt complement en route to the league's Most Improved Player of the Year Award.
Even coming off career years for both Dame and McCollum though, the Blazers' star backcourt has to answer the same question that their unproven teammates must: Where do we go from here?
Last year, Lillard averaged a career-high 25.1 points, 6.8 assists and 4.0 rebounds per game while shooting 37.5 percent from three-point range. McCollum, meanwhile, averaged 20.8 points, 4.3 assists and 3.2 rebounds per game while shooting 41.7 percent from deep — all career highs.
At ages 26 and 25, respectively, Lillard and McCollum haven't even reached their peaks yet, but there are questions about the long-term viability of a backcourt that can't defend anyone — even if their three-point barrage is the league's closest thing to competition for Stephen Curry and Klay Thompson's long range hellfire.
Portland has a combined $250 million committed to Lillard and McCollum over the next five years, meaning this backcourt needs to not only jell, but thrive. The two are remarkable shot-creators and three-point shooters, and the chemistry on the offensive end is clearly there.
Now it's a question of putting it all together on the defensive end, where the two struggle to contain anyone.
Will we see more signs of growing chemistry between the two centerpieces of this Blazers revival? Or are all those pull-up threes unsustainable over the course of multiple seasons, especially if they're coupled with little improvement on the defensive end?
Best-Case Scenario
The Blazers quickly set about proving that last season was no mirage, and that all that money invested in internal growth was well worth it. Lillard, fueled by yet another All-Star snub in the loaded Western Conference, goes on another maniacal tear, bumping up his career averages yet again.
McCollum provides the same long range threat he did last year, while Lillard tops 44 percent shooting from the field for the first time in his career. The two show slight progress on the defensive end, with Turner being a better than expected fit in a wide open offense that allows him to take his own shots in the midrange and create looks for others with the ball in his hands.
Leonard steps forward as a quality stretch-5, Ezeli gets (and stays) healthy to emerge as a starting-caliber center and Mo Harkless builds on his strong finish to the 2015-16 season. The Blazers win 48 games and finish fifth in the West again, once again reaching the second round before being knocked out by either the juggernaut Warriors or immortal Spurs.
Worst-Case Scenario
All that potential in Portland's 44-win season begins to look like a mirage, with the young Blazers failing to catch anyone by surprise in 2016-17. Lillard once again struggles with his efficiency, and his James Harden-esque defense becomes a recurring topic of concern.
McCollum isn't much better, coming back down to earth after a career year while exhibiting many of the same defensive issues. Turner proves to be an awkward fit because of his non-existent three-point touch, while youngsters like Leonard, Vonleh, Crabbe and Harkless fail to take the next step forward.
In a drastically improved Western Conference, the Blazers win around 40 games, finishing 10th in the standings and missing the playoffs for the first time since 2013. The excessive amount of money Olshey invested in this group begins to look like a mistake and the franchise faces some tough decisions about the future of its core.
Predictions
The Portland Trail Blazers won't regress in 2016-17, but the rest of the West is going to catch up after an inexplicably down season. Lillard and McCollum are going to put the ball in the hole as always, but more than likely, all that talk about improving defensively will subside as the season wears on.
No one should doubt Lillard's leadership by now, which is why it's hard to count Rip City out of the playoff picture (especially if he's snubbed for the All-Star Game again). But with the Jazz, Grizzlies, Mavericks, Thunder, Rockets, Pelicans, Nuggets and Timberwolves all vying with the Blazers for the final five playoff spots outside of the three locks (Warriors, Spurs, Clippers), it feels like "regression" could be in play this year.
Turner will bring all of the projected pros and cons to the floor, making him a hit-or-miss addition in Rip City. He'll clog up the floor when the ball isn't in his hands, but his playmaking should work well with shooters spreading the floor around him. His defense will also be a bonus for a team that desperately needs to improve on that end.
Leonard and Vonleh will likely struggle to make significant progress toward their ceilings this year, but Harkless and Crabbe should improve on last year's numbers. Despite flashes of brilliance from Ezeli, Plumlee will retain his starting job for the whole season because Festus will struggle to stay healthy again.
The Blazers will win 44 games again in 2016-17, improving as a team but failing to reflect it in their record thanks to so many other Western teams being on the rise. Portland finishes at ninth in the standings, just outside the playoff picture.
This article originally appeared on