Point guard play is holding the Timberwolves back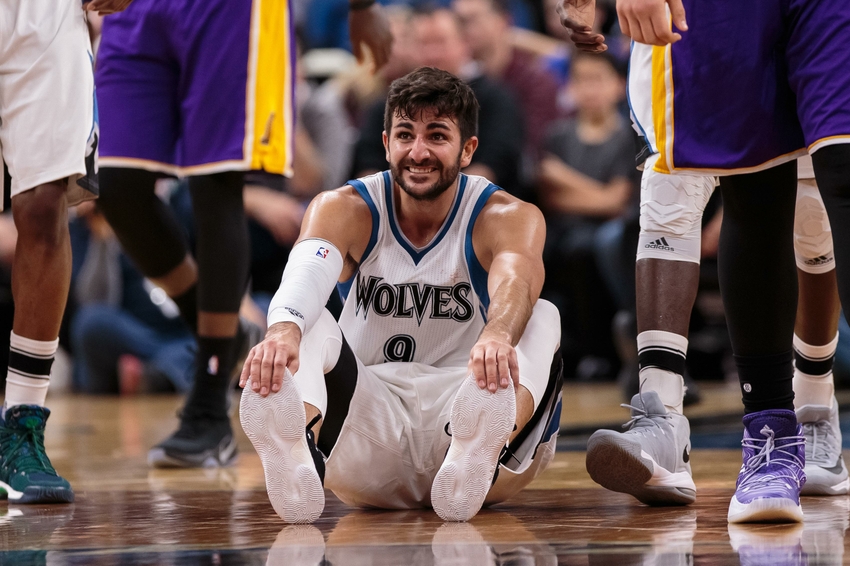 The Timberwolves have won just four of their first 12 games and have lost the other eight in seemingly new and creative ways, but there has been one position that has consistently underwhelmed.
Heading into the 2016-17 season, the Timberwolves only had one member of the starting lineup who had provided consistent, above-average play for more than one previous NBA season: point guard Ricky Rubio.
But the Spaniard was largely ineffective in the disappointing season-opening loss to the Memphis Grizzlies and was underwhelming in the loss to the Sacramento Kings as well before injuring his right elbow in the waning minutes of the contest.
Rubio missed the next five games, forcing rookie and fifth-overall draft selection Kris Dunn into the starting lineup. The Wolves went 2-3 in Rubio's absence, which is actually a far better winning percentage than Minnesota has averaged with Rubio sidelined in previous years.
Dunn has struggled all season and ultimately didn't shoulder much more of a burden with Rubio out; second-year guard Tyus Jones saw the largest bump in minutes. And for good reason: Jones' stretch of five Rubio-less games (and two after Rubio's return in which Jones saw the floor) were the best minutes that a Timberwolves point guard has played all season.
With the obvious caveat that we're only 12 games into an 82-game slate, the point guard situation is threatening to be turned on it's head.
Jones was rumored to be on the trading block in the days leading up to the season, and it seemed to be common knowledge that the Twin Cities native was on his way out. At the same time, he more-or-less fits the profile of diminutive, decent-shooting point guards that have seen success in Tom Thibodeau's system in the past: Nate Robinson, Aaron Brooks, Mike James, etc.
And now, Jones has played the best basketball of the three (four, including John Lucas III) point guards on the current roster. Of course, that apparently hasn't meant much to Coach Thibs, as Jones didn't play in Tuesday's close loss to Charlotte and only saw the floor for garbage-time minutes in Thursday's big win and Saturday's embarrassing loss.
As mentioned, Rubio has struggled mightily this year. He's only posted one double-double in the seven games in which he's played: a 10-point, 10-assist showing in an easy win against the Lakers, shooting 4-of-6 from the floor in the process. He managed an 11-and-8 the next time out against Charlotte, but has not played well in the two games since.
More from Dunking with Wolves
His shooting percentage is lower than ever at just 33.3, and he's shooting just 25 percent from beyond the arc. Rubio is also only dishing out seven assists per game; his career low is 7.3 per-game in his ACL-recovery season of 2012-13. His assist rate is just 31.1 percent — for comparison's sake, it was 41.9 percent over the last two seasons.
Rubio's steal rate is also on pace for a career-low, and his turnover rate is tracking at a career-worst as well.
Really, it's been an all-around disappointing start to the season for the Wolves' floor general. It can absolutely be attributed in part to the five-game absence and the elbow injury itself, although it's impossible to know just how much the injury is affecting Rubio's play.
It's also a new head coach and a new system. Historically, Thibodeau's non-Derrick Rose offense hasn't necessarily boosted point guard's offensive number much, outside of a couple of exceptions, especially 2012-13 Nate Robinson.
In Chicago, the offense ran through Jimmy Butler in 2013-14 and 2014-15. On the 2016-17 Timberwolves, the offense is often initiated by Andrew Wiggins and ran through a high pick-and-roll or a post catch by Karl-Anthony Towns. That means that Rubio has done a fair amount of spotting up, and it hasn't gone well when he's been forced to shoot. (That said, Rubio's usage rate is also tracking at a career-low of just 13.1 percent.)
Dunn has been even worse, shooting just 32.7 percent from the field with a turnover rate of 21.3 percent combined with an assist rate of only 22.8 — far below that of both Rubio and Tyus Jones.
It's clear that the speed of the NBA game is too much for Dunn, and he doesn't appear too much unlike the rookie version of Zach LaVine when he was forced to play point guard. That doesn't mean anything in regards to what he'll be in a year or two, or even by the end of the current season, but it certainly doesn't bode well for this year's bench unit in the near term.
So, what's the answer? More offense through Wiggins? More pick-and-roll with Rubio as the ball-handler to keep him involved in a more natural way?
It's tough to say — we're only 12 games in, after all. But one thing is for sure: Rubio must play better, and Dunn needs to show improvement in the coming weeks.
And while Jones isn't as good as Rubio is today and probably doesn't have the ceiling of Dunn as a prospect, he's been impressive as a 20 year-old point guard in limited minutes. Thibodeau will need to find a way to get him on the floor if both Rubio and Dunn continue to struggle.
Let's not overreact, but let's also be sure to call a spade a spade: point guard play has been the most inconsistent and disappointing factor in the Wolves' 4-8 start to the season, and it must improve if this team is to sniff the playoffs come April.
This article originally appeared on