Players Grades: New Orleans Pelicans Crush Timberwolves to Extend Winning Streak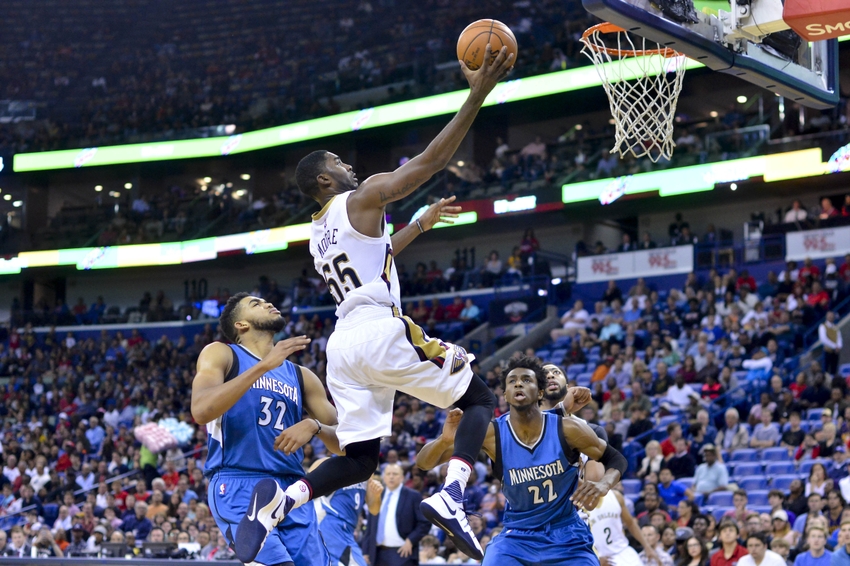 The New Orleans Pelicans continued their winning streak by dominating a young Minnesota Timberwolves team at home, for their fourth straight win.
The New Orleans Pelicans won their fourth game in a row tonight against the Minnesota Timberwolves in dominating fashion.
Wow, this "winning" thing is starting to get fun…
It was a convincing win on National Television for the Pelicans, who used another hot shooting night to propel them past their opponent. Minnesota stood tall with New Orleans until the third quarter, where the Pelicans used a 27-6 run to push the game out of reach.
This game came down to shooting. While the Timberwolves shot a measly 38.4%, the Pelicans continued to catch fire, shooting 54.2% on the night. Add along nine three-pointers in the game and the blowout becomes more obvious.
One player shined above all others. You guessed it…
Davis had a monster game, putting up 45 points and 10 rebounds in 39 minutes. If there was questions about his health coming into this game, he answered those swiftly and convincingly.
Another player that kept the hot streak going was Terrence Jones. Jones shot 7-10 from the field for 17 points and seven rebounds off the bench. Tim Frazier and E'Twaun Moore both added over 10 points in the game themselves.
For Minnesota, Zach LaVine stole the show with 26 points, but took 22 shots in the game. Karl-Anthony Towns and Andrew Wiggins combined to shoot 6-30 from the field for 22 points. Minnesota as a team had 17 turnovers in the game, not helping their cause.
With the country watching on ESPN, many wondered which young team would step up to the plate. The New Orleans Pelicans did.
Tim Frazier's stats tell of a strong game. 11 points on 4-5 shooting and eight assists looks great. However, his five turnovers and three fouls left a lot to be desired. He still was great in certain aspects of the game, yet when the Pelicans could have closed it earlier, he gave the T-Wolves extra life.
E'Twaun Moore looked confident shooting the ball early. His 12 points in the game kept the Pelicans ahead early on. However, his defense was not perfect. A young Zach LaVine used his crazy athleticism to get past Moore often. E'Twaun also did not affect the game in many other areas. He had a good game that helped his team win. Still, his defense was not perfect.
Dante
Cunningham
SF/PF,
INC
Dante Cunningham did play 12 minutes, but also left the game due to an injury. With the lead stretched out by the time his injury had been diagnosed, he did not return.
Some of the things Anthony Davis does on a basketball court are literally unbelievable. A day (ONE DAY) after he was kept out of a game with an injury, Davis puts up 45 points on 27 shots and completely overwhelmed the Wolves bigs. They had no answer for him inside. When they pressured him, he either went through the contact or shot it over them. When they gave him space, he drilled his shots, which includes going 2/4 from behind the arc. He did it all tonight.
Omer Asik's confidence is back in full force. Not only did Asik have nine rebounds and pressure all who entered his paint, but he had six points in the game. When the run broke out, Asik started looking for his shot at the rim and wanted to attack the basket. His play continues to improve game in and game out and it is marvelous.
Langston
Galloway
SG/PG,
B+
Langston Galloway's job is to shoot the ball and score. He did that tonight, shooting 3-5 from behind the arc. His addition of four rebounds, two assists and two steals are extra positives in the game. While the Wolves' guards struggled, Galloway shined once again.
As far as stats go, Holiday actually struggled tonight. His 2-8 shooting, four fouls and two turnovers did not have the best impact. However, he did have eight assists and once again changed the aspect of the Pelicans' game on both ends, when he played. With Jrue, it is so much more about what he does for every other player than just his personal stats.
Defensively, Solomon Hill is starting to show his promise. Five rebounds and two steals kept him a big factor, when guarding the quick and effective wings of the Timberwolves. However, his four fouls and 1-4 shooting night made him a wash in the game. He is starting to find a part on this team. Unfortunately, it is not what fans expected before the season began.
What Terrence Jones is doing is way above the expectations when he was signed. Jones once again had an offensive explosion of 17 points, to go along with seven rebounds and a block. He is the player that can play when Anthony Davis is resting and still have a major impact on the game. It was a massive weakness on this team in years prior. His role has become one of the biggest on the Pels.
It continues to get worse and worse for Buddy Hield. 0-7 shooting. Only one assist. A foul and a turnover. Mostly, he had absolutely zero positive impact in this game. Fans had such high expectations for year one of the Buddy Project. It is falling flat as of now.
This is weird, but how can you not love what Brown did? Three minutes and 2-2 from behind the arc? Sure, it was a blowout and just garbage stats. However, that accuracy is still a big deal off the bench, especially with Buddy's massive struggles. Brown wants to prove he deserves a shot on this team. If he continues to bury three-pointers, he very well might prove just that.
Final Observation:
This New Orleans Pelicans team is a completely different animal than the one 10 games ago. This is no longer a collection of talented basketball players. It is one cohesive unit, that is looking to find the best looks available and play the best team defensive possible. For the second straight game, they've blown the other team out of the game, before the fourth quarter even started. Should the hype be tempered by the fire shooting? Who cares! The Pelicans are making basketball fun again. This is the time to just enjoy the show.
New Orleans will look to keep the show going Friday night, as they travel to Portland for a duel with the Blazers. The Pelicans beat Portland last week and will look to take a 2-0 series lead on the season. Tip is scheduled for 9:00 PM CST.
More from Pelican Debrief
This article originally appeared on