Player Grades: New Orleans Pelicans' Struggles Continue in Loss to Oklahoma City Thunder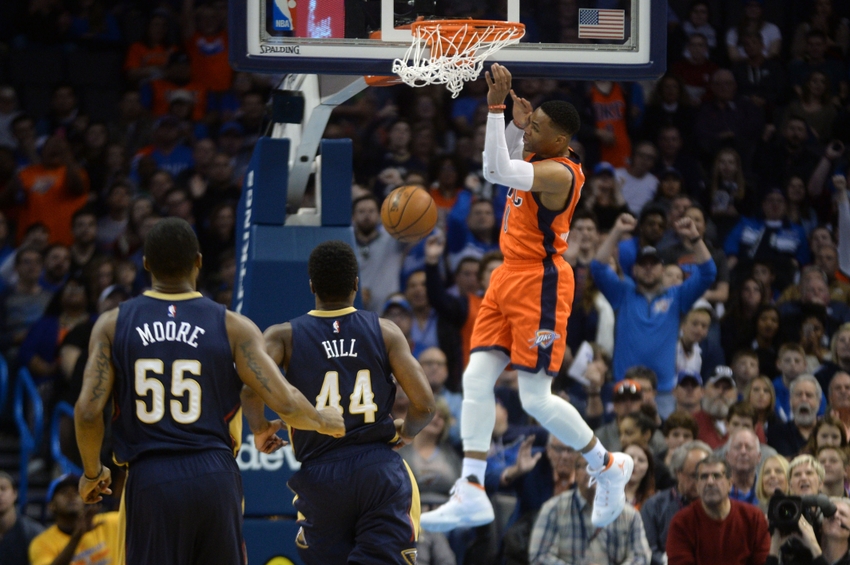 The New Orleans Pelicans could not give Anthony Davis the support he needed in a loss to Russell Westbrook and the Oklahoma City Thunder.
Anthony Davis put up yet another ridiculous stat line for the New Orleans Pelicans Sunday Night.
Unfortunately, it was yet again not enough for a win.
The Oklahoma City Thunder used power inside and speed in transition to defeat the Pelicans 101-92. The Pelicans kept close throughout the game, yet were never able to fully comeback. Every run they made was counteracted by missed looks and poor transition defense on Oklahoma City.
Anthony Davis finished the game with 37 points and 15 rebounds, another monstrous game. Add along four blocks and two steals, and you have a stat line that should be enough for any supporting cast to fill.
Still, the Pelicans supporting cast is struggling to find offensive execution. The one player that did was Buddy Hield. He did not get much run until the fourth quarter, but he delivered. Hield made four of his seven long-range attempts and finished with 16 points and four rebounds in 15 minutes.
However, Russell Westbrook led the Thunder to another win with his fifth triple-double in a row. His 28 points, 17 rebounds and 12 assists was more than enough for Oklahoma City, as they controlled the game for most of the contest.


Jrue Holiday had an extremely difficult matchup in Russell Westbrook. He did okay. 10 points, seven assists and two steals helps. However, he was not the second best offensive option he usually is. Give the Thunder credit, as they gameplanned their defense well against Holiday. He did what he could in his time, but tough for him to shine tonight.
Moore was brought into the starting lineup with Jrue to try and balance out the flow. He made a few jumpers tonight, which kept the Pelicans within a possible comeback. A few strong defensive possessions on Russell Westbrook and Victor Oladipo also helped. However, just an average defensive game for him, especially with struggles getting back in transition.
Solomon Hill's inability to make a three-pointer is negating his role on the team. If he can not space the floor, he's as useless on the offensive end as Asik is. 1-6 from behind the arc will not cut it. He grabbed a few rebounds on defense and can make life a bit trickier on that end. However, his season so far is not justifying his contract.
At this point, it's easy to start feeling sorry for Anthony Davis. He once again did all he could. 37 points. 15 rebounds. Getting to the line for nine free-throws. He did it all. Defensively, the Thunder are a difficult matchup, as their bigs are stronger and back-down players, something Davis has struggled with. However, it's hard to find any fault on his part when he's carrying the team so much on the offensive end.
The New Orleans Pelicans needed a strong game from Omer Asik against the Thunder monster bigs inside. Instead, Asik had four fouls and just three rebounds in 16 minutes. Even with Steven Adams getting injured, Asik could not find any rhythm to impact the game. Tough for how well he's been playing of late.
Moving Tim Frazier to the bench for the battle against OKC did not help his offensive game. Frazier shot 0-5 from the field and did not look like himself. The Thunder guards made life very tough for him, due to a tough matchup and Frazier did have two steals to help out. Still was a tough night for the young guard.
Langston
Galloway
PG/SG,
D
Langston Galloway was once again non-existent. It's the same situation with Dante Cunningham, except without the defensive positives. If he's not making his long-range shots, there is not much he brings. He shot 1-7 from the field and 0-3 from deep. Enough said.
Anthony Brown is a perplexing case. Many thought his shooting would be the only real impact. However his effort on loose balls and on rebounds helped keep the Pelicans in the game during a difficult offensive stretch. While this is not one of his better shooting efforts, his other areas helped salvage his game.
The honeymoon for Terrence Jones is over. Unlike in past games, his impact on the glass was minimal until the final stretch of the game. He could not score in the tightly contested paint often and never found any post-up game, due to the Thunder's defensive gameplan. He still has to find a way to impact the game without the constant post-ups. His best strategy was on the offensive glass and cleaning up the Buddy air-balls. The Pels still needed him much bigger on the glass and on the score sheet tonight, with how much the shooters struggled.
BUDDY HIELD IS ALIVE AND WELL, FOLKS! In his return to Oklahoma, Hield had an offensive burst in the fourth quarter. Alvin Gentry saw the game slipping away and thought it might be a good idea to give Hield some confidence. He got some, with 16 points on 6-12 shooting and four threes. While he did have four airballs from deep and is still working on his driving game, getting him those minutes and comfort in an NBA game is a huge positive for the rookie.
Other Observations:
This game should have looked a lot worse for the Pelicans. OKC struggling from deep, shooting just 6-28 from behind the arc in this game. Even with New Orleans shooting 6-28 from deep as well, the Thunder were able to overcome the shooting woes and won.
At the end of the day, 36.7% shooting from the field is not going to cut it in the NBA. New Orleans has to find a way to make their open looks or get even better looks. They could not find a way into the paint comfortably tonight. Making open jumpers is necessary to win NBA games.
This recent stretch of Pelicans basketball may just be a case of the Jrue Holiday return shadowing some major problems for a little while. New Orleans does not have the offensive weapons to stay in games with good teams. They also are still having major problems with defensive execution. Until both of those are solved, they will likely continue to struggle against the playoff contending squads.
The New Orleans Pelicans will be back in action tomorrow, as they head back home to play the Memphis Grizzlies for the second game of a back-to-back. Tip is scheduled for 7:00 PM CST.
More from Pelican Debrief
This article originally appeared on