Player Grades: New Orleans Pelicans lose to the Warriors by the bay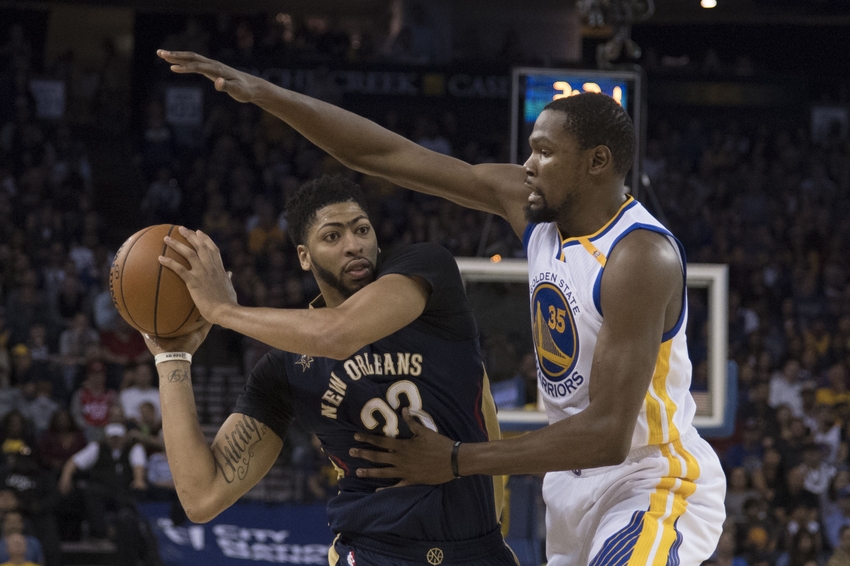 Games against the Warriors show everyone's true colors. Last night's loss to the Dubs is sure to become a polarizing benchmark in the season for the New Orleans Pelicans.
The New Orleans Pelicans, still in search of their own first win, last night had the misfortune of drawing the Golden State Warriors coming off their loss to the Los Angeles Lakers in LA.
This had all the makings of a blowout loss, and it looked to be heading that way in the second quarter. The two-time MVP Stephen Curry would build the Warriors lead up to 21 by nailing 6 threes in the opening quarter.
However, the Pelicans would trim that deficit to 14 at the half and fight all way back to even lead at moments during the 3rd quarter. In the end though, poor 4th quarter execution did the Pelicans in. Turnovers that led to easy points would be New Orleans' achilles heel. However, this was not a bad result for New Orleans, and they showed great resiliency in fighting back. It took Curry Magic tonight for the Warriors to hold off the 0-7 Pelicans.
Here are the grades from tonight's affair:

106
116
Tim
Frazier
PG ,
New Orleans Pelicans
B
Tim Frazier continued his solid play tonight. In a season that his been raved with inconsistency and unsustainable trends Frazier's playmaking ability is something that can be counted on game in and game out. Tonight he notched another double double finishing with 13 points and 11 assist. His defense tonight was pretty solid as well. The switching between him and Moore tonight was great and most of Curry's makes were shots that only Curry could make. A play that stood out that exemplifies Frazier's playmaking is the one in the third quarter where Asik sets a back screen to free up Moore. Frazier would find Moore with a brilliant cross court pass.
E'twaun
Moore
SG ,
New Orleans Pelicans
B+
E'twaun Moore continues to justify his offseason pay day with solid two-way play. His offensive game is very herky-jerky and that continued tonight as he nailed a number of fade-aways and tough runners. His offensive game is not always pretty but he has shown a knack for being able to make tough shots. An issue that I have noticed with Moore is that his jumper is slow and takes awhile to get off. There have been a number of times this season where Moore has been open and decided to pass on the shot, likely due to his slow release. Tonight he made only one three and it was a wide open look where he was able to set his feet and line it up. Moore has been good tough and his communication on defense was excellent in the third quarter. It has been a revelation watching E'Twaun Moore play defense after years of futile perimeter defense. His final line of 15,5, 3 is solid.
Solomon
Hill
SF ,
New Orleans Pelicans
B-
Solomon Hill actually played better than his sub par stat line of 0-4 would indicate. He flashed solid playmaking ability, and constantly made the extra pass on his way to a very impressive four assists. Hill also performed solidly on the defensive end, hounding ball handlers Klay Thompson and Kevin Durant. He forced them to make quick decisions with the basketball and played the passing lines perfectly tonight. His +3 plus minus is indicative of his solid play. Still need more from him offensively though to justify his offseason payday. Hill's value on offense will hinge on his ability to knock down threes; so far this year that has been inconsistent.
Anthony
Davis
PF ,
New Orleans Pelicans
A+
Anthony Davis started the game off like gangbusters, on his way to 12 first quarter points. Davis's stat line looked noticeably dominant again tonight on his way to 33 points and 13 boards. But there were some interesting trends tonight in regards to Anthony Davis. Davis looked by far his most effective when playing next to Omer Asik. Their size was really bothering Golden State at both ends and the fact that New Orleans' best quarters were the first and third was not a coincidence. A positive trend that is developing is the amount of rest Anthony Davis has been able to get. Early in the season Davis was playing ridiculous minutes as the team could not afford for him to sit down. Tonight that wasn't the case and the more the bench can spell Anthony Davis minutes the better off New Orleans will be going forward.
Omer
Asik
C,
New Orleans Pelicans
A-
Omer Asik has been very solid to start the season. Recently I highlighted the strides he's made, you can read that
here
. Tonight Asik continued his very solid play and his presence noticeably bothered the Warriors. Asik, in congruence with a trend that has developed early this season, finished with the highest plus minus of any Pelican. He finished a +17 and scored 8 points (our expectations of him have become saddening)! His and AD's size clearly bothered Golden State; they lacked the ability to match up and instead of building on that, Alvin Gentry elected to go small, which was not nearly as effective.
Terrence
Jones
F/C,
New Orleans Pelicans
C
Terrance Jones followed up his solid game against Phoenix with a dud tonight. As usual, he flashed moments of genius that reminded why he was so highly-touted. However between those moments of brilliance there were a bunch of head-scratching decisions. Terrance Jones is still marred by inconsistency, but plays like when he blocked a Curry three pointer still make you ooze about what he could be for this team.
Buddy
Hield
SG ,
New Orleans Pelicans
D
The Pelicans' first-round pick continued his struggles last night. He finished with 9 points on 4-10 shooting and his touch from beyond the arc continued to fail him. Buddy did make a couple of nice plays off the drive, one in particular being when he blew by Andre Iguodala and was able to finish a contested reverse layup. Still, for Buddy to be a positive on the court he HAS to start making threes. He has two many defensive lapses and is not an effective enough ball handler to make plays off the dribble. When he is not making threes, he's contributing almost nothing. There were a few times tonight where Hield got lost on a switch that would lead to an open three. You will take that lapse against the Warriors if Hield is knocking down threes of his own, but finishing 1-5 will not cut it.
Dante
Cunningham
F,
New Orleans Pelicans
D+
Dante Cunningham returned to the team tonight and did really nothing to ease the thoughts of those that feel he should not be getting many minutes. Cunningham made 2 of his 3 attempts from behind the arc and scored 8 points. Thats where the good ends. He posted an abysmal -26 tonight and it really is a head scratcher why Gentry chose to finish with Cunningham over Asik. It may not be entirely on Dante though; matching up small with the Warriors is a recipe for disaster, and disaster is what occurred.
Langston
Galloway
G,
New Orleans Pelicans
D
Langston Galloway reminds me of a slightly better Norris Cole. He's a better three point shooter, defender, and facilitator but he has a tendency to handicap the bench unit with long mid range twos. Galloway handling the ball isn't pretty, but he's a solid off-ball option and I loved the corner three kick out to him tonight. More of that please.
Alexis
Ajinca
C,
New Orleans Pelicans
):
The Pelicans supporting cast has been heavily-scrutinized thus far, but Ajinca is different. Most of the Pelicans players look like decent players thrust into a role that is over their head. Ajinca doesn't look like he belongs in the NBA. He has very good touch for a player his size but he can't defend at all. Like, he's very bad at defense and should not be playing.
More from Pelican Debrief
This article originally appeared on