Player Grades: New Orleans Pelicans lose to the Magic without Anthony Davis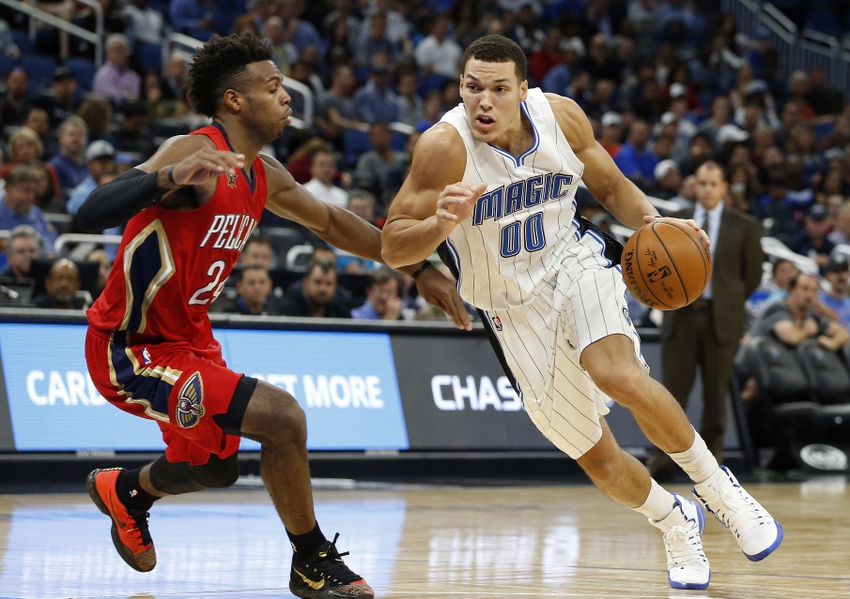 The shorthanded New Orleans Pelicans lost a difficult game without Anthony Davis on Wednesday night at the Orlando Magic.
The Pelicans had a golden opportunity to build an actual winning streak heading into Jrue Holiday's glorious return at home on Friday. However, they instead faced the remarkable bad luck of losing Anthony Davis to injury on this same night.
Shorthanded, the Pelicans fell to an extremely disappointing Magic team. It comes down to talent some nights, and against Serge Ibaka and Evan Fournier, the Pelicans' starters needed a career night from Terrence Jones to keep it close.
Close they kept it, but in the end another loss was tallied.

82

89
Tim
Frazier
PG,
New Orleans Pelicans
D
I think the worst thing you can say about a point guard is that you didn't notice him. On a night where, without Anthony Davis, the team really needed an igniter on offense, Frazier faded into the background. He's the best table-setter on this team outside of Jrue Holiday and Tyreke Evans, but let Langston Galloway do the fighting tonight. Perhaps it's a lack of chemistry with Terrence Jones, perhaps it's an over-reliance on Anthony Davis. Either way, Frazier can't afford to have an off night on offense when his defense is as rough as it has been recently. Big guards like Elfrid Payton and Evan Fournier are a nightmare for small point guards like Frazier, and it showed.
E'Twaun
Moore
SG,
New Orleans Pelicans
B-
I was really looking forward to Moore stepping up in Davis's absence. He is the kind of player who should be able to pull-up into infinity when given the chance, but Gentry seems content to let him fill in his role no matter the night. That's fine– Moore scored 14 points and dished 4 assists tonight, keeping things rolling when Galloway and Jones were out of the game or in a lull.
Solomon
Hill
SF/PF,
New Orleans Pelicans
D
Yeesh. I mean, how long do we have to put up with this? Joel Meyers called Hill "attacking" on the broadcast, but I disagree completely, especially tonight. Fresh off posterizing Marcus Smart (sort of) on Monday, Hill was completely ineffective against Orlando. He had a breakaway fastbreak opportunity in the second quarter in which he basically lost his dribble and bumped into his defender before drawing a "foul". That trip to the line accounted for his only two points of the game.
Terrence
Jones
PF/C,
New Orleans Pelicans
A
What a night. Anthony Davis's literal replacement went in and did his best AD impression, scoring 26 points, with 9 rebounds as well. We should have known after his electric put-back dunk on Monday against Boston, but Jones has done what needs to be done to earn more minutes next to Davis and Jrue Holiday when both return to full health. He was more decisive with the ball tonight, shooting when open and driving when he had an advantage. Somehow, Serge Ibaka presented that advantage during a fiery-hot third quarter for Jones.
Omer
Asik
C,
New Orleans Pelicans
C
Not much to say, except for what we've been saying in this space all year. Asik has been a nice rebounding positive all year, and tonight was no different against Orlando's towering front line. Apart from that, Ajinca earned crunch time minutes over him, and he didn't score at all.
Dante
Cunningham
SF/PF,
New Orleans Pelicans
C+
If we forget about the air-balled midrange jumper in the third quarter, Cunningham had a decent game. I still believe Cunningham will be victimized by the rotation changes that will come with Jrue Holiday's return. But two steals and two blocks is nice, especially during a game when transition offense was a nice spark for a dull Pelicans offense.
Langston
Galloway
PG/SG,
New Orleans Pelicans
C+
I really don't want to like Langston Galloway, but on nights like this, it's pretty impossible not to at least appreciate him. When nothing else is going, his ability to wiggle into the paint and hit open jumpers is invaluable. He hit a nice pull-up three in the second quarter, and it felt so vital at that point. Tonight, and every night, his ability to distribute better (just two assists tonight, both in the fourth quarter) would have been tremendous, but you take what you can get.
Alexis
Ajinca
PF/C,
New Orleans Pelicans
B
As a matter of principle, I generally refuse to allow myself to say good things about Alexis Ajinca, but tonight, I'll let up. As Joel Meyers noted during the game, Ajinca was actually a positive on defense for much of the night. Uncharacteristically, he was very klutzy on offense, juggling catches on rim rolls and struggling to finish over a strong Orlando frontline. He's shown flashes of coming along with verticality when protecting the rim, and if he can ever master it, he might just stick around.
Buddy
Hield
SG,
New Orleans Pelicans
C+
Many of us
were hoping tonight would be the first of many Buddy explosions, but that did not happen whatsoever. Instead, we got the first glimpses of what could be an improved sense of playmaking from the young off guard. With Tim Frazier struggling and an Anthony Davis-worth of possessions to split up, Hield was handed some extra ball-handling tonight. It went decently, to the tune of five assists. Something to keep on eye on, for sure.
Archie
Goodwin
G,
New Orleans Pelicans
INC
If not for a block, Archie would have joined Club Trillion tonight. Pass.
Final Observations: 
Well, we know now that Terrence Jones can't win a game by himself. 26 points on 47.3% shooting and a near-double-double is about as good as it gets in a recovery year for Jones. The Pelicans still lost.
Friday can't come soon enough.
More from Pelican Debrief
This article originally appeared on