Player Grades: New Orleans Pelicans lose to Lakers following Anthony Davis injury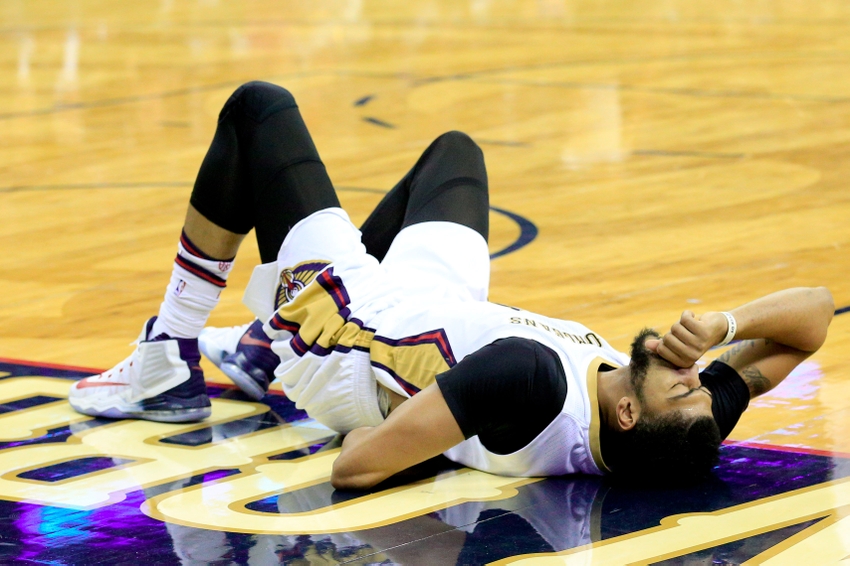 After a promising start, the New Orleans Pelicans fell off a cliff in the third quarter following the short departure of Anthony Davis due to a back injury and went on to get blown out by the Los Angeles Lakers.
The New Orleans Pelicans looked for their first home win against the Los Angeles Lakers. And for 3 1/2 quarters it looked to be in the realm of possibility. Then, things almost went from bad to catastrophic for the Pelicans. Star big man Anthony Davis left with an undisclosed back injury that had Pelicans fans holding their breathe. A surprise to no one the Lakers took a close game and turned it into a blowout with Anthony Davis. The lead ballooned to 16 points as the Lakers would go on a 12-0 run while the Pelicans were without their star. Luckily Davis returned, thats probably the only good news of the night.

126
99
Tim
Frazier
PG ,
New Orleans Pelicans
C
Tim Frazier played sub-par tonight even if his stateline would suggest otherwise. His assist numbers will likely always look impressive due to the presence of number 23. Too many times, he was caught in traps and forced into a low percentage pass. His shot was not there tonight either as he struggled to find any rhythm and his usual soft touch around the basket disappeared tonight. Defensively the Lakers would attack him on switches; when the Pelicans play small, it becomes easy for opposing offense to attack Tim Frazier.
E'twaun
Moore
SG,
New Orleans Pelicans
D
E'Twaun Moore started off this game much like the last, scoring 7 early points. Then, the rest of the game happened and Moore faded into the background. His touches were few and far between and he would not score after the first quarter. Early on, Moore was frustrating D'Angelo Russell, forcing him into a number of tough shots. Moore also used his quick hands to bother Russell in the post. Eventually though, Russell would find his rhythm and begin to leave his imprint on the game. While Russell got better as the game went on, Moore struggled. Overall one of the worst games by him this season.
Solomon
Hill
SF ,
New Orleans Pelicans
F
Solomon Hill did not do himself any favors tonight. HIs poor play continued as he failed to score, going 0-3 from the field. Even more alarming, Hill grabbed zero rebounds in 17 minutes. Zero. That is unacceptable for a player that is already poor offensively. Hill has to find other ways to contribute if he is going to struggle so mightily on offense. A very frustrating Hill sequence occurred in the first quarter: With the clock winding down, Hill elected not to hold the ball for the final shot. Instead he tried to force a tough pass to Alexis Ajinca, which led to an and-one on the other end. Plays like that cannot happen, and Hill has to show better awareness. His play so far as been very sporadic, and he needs to do more to justify his place in the lineup.
Anthony
Davis
PF ,
New Orleans Pelicans
A+
Another great outing by Anthony Davis. This one looked like it could have been special, if not for the aforementioned back injury. The Lakers had no answer for Anthony Davis, as the Pelicans were finding him early and often. Davis was getting great looks out of the pick and roll all night, as the Laker bigs were too slow-footed to stop his rolls to the rim. Davis offensive game looks borderline unstoppable at the moment. His added floater and jump hook have made him virtually unguardable. His play declined when he returned from injury though, as the defensive rotations were noticeably slower. All in all, another ho-hum 34 points, 8 rebound, 2 blocks performance. It's unfortunate that his play is not being rewarded with wins.
Omer
Asik
C ,
New Orleans Pelicans
C
An average game for Omer Asik. Asik matched up well with Mozgov when they were on the court together, but Asik was not able to make the impact he recently has on the boards. It was still a decent showing from the big man who looks like a completely different player from last season. By different, I mean he went from god awful to NBA level. Curious to see if his good play leads to a minutes increase, as the Pelicans small lineup got torched again tonight.
Alexis
Ajinca
C,
New Orleans Pelicans
B-
In an interesting turn of events, Alexis Ajinca nearly doubled Omer Asik's minutes tonight. It was an interesting turn of events considering the contrasting play of the two over the full season thus far. Tonight however, Ajinca played well– he displayed his soft touch on offense and actually did a good job of protecting the rim. His size inside gave the Lakers some problems, but whenever the pace picked up, Ajinca was left standing flat-footed. Overall though, solid game from Alexis, just not a performance Pelicans fans should count on to continue happening.
Buddy
Hield
G ,
New Orleans Pelicans
B+
Buddy Hield! Buddy Buckets finished with 18 points on a very efficient 8-13 shooting. His creating out of the pick-and-roll was very encouraging tonight, as he was quick and decisive. This past week, Buddy has looked a lot more comfortable, and may finally be settling into the speed of the NBA game. He still shot 1-4 from three, but it looks like a regression to the mean could be coming soon. Nice game though from Buddy, and his ability to create is a very positive sign. On the defensive end, he was active and engaged all night. His individual defense has been up and down all year, but he looked very focused on that end tonight.
Dante
Cunningham
D,
New Orleans Pelicans
F
Dante Cunningham was adequate tonight. The seventeen minutes he played tonight is a good number for him and he was able to provide solid play in those limited minutes. His shooting numbers from behind the arc have been off the charts. If that is something that he can maintain, then he can become a valuable offensive player.
Terrence
Jones
F/C,
New Orleans Pelicans
D-
Terrence Jones struggled to fit into this game. His raw talent is evident, but tonight he tried to force things. When Anthony Davis went out of the game, Jones found himself forcing a number of awkward shots. Jones is probably the best passing big on the team and he displayed it when he found Anthony Davis on a slick feed out of the pick and roll. Tonight unfortunately played out like his NBA career has, when he has been unable to put it all together consistently.
Langston
Galloway
G,
New Orleans Pelicans
D
Langston Galloway continued his gunning ways tonight, putting up 12 shots in his 21 minutes of action. He scored 12 points, but his early-shot clock jumpers can be infuriating. His defense tonight was also sub-par; often he would over-help, which led to a number of wide-open 3s. Galloway is a hot or cold shooter, and that lack of consistency may make him the odd man out of the rotation once Jrue Holiday returns.
Archie
Goodwin
G,
New Orleans Pelicans
INC
Archie Goodwin was a disaster in his limited minutes tonight. He was getting torched by Lou Williams, constantly closing out too hard and allowing Williams to blow by him for easy floaters. After Williams made a number of second quarter buckets, Goodwin was pulled and did not return.
More from Pelican Debrief
This article originally appeared on