Player Grades: New Orleans Pelicans lose in double-overtime to the Memphis Grizzlies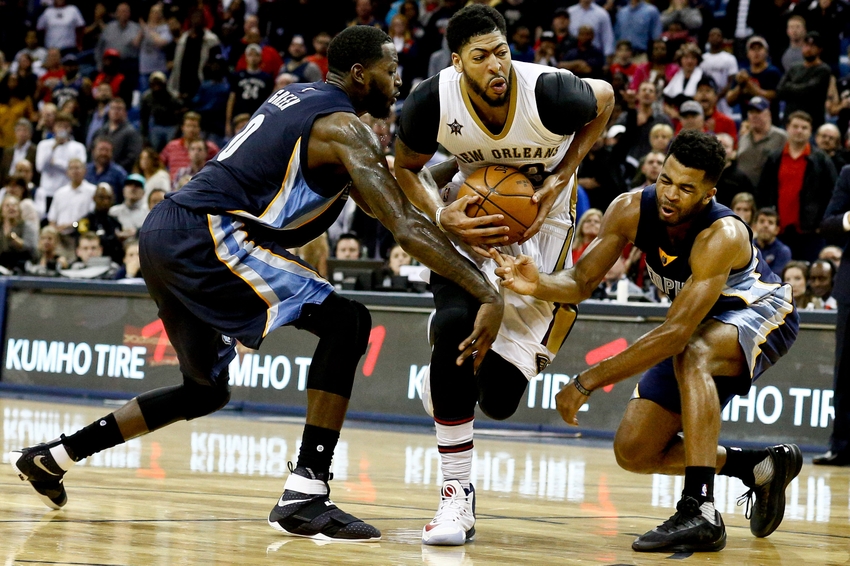 The New Orleans Pelicans lost in a double-overtime thriller that should've been put away at the end of regulation, but was extended due to big plays from Memphis Grizzlies' Marc Gasol, Tony Allen and Troy Daniels. 
The New Orleans Pelicans held three point leads with less than a minute to go twice Monday night.
Neither ended up holding and the Pelicans ran out of gas in double overtime to the Memphis Grizzlies 110-108.
It's the third straight loss for New Orleans, who left the Smoothie King Center gassed and disappointed that 58 minutes of basketball did not end with a victory.
The New Orleans Pelicans continue to struggle hitting open shots, making layups at the rim, rebounding and getting set into their plays. The Pels also failed to execute the offense effectively multiple times down the stretch.
Players lined up on the wrong side of the court that stagnated ball movement and often letting the ball not touch Anthony Davis' hands down the stretch. Too many mistakes cost New Orleans what could have been an easy W.
With Jrue Holiday and E'Twaun Moore sitting out due to minor injuries, the surely missed their veteran presence on the court. It is easy understand the frustration that Coach Alvin Gentry and his staff have at this moment.

108

110
In re-watching the game, Tim gets a C+ due to some positives he brought to the game with his nine assists and three steals. On the flip side, he sometimes does entirely too much by holding onto the ball too long or not making the right pass. His intentions are understandable, but he has to get the offense set up quicker and get the ball to your best player, Anthony Davis, more often.
Buddy's confidence is growing steadily as he gets more consistent minutes in the rotation. Tonight, he showed that in hitting two three-pointers and moving the ball a bit. The kink in his game is that he has to work on not hesitating. You can tell he still has that Boomer Sooner itch to hoist shots up, but doesn't know when the right time to do it. Gentry should scheme more plays, where he can roll off the shoulder to drive to the rim and catch-and-shoot pin downs near the top of the key. Buddy needs shot opportunities.
This is the most aggressive Solo has played since he's been in a Pelicans uniform. He was a relentless defender and rebounder (seven boards). He was on a tear in the 1st half, grabbing rebounds and driving coast-to-coast into the heart of the defense, which ended up drawing fouls. It's a wonder why the team went away from him after his relay to the rim at will every time he touched the ball. It would be nice to see him starting next to AD at the four.
In order for Solo to get better in this system, he has to keep shooting. He didn't shoot well tonight going 2-6 from the field. The potential is there for him be the team's "Three-and-D" small forward for the future. But, in all honesty, he's better off at the small-ball four.
As much giving AD an A for another stellar performance (28 Pts and 17 boards) makes sense, it did not happen tonight. AD needs to be more physical against teams he knows are going to play him tough and stop looking to draw the foul. David Wesley stated multiple times he has to learn to play through the whistle. In AD's defense, he played 91 minutes in two consecutive nights. Fatigue played a big part in this game.
Whenever you get blocked by your own goal you don't get any love. Omer Asik does this way too often to be given any leeway.
Langston
Galloway
PG/SG,
A+
What an offseason steal Dell Demps snaged from the Knicks! Langston got New Orleans back in the game in the 4th quarter, hitting big shot after big shot and keeping it close in OT. He deserves more minutes in the rotation. His last shot would have been a beauty.
TJ is such an anomaly. He's a stretch four with attitude. He has to develop a floater to his game and practice dribbling badly. Other than that, he is starting to become a consistent source of offense for a team that needs it desperately.
Anthony is coming into his own. Defense is still his biggest weakness. He stands too often flat-footed, allowing opponents to blow right past him. Would love to see him put the ball on the floor more often and attack the basket.
In a limited role, Ajinca is a decent player. He provided the frontcourt a spark. It would be nice to see him get more minutes, especially ones next to Anthony Davis. His defense looked improved in tonight's game.
Other Observations:
This team still has needs to be filled and assumptions that can be drawn. They are the following:
This game made you appreciate the return of Jrue Holiday even more.
Dell has to look into acquiring an athletic big next to AD.
Should the scheme be tweaked a bit?
The New Orleans Pelicans will get a chance at a motivational win Thursday night at home against the Philadelphia 76ers. Tip is scheduled for 7:00 PM CST.
More from Pelican Debrief
This article originally appeared on