Player Grades: New Orleans Pelicans Find Victory Against Phoenix Suns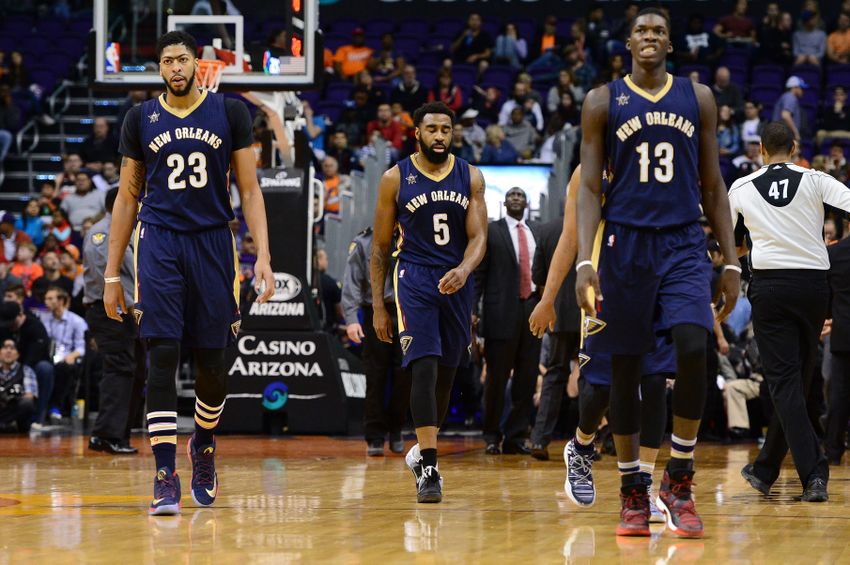 The New Orleans Pelicans found a victory that was much needed in Phoenix Sunday night, beating the Suns and giving life to a desperate team.
It was not pretty, but the New Orleans Pelicans finally tasted victory.
In a game that went to overtime, the Pelicans were able to outlast the Phoenix Suns with a strong burst of offense late in the game.
Down eight after three quarters of play, New Orleans used a mix of strong shooting from behind the arc and acceptable defense to get a three point lead with less than a minute to play.
The Suns would hit a three and force the game into another five minutes of play.
In overtime, it came down to defensive awareness and the aggression of Jrue Holiday, who found his way to the line plenty of times in the extra frame. Jrue would end up leading the Pelicans in scoring, with 23 points.
The star of the stat line went to Tim Frazier, who put up a triple-double of 14 points, 11 boards and 11 assists off the bench.
For the Pelicans, this is their first win in their past six games, snapping a dreadful streak of basketball that has put the Pelicans farther back in the standings. For moral reasons alone, this win was much needed.

120

119
It was not the prettiest game from Jrue Holiday for sure. 7-18 shooting and two clutch free-throws missed ended up nearly costing New Orleans. However, he did fill a major role on the defensive end, against the lightning fast guards of the Suns. Even with his struggles, New Orleans had to be excited to have him back on the floor.
Buddy Hield did not have a horrible game. He shot 3-7 and made two big three-pointers in his 13 minutes. However, the Pelicans went for veteran leadership in crunch time over the youngster. It's an understandable play, as his defense is still not translating to the NBA well. He'll get his time in some games and limited in others. In the few minutes tonight, he was good.
Solomon Hill did not have a repeat performance aggression wise. He seemed way too comfortable sitting back and trying to space the floor. On defense, he got four fouls in 18 minutes. It's a broken record, but another disappointing performance from Hill.
Think about this. Anthony Davis shot 4-17 from the field and the Pelicans won. That says something. To AD's credit, he did have 12 boards and two blocks. He was still a force inside the paint. He just did not have his touch. Unfortunately, that means a lot to a team with little offensive firepower.
Alexis Ajinca's strong offense makes him a wanted commodity on the floor for this team. Unfortunately, Ajinca's disastrous defense makes him unplayable on a team that is not strong on that end. It's a double-edged sword with Alexis. Tonight was the same story that only played him 12 minutes, even with the starting role.
Tim Frazier got a triple-double, which is a lot for a guy that's 6'1″. He played 38 minutes on the floor and was always trying to make a difference in some way. On offense, he can be a bit of a mess at times. However, he balances out this team well and can help recover from cold spurts. Drives to the basket with authority and seems to make the right decision more than not. Gotta love that.
E'Twaun Moore returned from injury as well and had a….decent game. His two three-pointers were huge for the Pelicans, who shot 40% from deep as a team. However, Moore did not look completely himself. He was not as aggressive on rebounds and looked behind on defense a few times. He needs time to get back to 100%
Langston
Galloway
PG/SG,
B
Langston Galloway is such a strange case. His 4-7 shooting from deep changed the game, as he helped a team that had no other firepower stay with the Suns' balanced attack during a late fourth quarter stretch. While he brought really nothing else, that stretch of shooting saved the day in a way.
Reggie Williams put up 17 points in 20 minutes on 5-8 shooting and 4-5 from deep. The Pelicans needed it bad and he delivered. It's hard to say this one performance will do much to solidify his roster spot, since that's all he did in the game and both Anthony Brown and Archie Goodwin had good games of their own. Still, this was a big game for a guy trying to get back into the league. He needs to make it consistent, though.
Terrence Jones had a poor game. Shooting 2-9 from the field and looking lost plenty of times on the shorter Suns' bench power forwards. He did grab six rebounds, but he did not find any rhythm. Also side observation, Jones' three-point attempts are getting Josh Smith level scary to watch.
Cheick Diallo is showing Pelicans fans exactly what the hype of his selection was about. It was so much more than just nine minutes and four rebounds. Diallo showed he's not afraid of anyone in the paint and showed the effort to go after anything and everything off the floor. He's also showed a fluid jumper. His potential is high. The Pels have to find out how to harness that potential and get it out of him for the long haul.
This was a horrific matchup for Asik, and Alvin Gentry saw that. Only four minutes and one foul on the night showed how little confidence Gentry had in Asik making a difference.
Other Observations:
This is a game the Pelicans did win, but benefited a lot from poor Suns' execution. Phoenix shot 65.4% from the free-throw line, had 16 turnovers and took 41 three-point attempts. Not the greatest decision making and execution when Phoenix had the lead.
The Pels took a ton of threes themselves, shooting 40 attempts from the field. However, New Orleans made 16 of their attempts, topping Phoenix's 14 makes. It's the little things that helped the Pelicans win this game.
Each win has significant value for the New Orleans Pelicans. This is a team with high expectations that does not have the roster to fill it. For them to find a groove and grow chemistry as a team, they have to grind out these tough games. Tonight was one of the first they did not let slip out of their hands and held firm. They need more of these kind of victories.
The Pelicans are in for a tough test, as they head home Tuesday night for a duel with the Golden State Warriors. Tip is scheduled for 7:00 PM CST.
More from Pelican Debrief
This article originally appeared on