Player Grades: New Orleans Pelicans blow out Los Angeles Lakers at home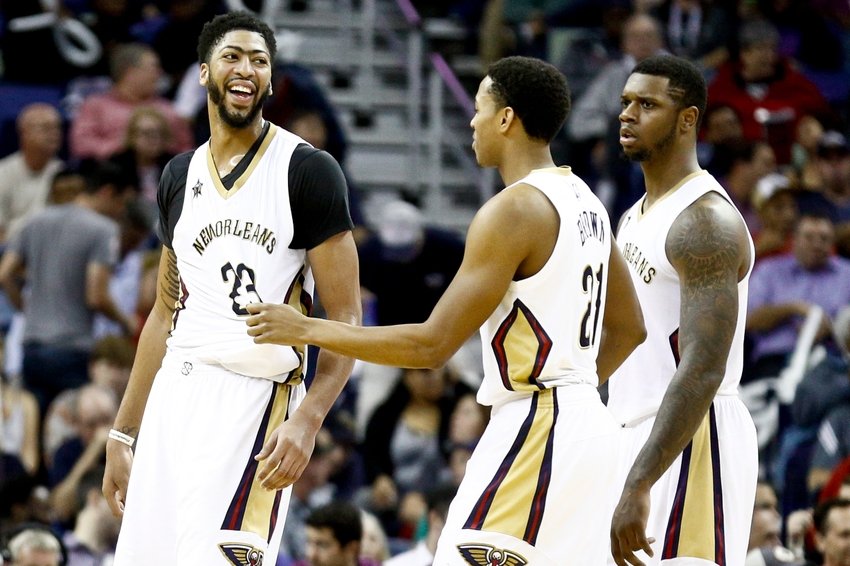 The New Orleans Pelicans jumped out of the gate quickly against the Los Angeles Lakers, winning 105-88 and getting revenge from their loss two weeks ago.
Unlike Sunday's disaster against the Dallas Mavericks, the New Orleans Pelicans came out swinging against an up-and-coming Los Angeles squad that beat them pretty bad earlier this year.  Jrue Holiday was inserted into the starting lineup for the first time this season over E'twaun Moore which gave a huge spark at the off-guard position. Anthony Davis poured 41 from everywhere on the court. Check out his highlights below.
Meanwhile, Omer Asik played the best game of his season so far. We haven't seen this player in nearly two years. All five starters finished with positive on/off numbers for the game.
Now, let's get into player's overall grades:

105

88
Tim
Frazier
PG,
New Orleans Pelicans
B
With Holiday back in the starting lineup it should lessen load Tim has to carry. While I love his feistiness he must improve on his decision-making and passing. I understand his intention in getting the ball to AD, but he has to know when he can and can't. He has to stop forcing the issue. Otherwise, decent game from Tim.
Jrue
Holiday
G,
New Orleans Pelicans
A
Jrue is rounding into form! To have him back is clutch due to him being a versatile player and ability to create his own shot. Defenders have to account for him at all times on the floor.
Solomon
Hill
SF/PF,
New Orleans Pelicans
B+
In 28 minutes, Solo finished with 3 points and 7 rebounds. While not gaudy numbers, his impact was on the defensive end and the Lakers felt it all night. He is so great defensively in rebounding, switching, jumping passing lanes and often not recognized communicating. If his offense comes, we got a steal.
Anthony
Davis
PF/C,
New Orleans Pelicans
A+
What can you say? The guy did a phenomenal job in coming out with force and playing through fouls. Of course, we want him to limit hitting the ground, but you have to love his passion in chasing loose balls and challenging every shot in his vicinity.
Omer
Asik
C,
New Orleans Pelicans
A+
What a great sight to see! Omer was active, catching passes and finishing at the rim. On the defensive end, he was giving Mozgov fits. His new nickname is Omer Reborn.
E'Twaun
Moore
G,
New Orleans Pelicans
C
E'Twaun didn't have a good game shooting, but made decent plays here and there.
Terrence
Jones
PF/C,
New Orleans Pelicans
B
T. Jones had a low scoring game as well, but made key plays in certain moments. He was active on the boards and in the low post.
Anthony
Brown
SG/SF,
New Orleans Pelicans
C
I'm glad Gentry is giving him minutes. Brown has a lot of potential. He's an improving defender that needs to work on his footwork.
Buddy
Hield
SG,
New Orleans Pelicans
INC
Garbage time is not the time to judge a rookie.
Cheick
Diallo
C,
New Orleans Pelicans
INC
Cool to see Diallo play in a real game, but again, not the time to make judgments about a rookie.
Final Observations:
The team is still growing in the right direction. We gotta learn though how to put teams away.
Defense is our calling card.
AD is a freaking MONSTER!
More from Pelican Debrief
This article originally appeared on