Player Grades: Memphis Grizzlies vs. New Orleans Pelicans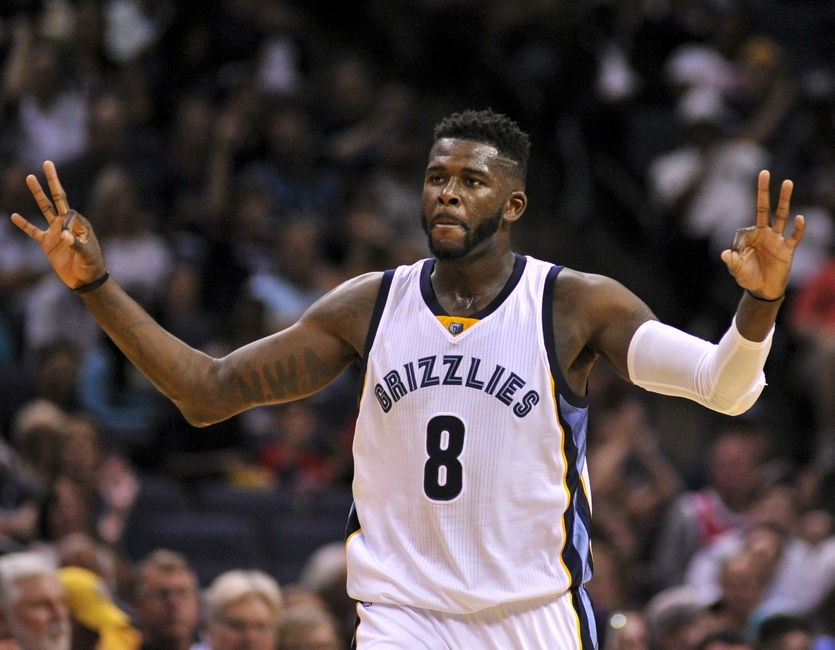 For the second time on the young season the Memphis Grizzlies captured an overtime win at home following a loss on the road.
The Memphis Grizzlies continue to be unpredictable on the young season. They finally started a game off hot, but they were unable to continue that momentum. They held the Pelicans to point totals of 13 and 11 in two different quarters but were unable to break double digits in the fourth quarter, scoring just nine points.
Mike
Conley
PG,
Memphis Grizzlies
B+
Captain Clutch broke 20 points by hitting the free throws to ice the game. Conley played off the ball quite a bit and at times was the only player for the Grizz that was getting the shot he wanted. An uneven shooting line and occasional defensive miscues bring the grade down.
Marc
Gasol
C,
Memphis Grizzlies
C
Gasol struggled shooting tonight but flashed his amazing passing ability as a facilitator in the offense. He also played lockdown defense and really dominated (along with Conley) the overtime period.
JaMychal
Green
PF,
Memphis Grizzlies
A+
What a night for JaMychal. He started off the game hot and continued to be on fire the entire night. Green would finish 21 points and 6 boards on a 75 percent shooting line. Overall, a fantastic performance from Green. He continues to play well with the starting unit and looks to fit in very well alongside Gasol on the frontline. When Parsons returns and gets to 100 percent health, the continual development of Green could make the Grizzlies starting front court one of the best in the Western Conference.
James
Ennis
F,
Memphis Grizzlies
A+
This is going to be odd to say but James Ennis had the quietest double-double I can imagine. Ennis finished with 16 and 10 and had an all around solid night. There was never a moment where I was like "OK, ya boy James is showing out tonight!" but that is the key to his A+ performance: we aren't supposed to know he is having a killer night. He is owning his role of perimeter shooting and rebounding while picking up the slack in other areas. With the core four really struggling, Ennis worked alongside Green to help pick up their slack.
Tony
Allen
G/F,
Memphis Grizzlies
B-
We got the full package of a Tony Allen game last night: the good, the bad, the ugly. Allen made his return to the starting lineup but made a negligible impact on this game because New Orleans lacks the perimeter threats that make Tony so effective.
Zach Randolph: C. ZBo struggled to get the ball in the hoop but he did not struggle on getting shots up. Which is exactly what Coach Fizdale wants. The goal is for him to anchor a bench unit that lacks punch and if nothing is there he is going to have to take tough shots. Last night, the bench unit had no punch and put Zach in bad positions the entire game. This forced him into taking some tough looks over solid defenders.
Jarell Martin: A+. This is mainly because he was mixing it up out there. He can play Center if necessary and he can slide all around the frontcourt. I love the idea of him being a versatile player for the Grizz.
Vince Carter: C. Vince did Vince things with no baskets. Not a great performance but a very solid performance.
Wade Baldwin: C. Solid work but man can you tell that Baldwin is a rookie on the defensive end. Example: up 1 in the fourth quarter he left Buddy Hield to double team Terrance Jones, who was locked up by Marc Gasol. That lead to an open three and a Pelicans lead. He is a hair slow on rotations (as expected). He played solidly on offense and made some excellent passes out of the high pick and roll to shooters on the perimeter. Overall, Baldwin had a solid performance. I am very excited about his progression this season.
More from Beale Street Bears
This article originally appeared on