Player Grades: Memphis Grizzlies torch Westbrook, Thunder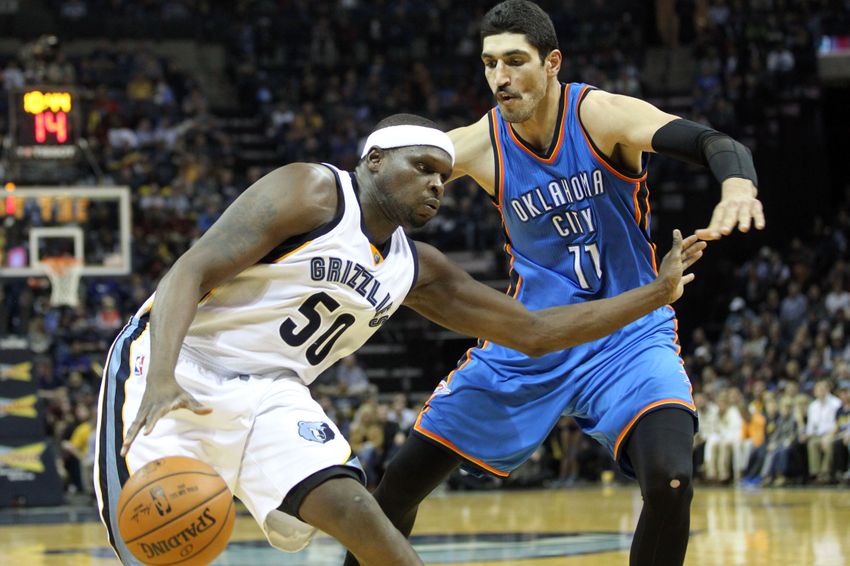 The Memphis Grizzlies made life difficult for the Russell Westbrook and the Oklahoma City Thunder, beating them by 34 points.
The Memphis Grizzlies put their top-3 defensive rating on display tonight. They shut the Thunder to 80 points. In addition, Russell Westbrook didn't get a triple double. In fact, he didn't even register an assist.
Westbrook's off night and Victor Oladipo's absence played a huge role in their loss. However, the Memphis Grizzlies were without Mike Conley. They weren't supposed to contain Westbrook.
Well, they improved to an impressive 8-3 without their starting point guard.
Behind their strong play of the Marc Gasol and Zach Randolph, the Memphis Grizzlies cruised the entire night. Gasol registered 25 points, 8 rebounds and 5 blocks. Randolph delivered another strong performance off the bench with 21 points and 8 rebounds.
Blow outs are usually mean garbage time; however, Troy Daniels gave the crowd a treat. In the fourth quarter alone, Daniels scored 22 points and hit a red-hot 6 three-pointers.
Yes, the Memphis Grizzlies won by 34 points, but not everyone had a perfect game.
The Starters
Andrew
Harrison
G,
Memphis Grizzlies
B+
Without Mike Conley, the Memphis Grizzlies needed a big boost from their backcourt. Andrew Harrison delivered. He had 10 points and connected on 2 three-pointers. In addition, he played steady defense on Westbrook. Harrison made a strong case on why the Grizzlies don't need a veteran backup point guard.
Tony
Allen
G,
Memphis Grizzlies
B
Tony Allen was all over the place for the Grizzlies. He had 8 points and 9 rebounds (5 on the offensive glass). TA also had the highest +/- at +31. While he was a huge positive in this game, he made a few bone-head plays.
Marc
Gasol
C,
Memphis Grizzlies
A
Marc Gasol showed, yet again, why he should be an All-Star. He scored 25 points and grabbed 8 rebounds, but his biggest strength in this game was his stifling defense. Gasol blocked 5 shots and held Steven Adams to 6 points. This game's just another instance of why Marc Gasol's one of the best two-way centers in the league.
Chandler
Parsons
F,
Memphis Grizzlies
C+
I'll give Parsons the "+," because he's progressing. While his scoring (2 points on 1-for-2 shooting) and minutes (15) aren't there yet, he's doing the little things on the court. He's making smart passes (3 assists) and playing solid defense (2 steals). Hopefully, we can see a fully healthy, scoring Chandler Parsons soon.
JaMychal
Green
F,
Memphis Grizzlies
A
JaMychal Green delivered another solid performance and showed why he'll be getting paid this summer. He scored 17 points on 6-for-7 shooting (2-for-2 from beyond the arc) and was a +29 on the court. His two-way versatility is an X-factor for the Memphis Grizzlies.
The Bench
Zach
Randolph
F/C,
Memphis Grizzlies
A
Zach Randolph had a vintage game. He had a near double-double, as he scored 21 points and hauled in 8 rebounds. ZBo dropped countless jab step, fadeaway buckets. In addition, he drilled 2 three-pointers. #ZBoFor6thMan
James
Ennis
F/G,
Memphis Grizzlies
C
James Ennis was just there in this game. He didn't do anything that stood out on both ends of the court. He had 5 points on 1-for-2 shooting and connected on his only triple. Hopefully, Ennis could start delivering more consistent performances. #WeStillEnnis
Vince
Carter
G/F,
Memphis Grizzlies
B
Vince Carter had a solid game, scoring 4 points on 1-for-2 shooting from downtown. In addition to some quality defense, he shot a filthy fadeaway corner three.
Troy
Daniels
G,
Memphis Grizzlies
A+
Through the first 3 quarters, I saw Troy Daniels on the court and thought, "Well, one of those games where Daniels won't do anything." Then, the fourth quarter happened. Troy Daniels was absolutely en fuego! He scored all 22 of his points in the fourth quarter and drilled 6 three-pointers. While he did that in a 34-point game, knowing that the Memphis Grizzlies have someone who can catch fire like that is enticing for Grizz Nation.
Wade Baldwin, who probably deserves an "A' for being smart and giving Troy Daniels the basketball, and Jarell Martin received minutes in garbage time.
The Memphis Grizzlies entertained the fans for the final home game of 2016. Here's to 2017, better injury luck, a parade on a Beale Street and a championship banner in the FedEx Forum.
#WeEnnis
More from Beale Street Bears
This article originally appeared on