Player Grades: Memphis Grizzlies pull out clutch win against L.A. Clippers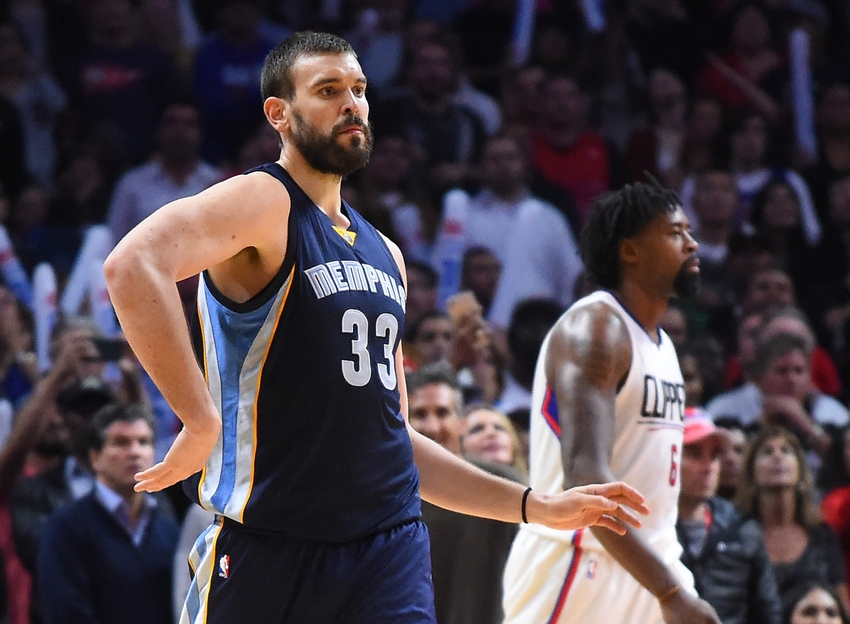 Powered by a 30-point performance by Mike Conley and a game winning three-pointer by Marc Gasol, the Memphis Grizzlies were able to hand the L.A. Clippers their second loss of the season.
Wow, what a game! The Memphis Grizzlies came out and dropped 111 on the best defense in the NBA. Although the Clippers made a second half comeback fueled by 7 three-pointers by J.J. Redick, the Grizzlies were able to hold on with some heroics from Mike Conley and Marc Gasol.
VS.
| | | | | | |
| --- | --- | --- | --- | --- | --- |
| | 1 | 2 | 3 | 4 | T |
| Clippers | 28 | 18 | 30 | 31 | 107 |
| Grizzlies | 26 | 35 | 22 | 28 | 111 |
Starting 5
Mike
Conley
PG,
Memphis Grizzlies
A+
Conley came to play. He tied a career high (also against the Clippers) with 7 made three-pointers. He didn't miss on his first 7 shot attempts and finished the game shooting 75 percent. He also added in 5 rebounds and 8 assists
Marc
Gasol
C,
Memphis Grizzlies
A++
Gasol scored 26 points, with none being more important than the corner three to put Memphis ahead for the final time in the closing seconds. Apparently DeAndre Jordan didn't get the memo that Gasol can shoot now, as Marc went 4-for-5 from three-point range. Marc's second biggest play, which will mostly go unnoticed, was a deflection of a Jamal Crawford pass late in the fourth which got Memphis the ball back and gave him the opportunity to knock down the game-winner. PLUS, HE HIT THAT NOODLE ARM DANCE!
Jamychal
Green
F,
Memphis Grizzlies
C-
Green only scored 4 points and was a -8 in box score plus/minus. Although he pulled down 10 boards, Green got into foul trouble early and had a lot of problems trying to stop Blake Griffin, who dropped 15 in the first quarter.
James
Ennis
G,
Memphis Grizzlies
C
Ennis was average. He had 10 points and did a decent job on Chris Paul and J.J. Redick. However, he somehow had a -11 in box score plus/minus.
Chandler
Parsons
F,
Memphis Grizzlies
INC
Chandler only played 14 minutes, all of which were in the first half. He scored 4 points, but looked very passive. I suspect they were saving him for his return to Dallas on Thursday.
The Bench
Zach
Randolph
F,
Memphis Grizzlies
A
Z-Bo played his heart out as usual when facing the Clippers. He had a very solid 18 points and 7 rebounds off the bench which helped extend the lead in the 2nd quarter. 6th man of the year is becoming more of a reality every day.
Andrew
Harrison
G,
Memphis Grizzlies
B
B is for block! SesameStreet.gif
Harrison made a huge block on a Chris Paul fast break layup in the 3rd. However, he's only getting the 'B' for that play. Otherwise, he looked rough defensively and was the primary defender on several of J.J. Redick's 7 3-pointers.
Vince
Carter
G,
Memphis Grizzlies
B
Carter added a sneaky 12 points off the bench. He also had a couple of assists and rebounds and played tough throughout the night. Plus, he apparently threw down a 360 dunk during halftime just to impress the ESPN crew.
*None of the other bench players particularly contributed, having a combined 2 points, 4 rebounds and 1 assist.
More from Beale Street Bears
This article originally appeared on