Player Grades: Charlotte Hornets' Team Effort Destroys the Indiana Pacers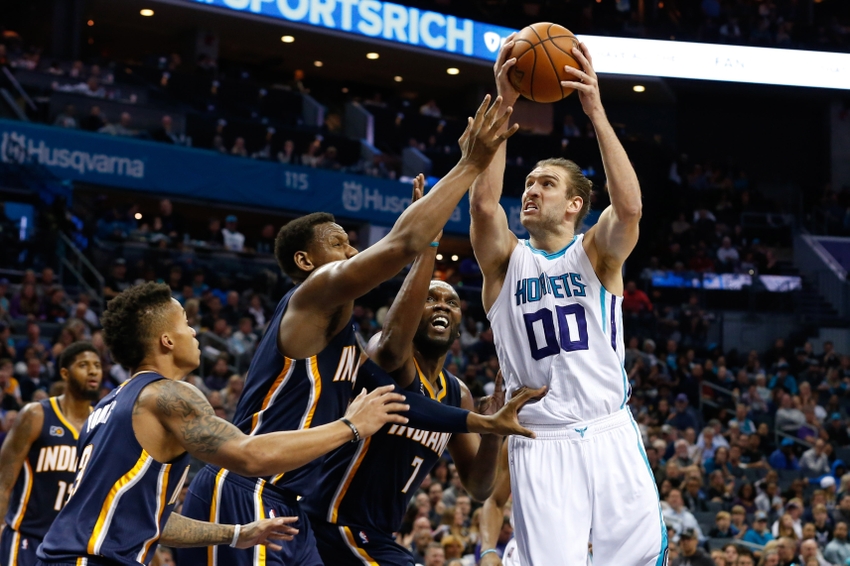 The Charlotte Hornets thoroughly handled the Indiana Pacers, 122-100, and a number of players had outstanding performances.
The Charlotte Hornets start off hot! In their win over the Indiana Pacers tonight they flirted with some team and NBA milestones. While doing so they gained a 5-1 record for the first time in team history. They finished the first quarter one point shy of tying the record for points in a quarter.
The 43-point quarter succeeded in setting the NBA bar for points in a quarter this season. Michael Kidd-Gilchrist, who left the game early in the third quarter with back pain, scored 12 of his 13 points in the first quarter. The hornets tie the franchise record for points in a half with 75 points on 56% shooting. Quickly, I would like to give the player grades and player of the game honors for tonight.
Player of the Game:
Kemba
Walker
PG,
Charlotte Hornets
A+
As usual, Kemba had another monster game. The captain dishes seven assists of his 10 assists in the first quarter. He finished the game with 24 points, 10 assists, two rebounds, two steals, and a block. This he did in only 21 minutes of play sitting out the entire fourth quarter. Not too shabby captain. Not shabby at all.
Michael
Kidd-Gilchrist
SF,
Charlotte Hornets
A
Part of the quick start the Hornets had tonight was fueled by MKG. He had 12 of his 13 points in the first quarter. Even though he did not have his usual double-digit rebounding night the 13 points came in the first half as he left the game with a back injury to begin the third quarter.
Marvin
Williams
PF,
Charlotte Hornets
B
Mr. Williams was his usual dependable self. He chipped in his usual 12 points and four rebounds. He had his usual two three-pointers.
Cody
Zeller
C,
Charlotte Hornets
B
Cody had a very good night. He played good defense not allowing the Pacers strong young sophomore explode. For good measure, he chipped in 13 points and five rebounds.
Nicolas
Batum
SG,
Charlotte Hornets
B-
This grade by no means that Nick did not have a good game. He had a solid game across the board. Only his scoring did not reach double figures did he receive this score. He scored nine points, grabbed six rebounds, dished out four assists, and recorded three steals.
Marco
Belinelli
Back-up SG,
Charlotte Hornets
B
Marco is settling in with the Hornets and earning his playing time. Tonight, he gave great minutes to spell MKG. His stat line reads 12 points, three rebounds, four assists, and three steals. He also made two of his four three-point attempts.
Frank
Kaminsky
Back-up PF,
Charlotte Hornets
C
Frank struggled a little bit tonight. Although he did make it to double figures he missed all six of his three-point shots. He shot 35% for the night.
Ramon
Sessions
Back-up PG,
Charlotte Hornets
B
Again, Ramon came in and gave good minutes in relief of Kemba. He finished with 10 points and seven assists.
Spencer
Hawes
Back-up C,
Charlotte Hornets
A-
Spencer has his game of the season so far. He gave great minutes to spell Cody Zeller. He beasted tonight for 13 points and 13 rebounds.
Treveon
Graham
Back-up SF,
Charlotte Hornets
D+
Traveon Graham gets in the game for a few minutes and is assigned the unenviable task of guarding Paul George.  He picks up two fouls one of them for getting elbowed in the cheek.  But he did drill his first career NBA three.
More from Swarm and Sting
This article originally appeared on