Pistons team effort holds off Thunder on Westbrook's big night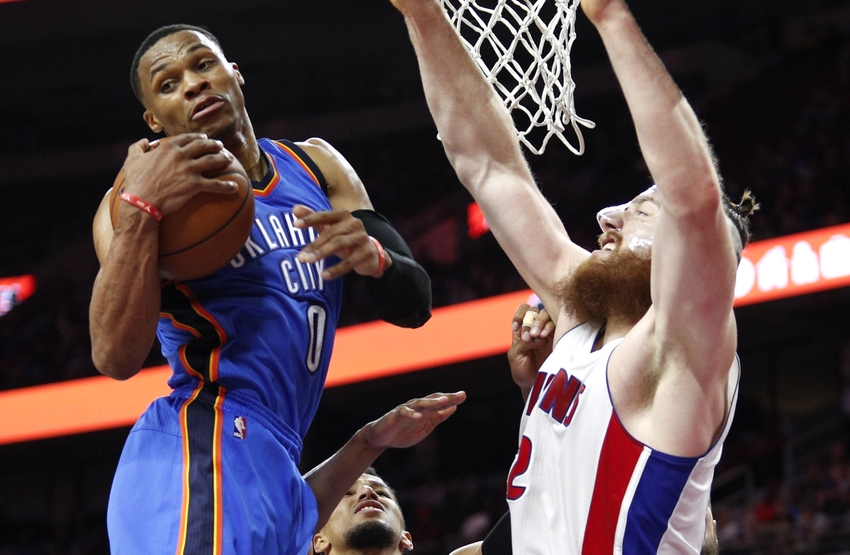 After a rough road trip, the Detroit Pistons returned to the Palace of Auburn Hills to protect their perfect home record against Russell Westbrook and the Oklahoma City Thunder.
After a rough road trip, the Detroit Pistons returned to the Palace of Auburn Hills to face the Oklahoma City Thunder. They needed a win to protect their perfect home record and try to stay above .500 on the season. Just before tipoff, that task would be made significantly more difficult when the Pistons announced Andre Drummond would be joining Reggie Jackson in street clothes on the bench as he recovers from an ankle injury.
The Pistons, however, didn't miss a beat. After a competitive first quarter, Detroit's second unit was able to push the lead to 38-29 early in the second. The Thunder, however, were not done yet. Late in the second, Russell Westbrook unleashed a ferocious attack going on a personal 10-1 run of his own to end the first half with 25 points.
In the second half the Thunder would make a few runs and keep the game within striking distance, but in the end, the Pistons proved to be too much behind, 22 points from Harris, 20 from Aron Baynes and 17 from Kentavious Caldwell-Pope.
Russell Westbrook, on the other hand, finished with 33 points, 15 rebounds, and 8 assists. He was the only Thunder player to finish in double-digits scoring.
With this win, the Pistons improve to 6-5 on the season, while remaining perfect at home (5-0). In addition to that, the Pistons home defense was as stifling as ever, allowing only 88 points and keeping all five of their home opponents under 90 points.
Below is the individual analysis and grades for all Pistons who played tonight.
Ish
Smith
PG,
Detroit Pistons
B
Ish Smith had a nice game, he scored 11 points, 6 rebounds, 3 assists and 2 steals in 30 minutes of play. He pushed the tempo on offense and used his explosive first step to get to the basket with ease. He shot 4-8 from the field and 3-4 from the free throw line. The biggest effect he had on the game was running Russell Westbrook and
Victor Oladipo
in circles, continuing to tire their already tired legs. All in all, he had a solid game.
Kentavious
Caldwell-Pope
SG,
Detroit Pistons
B+
Although Caldwell-Pope did not play an overly efficient game, shooting 7-17 from the field and 1-4 from three-point line, he did bring great energy to the game. Caldwell-Pope scored 17 points and added 4 rebounds, 3 assists, and a steal. He came out firing on all cylinders early, hitting his first three shots which included a three from deep. As the game wore on, his offense slowed a bit, but he managed to maintain high energy chasing Westbrook all over the court, hustling to force him into a bad technical foul and a crunch time charge. Although Westbrook scored 25 points in the first half, KCP's harassing defense and hustle helped to hold him to only 8 in the second.
Marcus
Morris
SF,
Detroit Pistons
C
Marcus Morris
had a poor game offensively going 3-12 from the field and 1-3 from downtown. He scored only 7 points but managed to grab 6 rebounds and create 5 assists. Although his shot was not falling tonight ,his lackluster game was mitigated by the absence of production among any of the forwards from OKC.
Tobias
Harris
PF,
Detroit Pistons
A
Tobias Harris
had an overall dominating game. As predicted, he dominated Domantas Sabonis early and often. Although he did not score until the last minute of the first quarter, Harris quickly went to work after that, bullying his way down low and finishing around the rim. After that point, he continued his abuse on a regular basis throughout the game. The team-high 22 points came in such a dominant form that each one seemed to drain a little more life out of his opponents. He finished the game shooting a very efficient 9-16 from the field and 2-5 from downtown. Most impressive, he finished with a +22 plus/minus ratio.
Aron
Baynes
C,
Detroit Pistons
A+
My pick for player of the game,
Aron Baynes
was a force to be reckoned with from the tip. He was everywhere, hustling all over the court, grabbing rebounds and putting the ball in the basket. Baynes finished with 20 points, 8 rebounds, and an assist while shooting 8-13 from the field and 4-4 from the free-throw line. However, the area he may have most affected the game won't show up on the score sheet; he set impenetrable screens all over the court, he pulled away defenders as he rolled to the basket, and he got the Oklahoma City's bigs in foul trouble by simply out working them for position. All in all, with Drummond being out I don't think you could have asked for anything more from Aron Baynes.
Jon
Leuer
PF,
Detroit Pistons
B-
Jon Leuer
quietly had a decent game. He wasn't knocking down shots from all over or making many flashy plays, but in general he got it done tonight. Leuer scored 8 points, grabbed 9 rebounds, created 4 assists and even got a block. He got himself in solid position, played a generally smart game, and helped the Pistons get it done on the glass without big Andre Drummond.
Stanley
Johnson
SF,
Detroit Pistons
D+
Stanley Johnson
was generally uninspiring tonight. He contributed 3 points, 1 rebound, 1 assist and 3 blocks. His shot looked flat, he dribbled into traffic and trouble on more than one occasion, and he failed to add much value to the game. It does appear that Coach Van Gundy got after him in the fourth quarter where he showed a spark of energy. After that point, he had a couple solid defensive stops and a fast break three, but outside of that, Johnson is looking like he has a case of the sophomore slumps.
Beno
Udrih
PG,
Detroit Pistons
B+
Beno Udrih
brought the fire off the bench for the Pistons tonight. He racked up 10 points, 4 assists, and 4 rebounds in only 18 minutes of play. He was a quick burst of energy, pushing the bench and helping Detroit establish their lead early in the second quarter. Best of all, he was very efficient tonight, he shot 5-7 from the field and got the job done. There isn't much more you could ask of your backup point than that.
Boban
Marjanovic
C,
Detroit Pistons
C
With Drummond out, it was clear
Boban Marjanovic
was going to see more playing time than usual, and that's exactly what happened. Unfortunately, Marjanovic struggled early to adjust to the tempo of the game. He regularly found himself out of position, chasing his opponent on defense and forcing shot on offense. In the second half, however, Marjanovic adjusted well. He made a couple nice baskets, grabbed some boards, and had the block of the night, a set-footed swat on a
Steven Adams
jumper. In the end, he finished with 4 points, 4 rebounds, and 2 blocks in 12 minutes of play.
Darrun
Hilliard
SG,
Detroit Pistons
Inc.
Darrun Hilliard
checked in with 1:15 left to play in the fourth and immediately made a move, drove to the hole and finished with a nice scoop and score at the basket. Although Hilliard did not play much, his smooth offensive game is encouraging. I look forward to seeing more. Unfortunately tonight, we did not see enough to give him a grade.
Henry
Ellenson
PF/C,
Detroit Pistons
Inc.
Similar to Hilliard, Ellenson only played just over a minute. During that time he played decent post defense against Sabonis and forced a dribble-pullup from about ten feet that fell short. I look forward to seeing more of Ellenson, but we didn't see enough to give him a grade tonight.
Stan
Van Gundy
Head Coach,
Detroit Pistons
A
After a long road trip, you don't look forward to playing one of the best players in the league without your two best players, and if you do, you don't normally expect a win. That, however, is exactly what Coach Van Gundy did. He stayed on top of the team tonight. He pushed the players to get out to an early lead and keep it. Most impressively, he could be heard verbally pushing his players through a stretch, late in the fourth, when both teams combined to miss 13 of 14 straight shots. All in all, this win has to be chalked up to coaching and excellent game management.
This article originally appeared on