Pistons look to snap losing streak in San Antonio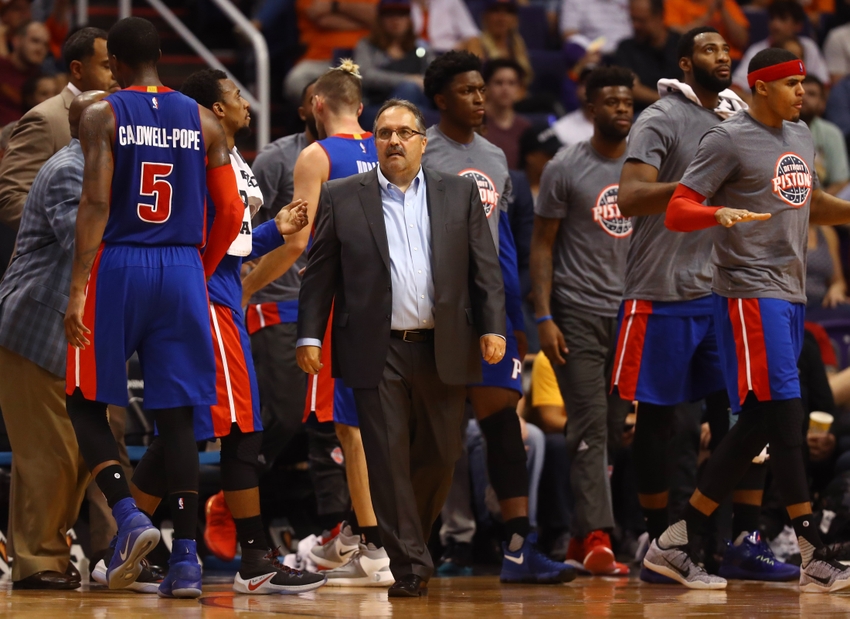 The Detroit Pistons lost back-to-back games for the first time this season after going down to the Phoenix Suns, and now look towards the San Antonio Spurs as they attempt to avoid falling under .500.
There have been a multitude of negatives and positives for the Detroit Pistons to start the season, with their game against the Phoenix Suns showcasing this better than any game so far this season.
Going into the game the hapless Suns were 2-6, with both of their wins coming in extra time.
Many marked this down as a win before it had even tipped off, however the Pistons still had to go out there and perform.
Unfortunately, outside of a few contributors there weren't a lot of performances to be proud of and it resulted in the Suns getting their first win in regulation this season.
One glaring issue they'll need to fix if the Pistons want to have a chance of competing in San Antonio is their defence on the road.
All four of the Pistons' losses have come on the road and each loss has largely stemmed from embarrassing performances on the defensive end.
On the road they are giving up an average of 109.8 points per game, which puts them as the eighth worst defensive team when playing on the road.
This is in stark contrast to only giving up 85 points at home, good for second best in the league and only one point behind the Los Angeles Clippers who have been a defensive juggernaut this season.
The Pistons won't beat the majority of teams giving up almost 110 points on the road, and they certainly won't be able to beat the Spurs if they concede that many points.
Scoring only 93.5 points on the road definitely doesn't help either.
It's going to be an even tougher night defensively thanks to Kawhi Leonard who has announced himself as a genuine superstar this season.
He's averaging 27.4 points per game while also pulling in 5.6 rebounds, dishing out 3.1 assists and recording 2.3 steals.
Leaonard is going to be a handful for the Pistons, and it's going to take a whole team effort to contain him.
It's also a concern that Ish Smith has struggled greatly with being able to score efficiently.
He is 33 of 98 from the field this season, and he has only had one game where he's shot better than 39 per cent this season (he shot 61 per cent against Orlando).
In the past two games Smith is 4 of 22 from the field for just 11 points and has been a combined -32 when on the floor.
Many of his missed shots in the last game against the Suns came from him driving into two or three defenders, a situation where someone who is only 6′ tall probably won't have much success.
For the Pistons to win they don't need Smith to score like Reggie Jackson, but if they can get him to score an efficient 11 or 12 points while distributing the ball the way he has, it'll go a long way in helping the Pistons compete.
On the positive side of things, Kentavious Caldwell-Pope and Andre Drummond have been firing recently.
Caldwell-Pope particularly has found a groove after a slow start to the season, averaging 16 points, 4 rebounds, 1.7 assists and 1.5 steals as well as 45.7 percent from three in his last 6 games.
Those stats would be a lot higher if it wasn't for his performance against the Clippers where he missed all 6 of his shots, took just one three and ended the game with a single point.
Similarly, Drummond has started to fire in the past three games.
After having an up and down beginning to the season Drummond is averaging 17.3 points, 15.3 rebounds, 1.7 assists, 1.3 steals and 1.7 blocks in his past three games.
He's also shot his free throws at 63.6 percent across those games and is averaging 52.3 percent for the season.
If Drummond and Caldwell-Pope can fire at the same time as Tobias Harris and Marcus Morris who have had superb starts to the season, the Pistons may very well be able to hang with the Spurs for 48 minutes.
Combine this with an improved defensive effort compared to what we've seen in the first four road games and the Pistons could very well steal an important confidence building game to keep the team above .500.
This article originally appeared on