Pistons Look to Extend Winning Steak Against Thunder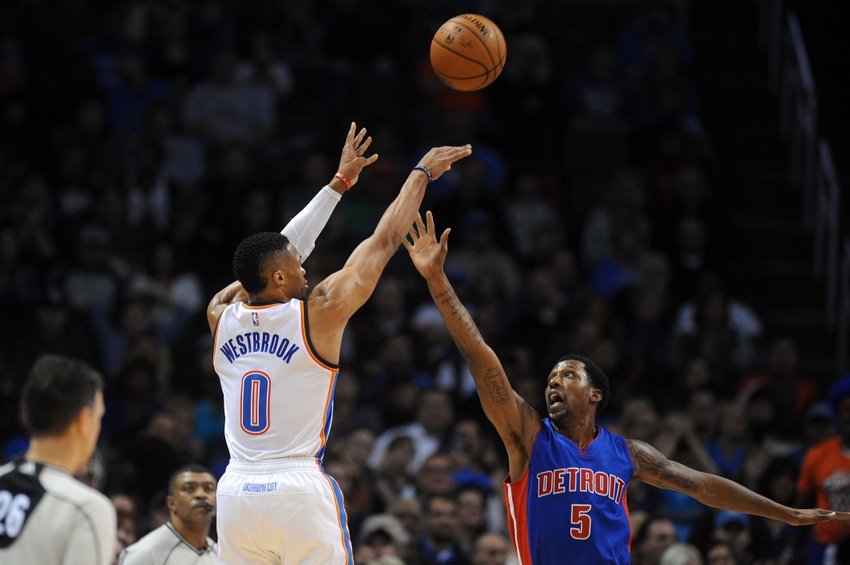 The Detroit Pistons look to overcome their road woes, extend their winning streak to three, and get back to .500 vs. the Oklahoma City Thunder.
The Detroit Pistons are coming off a huge home win against the formerly league-best Los Angeles Clippers. They'll look to extend their two-game winning streak to three against an Oklahoma City Thunder team that they have seen success against the past two years.
In the most recent match-up earlier this year, the Pistons cruised to a 16 point win at the Palace.  This time, they travel to Oklahoma City and attempt to sweep the season series from the Thunder.
The premier match-up to watch tonight is the same as it always is when these two teams meet: Russell Westbrook vs. Kentavious Caldwell-Pope.
Caldwell-Pope was a monster defensively against Westbrook last year, holding him to 13-of-38 shooting on only 19 points per game.  In addition to Westbrook's poor shooting numbers, he turned the ball over 14 times in just two games.
Earlier this year, Westbrook found a bit more success, in large part, because he found himself matched up against Ish Smith on numerous occasions.  Westbrook was a bit hesitant, by his standards, in attacking when Caldwell-Pope was defending him.  When Smith was defending him, though, Westbrook was his usual aggressive self.  The result for Westbrook was a 33 point performance on 52 percent shooting.
The key for the Pistons in defending Westbrook will be to get back in transition defensively.  That holds especially true for Caldwell-Pope, who will need to find Westbrook and pick him up early in order to prevent the smaller Smith from having to guard the superstar Thunder point guard.
If the Pistons can avoid the Westbrook/Smith transition match-ups, they should see some success defensively, something they have not seen so far this year on the road.  Stan Van Gundy recognized the Pistons' defensive struggled a week and half ago.
"The defense has been incredibly different. It has just been bigger than anything I've seen. When you're going on 100 possessions, we have 22 points per 100 possessions difference in our defense. Even for a small sample size that's remarkable. We talked about that today and the need to bring what we have at home on the road with us.''
Offensively, the entire Pistons team, minus Marcus Morris, had very good games against the Thunder in the first match-up this year.  Morris has since had a couple good shooting games, but he may have another difficult night tonight if he's again defended by Andre Roberson, the Thunder's top wing defender.
If the Pistons can avoid attacking Roberson and look to more favorable match-ups offensively, and, at the same time, limit the amount of possessions that Smith gets matched up with Westbrook, they will have a good opportunity to get their second road win of the year and get back to the .500 mark.
This article originally appeared on