Pistons extinguish Heat in 84-107 win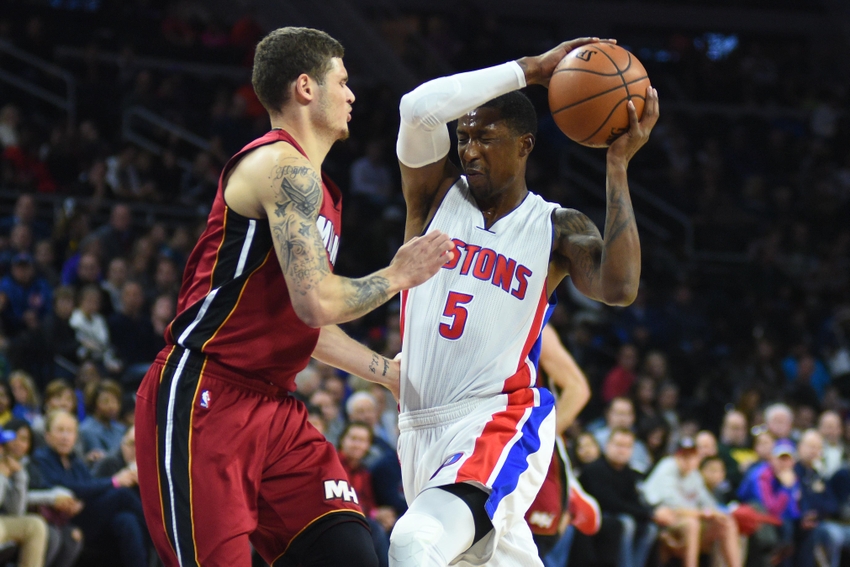 The Detroit Pistons recorded a comprehensive 23-point victory over the Miami Heat, snapping a four game losing streak.
The Detroit Pistons came out firing from the tip-off, with their hot start setting the tone for the rest of the game.
The Pistons outscored the Miami Heat 28-16 in the first, but had to withstand a spirited fight back which almost saw them lose the lead midway through the second.
However, unlike a number of other games we've seen from the Pistons this year, they were able to steady the ship and regain control despite the Heat finding their groove in the second quarter.
Andre Drummond and Kentavious Caldwell-Pope were instrumental, both putting in impressive performances.
Drummond had arguably his best all-around game this season, posting 18 points, 15 rebounds, 4 steals and 4 blocks while keeping Hassan Whiteside to just 6 points and 8 rebounds.
Whiteside had yet to have a single game this season with less than 10 rebounds.
Caldwell-Pope on the other hand had 22 points on 7 of 13 shooting and pulled in 5 rebounds.
The Pistons also saw solid contributions off the bench from Beno Undrih, Jon Leuer and Stanley Johnson, a big improvement from the disappointing performances turned in recently by the bench unit.
Ish
Smith
PG,
Detroit Pistons
C
Ish Smith had very little impact tonight despite the Pistons registering such a comprehensive win. He had just 6 points and 2 assists, although his 0 turnovers were a positive sign.
Kentavious
Caldwell-Pope
SG,
Detroit Pistons
A
Kentavious Caldwell-Pope continued his great scoring run, dropping another 22 points against the Heat. He also chipped in 5 rebounds, which was the third most of any Piston player.
Marcus
Morris
SF,
Detroit Pistons
C
Marcus Morris had a very quiet game against the Heat, but like Ish Smith, he did just enough to be a positive contributor to the team. Morris had just 7 points on a poor 2 of 8 shooting, but his passing was on point, dishing out 6 assists.
Tobias
Harris
PF,
Detroit Pistons
B+
Tobias Harris was at his consistent best, dropping 17 points along with 6 rebounds and 3 assists. He failed to make any threes tonight, however his shooting was still a respectable 6 of 14.
Andre
Drummond
C,
Detroit Pistons
A+
This was arguably Andre Drummond's best game of the season. Coming up against a defensive powerhouse and the leading rebounder in Hassan Whiteside, Drummond scored 18 points, pulled in 15 rebounds and was incredibly active on the defensive end with 4 steals and 4 blocks. Keeping Hassan Whiteside to just 6 points and 8 rebounds is also very impressive.
Beno
Udrih
PG,
Detroit Pistons
B
Beno Udrih had a solid game off the bench, recording 12 points, 5 assists and 3 rebounds. Udrih did a much better job at keeping the offence moving when the bench unit was on the floor.
Stanley
Johnson
SF,
Detroit Pistons
C+
Stanley Johnson was solid and looked engaged off the bench tonight. He finished the game with 8 points and 4 rebounds.
Jon
Leuer
PF,
Detroit Pistons
C+
Jon Leuer didn't have his greatest game off the bench, but I still contributed important minutes. He had 11 points and 4 rebounds in an extended 27 minutes of court time.
Aaron
Baynes
C,
Detroit Pistons
B-
Aron Baynes wasn't back to his very best with this performance, but it was still leaps and bounds better than his past four games. He had just 4 points, but was 2 of 2 from the field and hauled in 7 rebounds, which was the second most for the Pistons behind Andre Drummond.
Darrun
Hilliard
SG,
Detroit Pistons
N/A
Hilliard played the final 5 minutes of the game, recording 2 points and 1 assist.
Boban
Marjanovic
C,
Detroit Pistons
N/A
The crowd went nuts when Boban Marjanovic checked in, but unfortunately he didn't do much in his 3 minutes. He finished with a single rebound and went 0 of 3 from the field.
Reggie
Bullock
SG/SF,
Detroit Pistons
N/A
Reggie Bullock played just 3 minutes, and the only stats he recorded were two missed field goals.
Stan
Van Gundy
Head Coach,
Detroit Pistons
A-
It was a solid game on the sideline for Stan Van Gundy. The team flew out to a hot start, but Miami's bench threatened to steal the lead away from the Pistons in the second quarter. However, Van Gundy managed this situation quite well and re-inserted the starters at the right time, which helped the team maintain the lead and ultimately go on to record a comprehensive win.
This article originally appeared on