Phoenix Suns vs. Philadelphia 76ers: Post Game Grades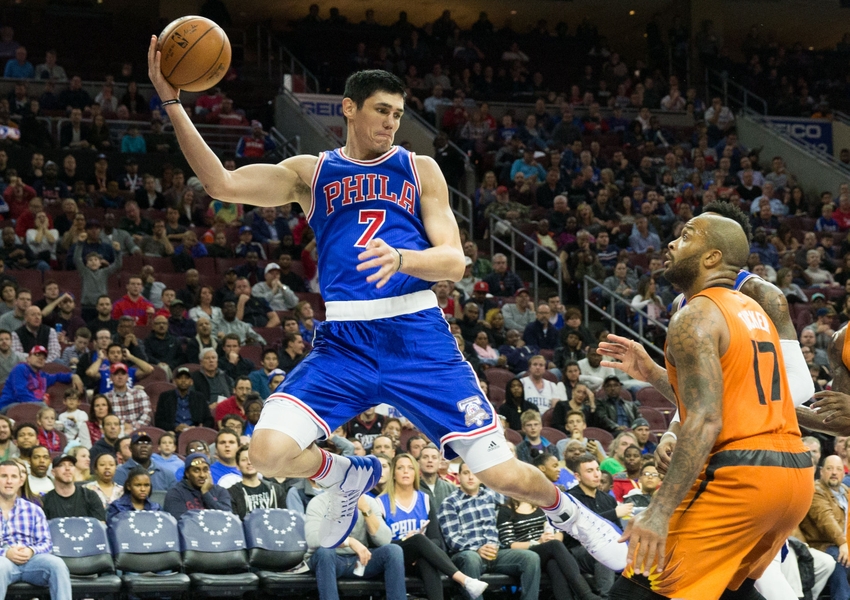 The Philadelphia 76ers emerged with their third straight home victory tonight, taking down Eric Bledsoe and the Phoenix Suns by a score of 120-105.
The Philadelphia 76ers (3-10) continue to roll at home, with an excellent defensive performance led to the team to resounding win over the Phoenix Suns (4-10). Joel Embiid was questionable coming into the night, but made his presence felt early — largely discrediting any concerns over a sprained ankle he attained last game.
The team was shooting well from beyond the arc all night, and held a high octane Suns offense relatively quiet for the majority of the night. With the Sixers still not in contention, they have continued to still find routes towards optimism. Their 3-10 start is far better than anything we've seen in recent years, and the talent level is unquestionably higher than we've seen at any other point during "The Process."
Here are some individual grades from tonight's victory.
Joel
Embiid
C,
Philadelphia 76ers
A
Embiid was, for the most part, tonight's most impressive player throughout the contest. He started off the game extremely quick, nailing 3 first quarter 3-pointers en route to 17 points in the primary quarter of action alone–the Suns scored 19 in total that quarter. While he did cool off a bit after that, the former Kansas stud continued to make a significant impact throughout the night. His hustle on the defensive end was superb, leading a handful of impressive blocked shots and putting his teammates in position for success on that side of the ball as well. His ability to position himself in the post and make plays on the block continues to open lanes up for everybody else as the offense operates, and adds a dyanmic that Philadelphia simply hasn't had in recent season. It's a constant scare when he takes a tumble to the ground, but his energy is beyond commendable. Embiid ended up with a career-high 26 points on the night.
Nik
Stauskas
SG,
Philadelphia 76ers
A+
Stauskas was on fire once again tonight, lighting up a hapless Suns defense for 21 points off the bench–two shy of his career high. The confidence with which Stauskas in playing right now is fun to watch, and his improved decision making skills with the ball in his hands cannot go overlooked. He understands the benefits of penetrating the lane and making plays both for himself and for teammates, and has done so with consistent success thus far this season. Even when forced into tough shots, Stauskas was nailing them all night. He shot 8-9 from the field, including 5-6 from deep. He added an impressive alley-oop to his resume as well, and supplied the type of defensive effort that leaves almost nothing to complain about in regards to tonight's performance.
Ersan
Ilyasova
PF,
Philadelphia 76ers
A-
In his third straight game as a starter, Ilyasova continued to provide a much-needed steady hand at the power forward spot. His shot wasn't falling from deep quite like it has in previous games, but he got into the lane nicely for a few easy baskets around the rim throughout the night. Ilyasova has also been a start defensive player for a Sixers team that can, at times, get lulled into unnecessary mistakes on that side of the ball given their youth. He doesn't make the most exciting highlight reels or emerge as an overly noteworthy player on the stat chart, but he is a consistent contributor that has been a massive catalyst in Philly's recent improvements.
Robert
Covington
SF,
Philadelphia 76ers
D+
Covington is once again going to receive a minimal grade here, as his play has been nothing short of disappointing thus far this campaign. He was taken out of the game with a left side contusion midway through the third quarter, but was still out of sink and off-stride before that. He shot just 1-5 from the field, including 1-4 from deep, and managed to force a few extra errors on both sides of the ball as he struggles to break out of this all-around slump.
Gerald
Henderson
SG,
Philadelphia 76ers
B
Henderson had another solid outing as the main veteran cog in the Sixers' backcourt, tallying 11 points in 22 minutes of action–with most of his damage coming in the first half. He has established himself as the Sixers' best perimeter defender at this point, and his aggressiveness in getting to the basket continues to be a bonus to the Sixers' offensive game plan. He played excellent defense on some of Phoenix's high octane backcourt members, aiding in holding Phoenix to what was a subpar outing from a scoring perspective–despite a somewhat misleading final point total. His offensive spark early in the game helped create the separation that Philly road until the end of the game, and despite a few awkward mistakes as the game wore on, he's still deserving of a solid grade here.
Sergio
Rodriguez
PG,
Philadelphia 76ers
B
In what seems to be a trend at this point, Rodriguez got off to a slow start and gradually become more of a contributor as the night went on–leading to an impressive final stat line. He was a pair of points and rebounds away from a triple double, and 8 points and 8 bounds to go alongside a game-high 11 assists. His dribble penetration is the driving force behind a lot of Embiid's open looks both around the basket and on the 3-point line, and his ability to pick up the pace with a few clutch shots as the game went on helped retain a solid buffer for Philadelphia to work with. He bounced back nicely after a shaky outing against Minnesota last game, and deserves a solid grade in lieu of an impressive all-around outing for this Sixers team.
The Sixers will look to continue their hot streak at home against the Miami Heat on Monday, in another very winnable matchup in the Wells Fargo Center.
More from The Sixer Sense
This article originally appeared on