Phoenix Suns v Indiana Pacers 12/7 Game Preview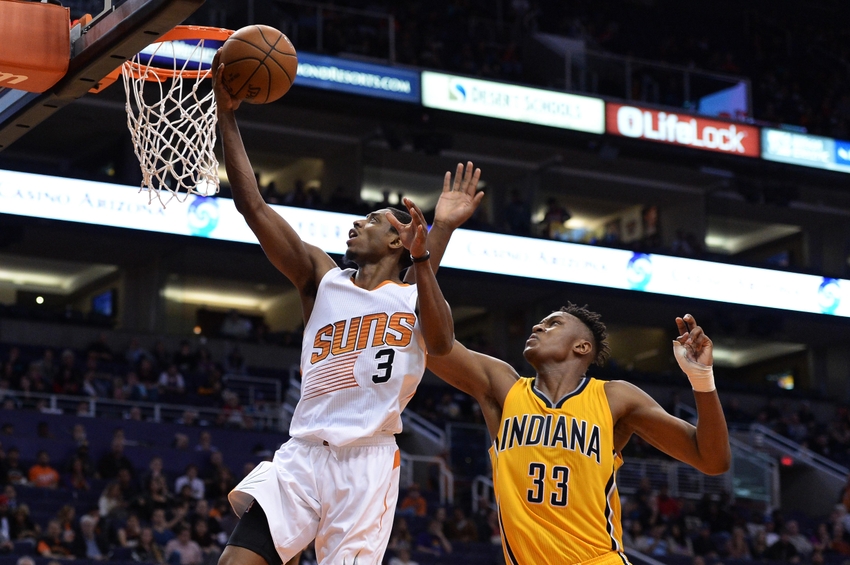 Phoenix Suns (6-15) v Indiana Pacers (10-11)
Wednesday 12/7/2016 7:00pm
Talking Stick Resort Arena, Phoenix, AZ
Fox Sports Arizona/Arizona Sports 98.7FM
Season Series – Suns lead 1-0
All-Time Series – Phoenix leads 48-36
Last Matchup November 18, 2016 Utah won 116-96
Suns' Last Game – Loss to Utah 112-105
Pacers' Last Game – Loss to the Golden State Warriors 142-106
Suns' Scoring Averages – PTS/G: 106.3 (8th of 30) Opp PTS/G: 113.1 (29th of 30)
Pacers" Scoring Averages – PTS/G: 104.2 (16th of 30) Opp PTS/G: 108.0 (25th of 30)
Preview
Phoenix Suns
Phoenix battled all the way back from a late third quarter 23 point deficit and a seemingly assured loss in Utah last night, tying the game at 103 with 3:07 remaining, only to see the Utah starters pull off the victory in the end, 112-105. The Suns outrebounded the Jazz by 41-35, but were unable to get the rebounds when they were most necessary in the final minutes. For Valley of the Suns opinions on the game, click here…The Suns' 20 point November 18, victory over the Pacers was the largest victory on the season and the largest victory since a 21 point victory over the New Orleans Pelicans on April 9…Phoenix has slipped to 6th in the league in rebounds with 45.4 per game…They remain in last place in assists, averaging 18.3, own shots blocked at 6.1 (Utah blocked 7 Suns shots), and personal fouls, averaging 25.4 per game. The Memphis Grizzlies are second to last in fouls, and the 1.5 foul gap between the two teams is the largest gap between any two teams in the category…The Suns have slipped to 2nd in the league in pace at 101.5…The Suns are currently shooting 33.1% from three, lowest average the team has shot since the 2012-13 team shot 33.0%…The Suns' highest three-point field goal percentage on a season was in 2019-10 when they shot 41.2% (730-1770) and their lowest was in 1985-86 when they shot a dismal 20.8% (38-183)…At 6-15, this is Phoenix's worst start since the 1996-97 team started the season with the same record. The Suns started the season 0-13 and finished the year 40-42, making the playoffs…Phoenix is worst in the league in points allowed in the fourth quarter at 28.4 points in the quarter…After a one game reprieve, Devin Booker has re-taken the team lead in scoring average at 19.3, as Eric Bledsoe has dropped to 19.0…Bledsoe still has a solid statistical line of 19.0 points, 5.1 assists, 5.9 rebounds, and 1.4 steals per game…Tyson Chandler has 17 dunks on the season so far. Dunk attempts are 41.7% of Chandler's field goal attempts…78% of P.J. Tucker's three-point attempts are from the corner. However, his shooting percentage from that location is only 28.1%…
Indiana Pacers
The Pacers suffered a similar fate as the Suns in their last outing against the Golden State Warriors, losing 142-106. On one hand, the Pacers did hold Steph a Curry and Kevin Durant to a combined 33 points. However, Klay Thompson scored a career high 60 points – in only three quarters. The Pacers held an early one point lead, however, even without the Golden State starters in the game, the Warriors ballooned their lead to 40 in the fourth quarter. Indiana allowed 80 points in the first half and was outscored in every quarter…Indiana averages 1.4 fewer field goal attempts than Phoenix per game. They are 9th in the NBA in pace at 98.2, about three possessions fewer per game than the Suns…Indiana averages 21.5 free throw attempts per game, although the are a much more efficient free throw shooting team than the Suns, draining 79.9% of their attempts per game…Indiana's eFG% is middle of the road, 18th overall at 49.8%…Their defensive eFG% plays into the Suns' favor – as it did in November – as they allow 50.9%…Tonight's third quarter may very-well be high scoring as the Suns are second in the league in scoring that quarter, Indiana is a full point behind, though third in scoring overall…Indiana is 4-4 against Western Conference opponents, including a surprisingly 2-0 season sweep of the Los Angeles Clippers, downing them 91-70, then 111-102 only two games later…Indiana sports six players averaging in double-figure scoring, led by Paul George's team lead of 20.4 points per game, however, no player averages double-digits in any other category, the closest being Myles Turner's 7.4 rebounds per game average…Paul George leads the league in free throw percentage, draining 54 or 57 for 94.7%…Jeff Teague is passing with incredible efficiency as he has only recorded 6 turnovers this season on bad passes, although he has 44 turnovers on lost balls. On shooting, Teague is especially vulnerable to a blocked shot, having 31 shots blocked this season already….
Follow Valley of the Suns on Twitter at @ValleyOfTheSuns and on Facebook at Facebook.com/PhoenixSunsBlog
Want your voice heard? Join the Valley of the Suns team!
More from Valley of the Suns
This article originally appeared on