Phoenix Suns Play Tough, Lose To Golden State Warriors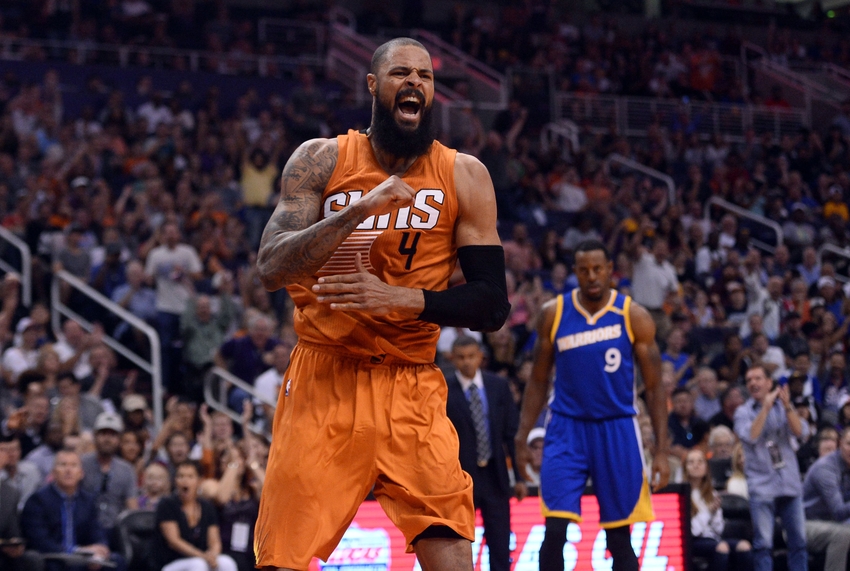 The Phoenix Suns dropped another close game at home to the Warriors, 106-100. Although not able to produce a victory yet, there is plenty to be excited about in the Valley of the Sun.
The Suns are a very promising 0-3, as weird as that sounds. Phoenix led throughout much of the 2nd and 3rd quarters but weren't able to close out the game against Golden State. The Warriors improve to 2-1.
Phoenix dominated at times inside the paint as the Warriors obviously miss Andrew Bogut and his rim protection so far this season.
Tyson Chandler had a great game and really owned the paint, compiling 18 rebounds and multiple alley-oop dunks.
As good as the Suns looked on defense at points, holding  the Warriors to just 42% from the field, they couldn't stop Kevin Durant and Stephen Curry from combining for 65 points to lead Golden State to the victory.
The Suns are a young team and still need to learn how to close out a win against good teams. That much is clear from the games Friday night at OKC and today at home.
However, Phoenix is a team expected to finish near the bottom of the conference and if they play like they have the last two games, that won't happen.
VS.
| | | | | | |
| --- | --- | --- | --- | --- | --- |
| | 1 | 2 | 3 | 4 | T |
| Suns | 30 | 27 | 21 | 22 | 100 |
| Warriors | 22 | 33 | 26 | 25 | 106 |
The Suns have shown tremendous heart and the ability to come back after big runs from opposing teams. Phoenix has also shown no fear, going right at whoever they're playing, regardless of the other team's skill and forcing those teams to play hard to survive. Those are very important characteristics for a winning basketball team. If Phoenix keeps playing this way, the wins will come.
TJ Warren had another good game for the Suns. He had 26 points on 47.6% shooting with 0 turnovers. He's really shined this season and should be a contender for Most Improved if he continues playing at this level.
Devin Booker struggled for three quarters Sunday before hitting some shots in the final period of play. Booker finished with 7 points on 3-12 shooting. He continues to force shots more than he should and part of his growth will be knowing when to take someone one-on-one and when to dish and look for a shot off the ball.
Eric Bledsoe quietly had a great game, scoring 21 points on a super efficient 7-11 shooting. It was exactly the type of game the Suns need from him. Enough scoring and play-making to be a difference, but not enough to take away from TJ and Devin. Eric also did a good job guiding the Phoenix offense, as he produced 6 assists and 0 turnovers.
Brandon Knight had a poor game, scoring 9 points on 3-12 shooting. Leandro Barbosa went from DNP Friday night to playing 14 minutes against his old team. He had a solid game and helped keep the Suns within striking distance down the stretch.
PJ Tucker again did little in his few minutes on the court. He's still recovering from surgery, but at this point, he should be on the outside of the rotation.
Alex Len continues to be hit or miss. He made a few nice plays and impacted the game defensively, but his offense is nowhere to be found right now. He shot 2-7, unacceptable for a big man. The difference between him and Tyson right now is as big as the Grand Canyon.
Dragan Bender played well defensively again vs the Warriors in only 3 minutes of play. He missed his two only shots on offense, but he's shown high basketball IQ and good team defensive skills.
Bender should absorb all of Tucker's minutes moving forward, in my opinion.
Marquese Chriss continues to be the lead rookie for the Suns. He played a little tougher than in the game against OKC, banging and bumping down low.
Chriss also drew a technical foul after finishing in the paint and chirping on his way back down the floor.
He plays with a chip on his shoulder and I love that.  If he continues to get stronger and smarter on defense, he'll be a very good player in this league.
Next Suns Game
Full Schedule
10/31
at

Los Angeles Clippers
Are you encouraged with the team's effort against the Warriors? How do you feel about the team's chances after seeing positive play like this?
More from Valley of the Suns
This article originally appeared on