Phoenix Suns Midseason Award Winners
Adam Maynes/FanSided via Valley of the Suns

Fansided
Rookie of the Half-Year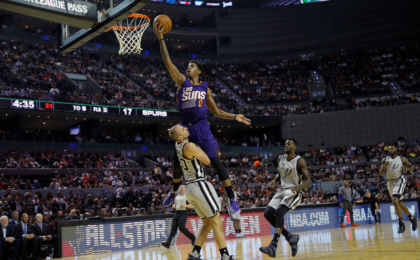 It is hard to argue against Marquese Chriss winning the Phoenix Suns' version of Rookie of the Half-Year. Since his early-season promotion as the Suns' full-time starting power forward, and it appears he will remain in that position for the rest of the season, this award is his to lose.
Chriss is averaging 7.2 points and 3.2 rebounds, right about on par with…ahem…Markieff Morris' rookie numbers (although Chriss' field goal percentage is significantly higher). At least statistically this is a positive for the Suns as Markieff improved his scoring and rebounding each of his first four seasons in the league. Neither Markieff nor Marquese have been the kind of three-point shooter to write home about, so if that is an area of his game that Chriss can improve upon, then he will absolutely pull away from that particular comparison.
Choosing Marquese is not to say that Dragan Bender or Tyler Ulis have not shown flashes of talent and ability that would warrant their consideration as well.
More from Valley of the Suns
While Ulis has not played much, he is playing in a very crowded backcourt. Yet when he enters a game, he is immediately noticeable. His speed and quickness makes him near impossible to guard and his midrange shot is unblockable. Ulis is a also a ball hawk. Ulis only averages 3.4 turnovers per 100 possessions, also but 3.6 steals per 100. For my money, any point guard that can equally make up for their mistakes on offense by their defense is going to be special.
For Bender the road has been slow so far, but one worth taking. Front court players that can shoot from the outside and defend on the inside is a very valuable commodity in today's NBA and the Dragan is beginning to show the talent that when honed will be a very effective for Phoenix for many years into the future. Bender's three-point percentage has slipped a bit to 33.8%, but averages 8.2 rebounds per 100 possessions. He already has a double-double this season and has currently made a three-pointer in four consecutive games, a career-high.
Runner-up: Dragan Bender
6th Man and Defensive Player of the Half-Year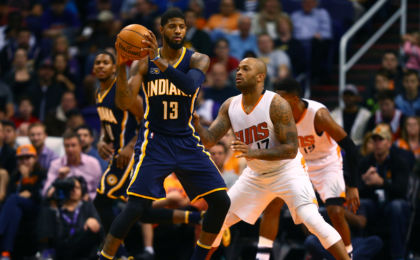 The two categories themselves are not synonymous, but the player is worthy of both: P.J. Tucker.
The strength of a player is not only measured by the reps they can put up on a weight bench, but also how he handles a situation when they are demoted for the betterment of a team. Granted Tucker started 17 games this season in replacement of the injured T.J. Warren, but as early as the beginning of training camp, he was well aware that he would not be the starting small forward on the team, a responsibility he had enjoyed for the great majority of the past four seasons.
Not only has neither his work ethic nor his positive attitude dipped in anyway, on the contrary, there has been nothing but praise thrown in his direction all season (the fact that it appears that he has taken it upon himself to guard Deven Booker during practice, providing Book with an edge in regular season games is a true sign of his leadership through example).
Statistically a player of P.J.'s offensive short-comings would not necessarily garner 6th Man of the Half-Year attention, but it is not his scoring and rebounding that makes his so special for the Suns
this season. It is, as mentioned with Booker in practice, his defense.
Early in the season, Booker remarked that he had become the focus of the best opposition defender every game. For the Suns, whether in practice or in the game, that focus defender is P.J. Tucker. And although he comes off the bench most games, Tucker finds himself on the court during crunch time, even to the detriment of the offense because his defense is so key.
For example, in the second game in a Mexico City against San Antonio, Kawhi Leonard was primed to take over the game in the crunch, but it was Tucker's flustering defense that kept the Spurs star at bay. It was then Tucker who then nailed the two free throws putting the Suns up by three, eventually to win the game, when he was fouled with only 4.6 seconds left.
Because his offense won't scare anyone, should the Suns decide to trade Tucker, they will not get very much in return that would equal the value that he brings to this team. And if he is not brought back for next season, there will be a hole in the soul of the Suns roster that will be difficult to be filled. Tucker has the soul of the ultimate defensive competitor and the team-centered willingness to come off the bench that are qualities that has earned him two mid-season awards.
6th Man Runner-up: Dragan Bender
Defensive Player of the Half-Year Runner-up: Tyson Chandler
Most Improved Player of the Half-Year
This category could also be called the 'Fountain of Youth' award since Tyson Chandler is playing like he's getting younger, not older.
This award is generally being based on only one category, but it has been such an impressive jump it is impossible to ignore: rebounds.
Playing in his 16th NBA season, Chandler is averaging 12.1 rebounds at the halfway mark, his highest rebounding average since 2006-07 when he averaged 12.4 – his career-high. His 8.6 defensive rebounds would be a new career-high and his 3.5 offensive rebounds would be a franchise high since Curtis Perry averaged 4.4 in 1974-75.
His peak rebounding is also than last season. While in 2015-16 he tied a franchise record for most rebounds in a game with 27, he broke the 20 rebound plateau only – only – twice. He has already done two three times this season, the most for a Sun since Barkley did so five times in 1994-95.
To make a little more impressive Chandler's 20 rebound stat, Amar'e Stoudemire only had 6 as a Sun in 8 seasons, and Shawn Marion had only 5 in 9 seasons.
Chandler has also improved his scoring this season over last, his average going up .6 to 7.8 points, but this is because his field goal attempts have dropped. Tyson is shooting at a much better clip than last year as his FG% is up from 53.8% to 67.1% a jump of almost 14%, and FT% is up from 62.0% to 66.7%.
Want your voice heard? Join the Valley of the Suns team!
Runner-up: Earl Watson
MVP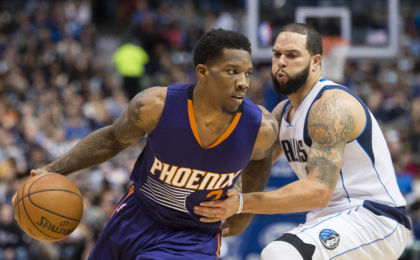 There is something to be said about Eric Bledsoe's stat-line this season of 20.3 points, 6.0 assists, and 5.1 rebounds. He is currently one of six players in the league to average at least 19/5/5 and as I wrote here recently, Bledsoe is on pace to be only the fifth player in Suns history to have ever averaged at least 19/5/5 – the last being Charles Barkley in 1992-93.
Bledsoe has a history of major injuries, but this season he has never looked stronger. Setting a career-high in scoring with 35 early in the year and breaking the 30 point barrier on seven occasions so far, Bledsoe continues to show the genius of the trade that brought him here. Even with the emergence of Devin Booker as the team's first scoring option, Bledsoe been able to maintain his own offensive growth and is in the midst of a ten-game tear of 21.7 points, 8.1 assists, and 5.3 rebounds. His leadership has been obvious, a trait that on a young team like the Suns is an absolute necessity from a point guard, and his defense should also not be overlooked. Players he defends are shooting less than 50% from the field and less than 40% from 15 feet out. Moreover, Bledsoe has led the Suns in steals each season since joining the team and is doing so once again.
If Bledsoe has one particular critique it is that his three-point percentage is the lowest it has been as a Sun, and at 31.0% is definitely underwhelming. That being said, he is still draining them regularly, making at least one three in 31 of 41 games. Hopefully his outside scoring improves in the second half of the season, although so long as his current statistical pace continues, a lower three-point percentage can be easily overlooked.
Runner-up: Devin Booker
This article originally appeared on