Phoenix Suns: Jared Dudley Thriving In Bench Role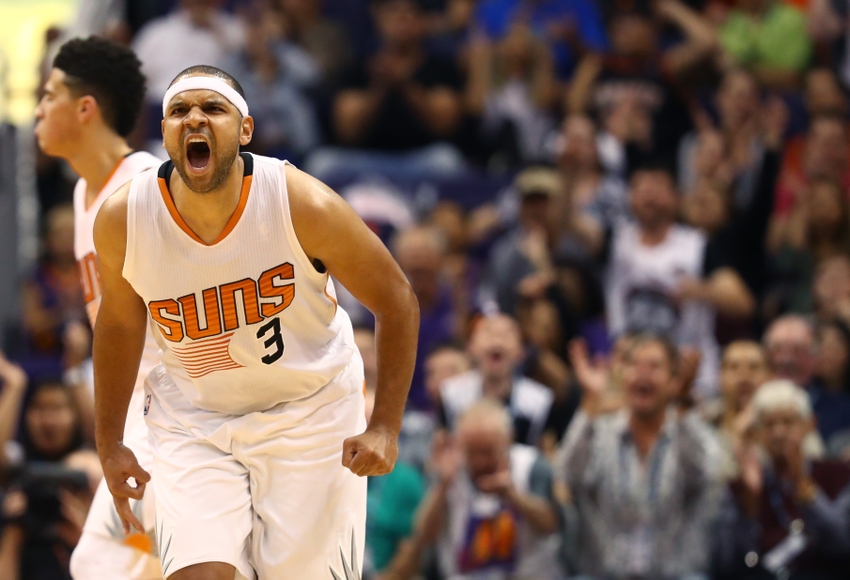 Jared Dudley was an offseason signing for the Phoenix Suns this summer, and he's starting to prove it with his play off the bench.
The Phoenix Suns' biggest move in free agency last summer was bringing in a 31-year-old former fan favorite.
That sentence alone is a clear sign of where the franchise is currently situated, but as the youth movement takes center stage, Jared Dudley is more than living up to his end of the bargain through the first three weeks of the season.
Posting averages of 8.8 points and 3.5 rebounds per game is hardly indicative of a starting-caliber player in today's NBA, especially for a power forward, but Dudley's true value extends far beyond the confines of the basketball court.
As a veteran presence for rookie bigs Marquese Chriss and Dragan Bender, Dudley's purpose in Phoenix was meant to be more than just bringing home a familiar face; it prevented the Suns from feeding their teenagers to the wolves, provided them with a positive locker room influence and brought in an experienced mentor who could teach the rookies about playing at the next level.
Most expected the 19-year-old Chriss to eventually take over the starting power forward job, maybe sometime in December or January. It took a grand total of seven games for head coach Earl Watson to make that change, but in typical Dudley fashion, the move to bench duty has gotten nothing but positive feedback.
"Nah, overall it saves my legs, saves my career!" he joked. "The whole thing was to groom Marquese and I can still groom him [from the bench]."
Even better, Dudley's move to bench duty has actually made him a far more effective weapon on the offensive end.
Through the first seven games as a stater, Dudley averaged a meager 6.4 points and 3.0 rebounds per game on 44.1 percent shooting from the floor and 44.4 percent shooting from three-point range.
No one was expecting All-Star numbers from J-Dudz in a starting role, but his 13.0 points and 4.5 rebounds per game on .563/.550/.625 shooting splits off the bench have been one of the few bright spots for the Suns over their last four games.
Excluding a two-point, 1-for-2 performance in his first game coming off the bench, Dudley has averaged 16.7 points and 4.7 rebounds per game with the Suns' second unit, going 17-for-30 from the floor (56.7 percent) and a blistering 11-for-19 from three-point range (57.9 percent).
Will that scoring output or those shooting percentages last? Probably not. Three or four games is a small sample size, and it's also worth noting that Dudley's playing time has actually increased during his run with the second unit, going from 23.3 minutes per game as a starter to 27.7 per game off the bench.
However, there's no question that Dudley has injected life — and perhaps just as important for a team ranking in the bottom five for three-point attempts, makes and percentage, long range shooting — into Phoenix's second unit.
In the Suns' only win of the last week against the Detroit Pistons, Dudley's 15-point second quarter — en route to a bench-high 19 points — helped Phoenix turned an eight-point deficit into a three-point halftime lead.
In a game against the Brooklyn Nets that fell apart over the last four minutes, Dudley's 13-point third quarter — en route to a bench-high 17 points — helped pull Phoenix within seven heading into the fourth quarter after trailing by double figures.
For Dudley, the difference hasn't been a change in aggression or anything special; it's simply a byproduct of the different players he's now sharing the court with.
"Well, you've gotta look at your lineups and overall, look where you're at," he said. "When I start, you start with T.J. [Warren] and Bled [Eric Bledsoe] and [Devin] Booker and those are the main scorers, so I feed off them. Going to the backups, it's me, P.J. [Tucker], and we have [Dragan] Bender the rookie.

"The only real main scorer we have would be Brandon Knight and they kind of have to pick their poison when I set the ball screen. I've been open and I've been making them, hopefully I can continue that."
The swap of Dudley and Chriss hasn't just been beneficial for the 10-year veteran either; Chriss is getting valuable experience with the starters, even if the wins aren't coming yet too.
In his first game as a starter, Chriss put up seven points and four rebounds against the Blazers. He went scoreless the next game against Detroit, but bounced back after Dudley's big night with a career-high 16 points and five rebounds in only 18 minutes.
He fouled out in just 16 minutes against the Golden State Warriors, but finished with four points, six rebounds and one emphatic put-back dunk.
There have been predictable highs and lows, and Dudley compared the youngster's transition to the starting lineup with another one he witnessed in Milwaukee: Giannis Antetokounmpo.
"I told Marquese when I first signed here, after 20 games I told Jason Kidd to start Giannis and I thought Giannis was ready," Dudley said. "I don't know if Marquese is ready right now 100 percent, but that doesn't mean he can't learn on the fly and he has the tools so overall, playing is the best equalizer."
The good news is that whether J-Dudz is coming off the bench or starting, he's been in Chriss' ear the whole time, continuing to fulfill his role of mentor.
"I like it a lot," Chriss said of the change. "I'm playing with the first unit and I'm still learning from Jared. Like when I go over to the bench, he's just talking to me, teaching me things that he knows and that he's gonna do when he gets in the game."
It will take time for the ultra-young starting lineup of Eric Bledsoe, Devin Booker, T.J. Warren, Marquese Chriss and Alex Len/Tyson Chandler to develop its chemistry, especially compared to a more experienced bench unit with Dudley, P.J. Tucker and Brandon Knight.
However, as the starters learn to jell, Dudley has the freedom to be aggressive off the bench, doubling his value in a way that wasn't quite as powerful when he was logging time with ball-dominant scorers in the starting lineup.
"If I wasn't playing, even if I was wearing a suit, it's just we're trying to bring [Chriss] along and his development is key for this franchise moving forward," Dudley said. "Obviously we know what we have in Booker, but with Marquese, it's the more we improve with him.
"He's 19. Most of us at 19, we're eating dorm food. So it's gonna take him a little while."
It will take time for the league's fourth youngest player to find his groove in this league, but with Jared Dudley helping spread the floor for the reserves and still wholeheartedly embracing his mentor role, the Suns' biggest offseason signing is living up to that designation.
This article originally appeared on