Phoenix Suns: 5 Takeaways From 2016-17 Media Day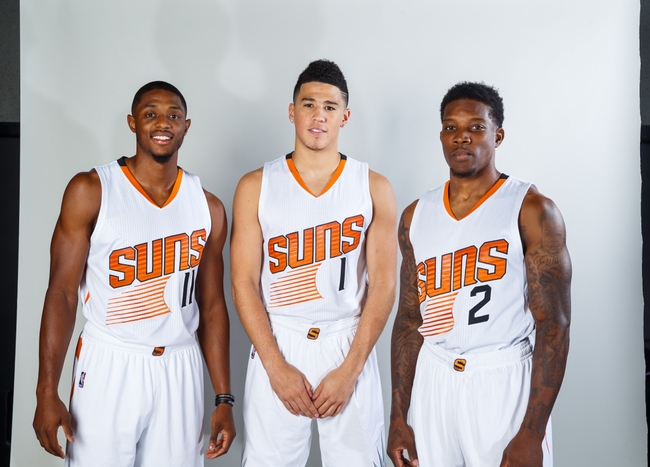 With the 2016-17 NBA season approaching, here are the five biggest takeaways from the Phoenix Suns' Media Day.
Heading into the 2016-17 NBA season, the Phoenix Suns are an incredibly difficult team to place. Coming off an injury-devastated, 23-win season, the health, talent level and youth of this roster are all reasonable to question.
However, Eric Bledsoe was playing at an All-Star level before his season-ending meniscus tear, Brandon Knight missed 30 games, Tyson Chandler was dealing with nagging injuries, head coach Jeff Hornacek was fired and the Markieff Morris drama made it impossible to build any kind of lasting chemistry.
Morris and Hornacek are gone, and head coach Earl Watson has spent the last few months trying to turn this basketball team into more of a family. Veterans like Jared Dudley and Leandro Barbosa are on board and the Suns added three more promising rookies to a young core that already includes tantalizing prospects like Devin Booker, T.J. Warren and Alex Len.
On Media Day, there were plenty of questions that needed to be answered in regards to this team's youth, its ongoing rebuild and expectations for the upcoming season. Here's a look at the five biggest takeaways from Media Day heading into training camp.
5. Chemistry Should Be Better
On Media Day, every NBA team can spew out cliches about how great the team chemistry is and how the playoffs are within reach.
This isn't unfamiliar territory for the Suns either; last year, everyone showing up for early August workouts was supposed to give Phoenix the inside edge toward making the playoffs, despite that giant Markieff Morris storm cloud looming over everything.
But after months of bonding for coach Watson and a similar core of guys — bolstered by three young rookies ready to learn and veterans like Jared Dudley and Leandro Barbosa — the Suns may actually have a legitimate reason to believe the chemistry will be better this time.
"It's a combination of love and honesty and toughness and I think (and I hope) that will manifest itself in the way our team plays," general manager Ryan McDonough said of Watson's influence. "Really he's created a powerful movement with the energy and the culture we're trying to build here."
Over the summer, the Suns were pretty much always together, participating in bonding activities that ranged from yoga to spin class to swimming to hiking. Eric Bledsoe organized team workouts in San Diego and there was a strong presence in Las Vegas to support the Summer League squad too.
"When it comes to chemistry, coach Watson — probably more so than any coach I've had — is improving the family aspect," Dudley said.
Listen to Watson speak on the Suns and their future for more than two minutes and you'll hear words like "love," "family," "culture" and "program" brandied about — unconventional words to describe an NBA organization.
But now that Watson is the full-time head coach, he and the front office have been working hard to make sure this young team becomes something of a brotherhood. At the very least, not having the Markieff Morris drama hanging over their heads is a major difference from last year's team.
"I know the last couple years have been tumultuous in the offseason, this year it was all focused on basketball," McDonough said. "Every conversation we had was about work on the court, in the weight room, game-planning and obviously that's refreshing instead of dealing with some of the nonsense we've dealt with in years past."
4. Booker, Bender Will Play The 3
With P.J. Tucker's back injury, a litany of guards on the roster and the Suns intrigued by the potential versatility of rookie Dragan Bender and Marquese Chriss, there's going to be opportunity at the 3-spot early in the season.
T.J. Warren has the best opportunity to lay claim to that starting position while Tucker is sidelined, but the Suns also believe both Devin Booker and Dragan Bender may see time at the 3 as well.
"I think those guys will get opportunity," McDonough said. "If you look at our roster and you look at our depth chart — especially with P.J. Tucker coming off back surgery — we do have some minutes potentially available at the 3 and the 4. Dragan and Marquese have been great all summer, they've worked extremely hard."
McDonough specifically mentioned talking with Watson about Booker playing the 3 since there's a bit of a logjam in the backcourt.
Despite the defensive concerns, it would likely be a move used in a pinch more than anything else. Bledsoe was optimistic about Booker's ability to undergo another potential trial by fire on the wing.
"Devin's definitely a 2-guard, but at the same time you can't limit yourself," Bledsoe said. "It's sacrifices that have to be made and Devin probably gotta play some small forward this season. That's going to improve his game. He's gonna guard some of the best small forwards and he's one of the up-and-coming 2-guards, so they've gotta guard him too."
If it prevents some potential tension with Brandon Knight as they both compete for the starting shooting guard spot, that's one avenue the Suns could take. At 19 years old (soon to be 20), Booker believes he's ready for the challenge as well.
"Wherever they put me, I'm fine with," he said. I feel like I am [ready], I'm not going to back down from anybody. I know the 3 is a tough position in this league, LeBron [James], Carmelo [Anthony], Kevin Durant, but I don't back down from any challenge."
However, the skill set of the 7'1″ Bender has Phoenix considering him for spot minutes on the wing as well.
"We understand Dragan can come in and hit key threes and make key steals," Watson said. "He's going to continue to get better, so you can't really put a limit on what he can do because I never want to hold him back. If he's ready to take that next step — whatever that is — we empower that step."
Bender and Booker won't be small forwards in their careers, but with Booker growing another inch over the summer and minutes available at multiple positions, don't be surprised to see them play out of position a bit during a transitional year.
3. Bledsoe, Dudley Playing The Role Of Leader
Last season, Tyson Chandler was given the impossible task of being a lone veteran leader in a locker room full of youth and discord. This season, he'll have some help in the form of Jared Dudley, Eric Bledsoe and Leandro Barbosa.
For Dudley, his status as a former fan favorite and his role as a veteran leader with the Milwaukee Bucks and Washington Wizards makes him a natural fit to shepherd these rising Suns into the next era.
"You'll see me talking to these kids the whole time, to the point where they might tell me to shut up," Dudley said. "You try to ingrain into them the first three or four months where you kind of get on their nerves hard, break it down and then second half, you let them play because they've learned it all."
From giving on-court advice to helping build team chemistry by making sure there aren't any cliques on the roster off the court, Dudley will be a tremendous help to guys like Chandler, Barbosa and P.J. Tucker in the locker room.
It's Time to Let Brandon Knight Lead the Suns
Of course, Dudley isn't the only person stepping up as a leader for the Suns. Bledsoe, who many Suns fans have been waiting on to step up as a team leader because he's Phoenix's best player, has taken steps in that regard over the last two offseasons.
In addition to organizing summer workouts, singing his teammates' praises left and right at the podium, and getting everyone on the same page entering the season, Bledsoe's involvement in anything and everything Phoenix-related has been an example for everyone else.
"I think Eric's set the tone for our group in a lot of ways with his commitment," McDonough said. "He's put down roots here, his family's here, he's doing a lot in the community."
Averaging 20.4 points, 6.1 assists, 4.0 rebounds and 2.0 steals per game last season, Bledsoe was on pace for a true breakout season before his meniscus injury. Heading into 2016-17, Bledsoe has a chance to put together a healthy season and shed the injury-prone label, but he also has the opportunity to lead this young team in a way he never has before.
2. Expectations Are Tempered
On the first official day of a new NBA calendar, every team has reason to be optimistic. But coming off an injury-devastated, tumultuous, 23-win season, the Suns may actually be entering the 2016-17 campaign with realistic, tempered expectations.
Of course, making the playoffs is still the goal. Bledsoe, Tucker, Len and Chandler all stressed the importance of winning games and specifically mentioned the postseason as what they want to achieve this year.
However, as much as Bledsoe's declarations that the Suns are a top-five team in the West or Tucker's desperation to get back to that 48-win season in 2013-14 are endearing, most of the team is on the same page about the upcoming season, in which Las Vegas set their over/under for total wins at 26.5.
"We want to help our guys develop, especially the rookies and the younger guys," McDonough said. "We want them to be better in April than they are today, and just to win as many games as we can. I don't want to put a number on it, I don't know what number that is."
McDonough jokes he doesn't want to put a number on win total for the #Suns in 2016-17, but says it should be more than 23. "Maybe 26.5."

— Gerald Bourguet (@GeraldBourguet) September 26, 2016
Jokes aside, even Dudley said that low under/over total for the Suns is "fair," since they're usually based on the prior season. With Bledsoe missing 51 games and Brandon Knight and T.J. Warren also banged up, Phoenix's season was pretty much over in December.
In 2016-17, the Suns will need Bledsoe (51 games missed last year, 39 games missed in 2013-14) and Knight (46 games missed of a total of 109 since joining the Suns) to be healthy.
But even if they are, veteran leaders like Jared Dudley are going to set realistic expectations for the rest of the group.
"Let's just be honest, there isn't any team — including my Milwaukee team which was the worst team in the NBA — that goes into the year saying, 'We're going to be bottom-two, bottom-three,'" he said. "Everyone usually says 'playoffs,' and then around December or January, reality usually sets in and that's when you see the tanking for some of these teams."
While Dudley acknowledged that the playoffs are the goal, he and Chandler both said it'll take a top-10 defense for them to get there.
At this point, a more realistic expectation is probably just internal growth, putting forth a ton of effort and hoping Booker, Chriss, Bender and the rest of the youngsters take the next step forward.
"They're not mutually exclusive, effort and development kinda run hand in hand a lot of the time," McDonough said. "Winning can be a little tougher, but we have enough veteran balance now and enough of a veteran presence that I think these guys will be mentored the right way for the first time.

"As you guys know, this is my fourth year here. For the first time I feel really good about the people and the character of the people from 1-19."
1. The Starting SG Spot Is Still Up For Grabs
The biggest question heading into the 2016-17 season, of course, revolves around Devin Booker and Brandon Knight competing for the starting shooting guard spot.
There are a few reasons for Knight to retain his starting job, but there's no question that Booker's high ceiling as a superstar-caliber player should not be stunted either.
From McDonough to Watson to Chandler to even Knight himself, the Suns seem to all be on the same page that this 19-year-old may be the foundation of the franchise moving forward.
"A guy who was getting DNPs to start the year, for him to be the fourth youngest player in NBA history to score 1,000 points along with LeBron, Kobe, Kevin Durant, you know, some of the legends of the game, that's pretty heady company," McDonough said. "What's impressed me about him more than anything is he doesn't let that get to his head."
The Suns are excited to see what he can do with a full offseason of work, especially after being a dominant player in Summer League and playing with USA Basketball's Select Team over the summer.
"He's such a confident player. The true test for him is how do you empower others, get them to feel that same confidence" – Watson on Booker

— Gerald Bourguet (@GeraldBourguet) September 26, 2016
However, Booker's rapid rise has also created a situation similar to when the Suns' backcourt was overloaded with Bledsoe, Goran Dragic and Isaiah Thomas. With only one ball to go around between the three of them, tension ran high and both Dragic and Thomas were panic-traded at the 2015 NBA Trade Deadline.
This situation is a bit different since Booker's true position is shooting guard, but the central conflict remains the same: Someone will have to embrace a role off the bench.
"It is going to be an open competition going up to training camp, we haven't predetermined anything," McDonough said. "We have at least three starting-caliber guards, I think maybe more than that potentially, but three guards who have received All-Star consideration or will receive All-Star consideration in the future — we view that as a good problem to have."
On the one hand, McDonough is right. The Suns have all three players under contract for awhile, which definitely helps the situation.
But Markieff Morris fit the same description last year, and if Knight continues to resist a sixth man role, tensions could flare up if and when Booker replaces him in the starting lineup.
At Media Day, a total of five players, one GM and one head coach took to the podium…and Brandon Knight wasn't one of them. Perhaps that's just a coincidence, but Knight only spoke to a media scrum for about five minutes before being escorted to his next photo shoot.
Perhaps this is all making a big ado about nothing, but Knight's curt responses and the way he largely dodged questions about a potential sixth man role weren't encouraging.
"We've got a lot of talented guys," Knight said. "It's just a matter of coming together and trying to win games. That's the biggest thing. As long as we're winning, as long as that's the common goal, which it is, that's the best thing."
At this point, it's really starting the feel like Booker is poised to seize the starting shooting guard spot. He's already a fan favorite, a potential star and his game is not that far behind Knight's.
Playing for a Suns team with tempered expectations, Booker and the youth movement should take precedence sooner or later.
"He tells me he's the best teenager in the world, which could be true," Watson said. "At 19, that's a lot to ask, but if we look at age as a safety guard, then he can't do anything special this season."
Booker and Knight will most likely be training camp's most fiercely contested battle. The rest of the roster is not blind to that power struggle, and most are already dropping subtle hints about the importance of sacrifice for the good of the team.
"Sometimes it's your night, sometimes it's not," Bledsoe said. "You can't be jealous of somebody else's success. Just let 'em shine and be happy for 'em".
"There are definitely guys that are going to have to make sacrifices in order for us all to accomplish the common goal," Chandler added. "But I think that will happen."
This is where all the off-court bonding and chemistry is going to need to come into play.
"It's easier to sacrifice for someone that's sitting next to you that you've known for a long period of time and that you truly love and care about," Watson said.
If the Suns play Booker at the 3 more than anticipated, Phoenix will temporarily avoid the issue by having Bledsoe, Knight and Book on the court at the same time. There will be major defensive issues there, but from a pure chemistry standpoint, Booker was optimistic about the idea.
"I think we can all work well together," he said. "One, we're all competitive and I think that's going to make us take that step forward — being competitive, but still have the understanding that we all have the same goal. So when we step out on the floor together, we know that we're going to be trying to win games together. So I think it's a brotherhood in between us that's really competitive and that's best for us."
Once Warren and P.J. Tucker are both 100 percent, however, minutes at the 3 will become scarce — especially since Dudley can play minutes at that spot once Bender and/or Chriss become more comfortable.
As opening night creeps closer and closer, it appears the starting 2-guard is still an unknown. Heading into training camp, it's the biggest question facing the Suns.
Will Booker prove his rise to stardom is ready to begin before his 20th birthday? Or will the Suns take the more cautious route and delay Knight's NBA destiny as a sixth man by giving him tenure over the younger Booker?
"The main thing we really want to emphasize is that what's best for the team is what's best for us," Watson said. "So the family is first, what's best for our family. A lot of times, the guy that sacrificed the most is the most important part of the family. We understand that whoever comes off the bench — which is the real question — has a chance to win Sixth Man of the Year. So we have to embrace that, uplift that and empower that."
This article originally appeared on