Phoenix Suns: 2016-17 First Quarter Grades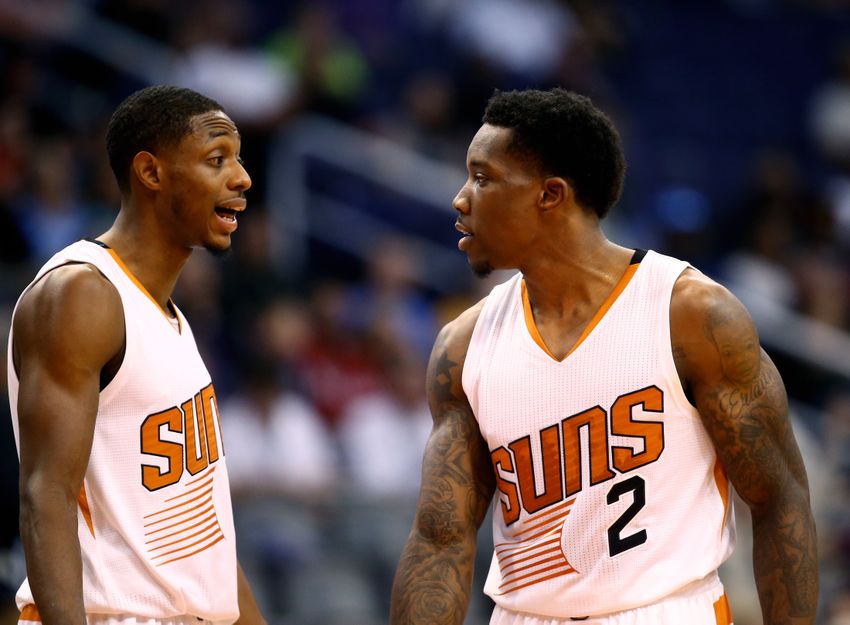 At the (approximate) quarter mark of the 2016-17 NBA season, here are individual grades for the most important members of the rebuilding Phoenix Suns.
About a quarter of the way through the 2016-17 NBA season, the Phoenix Suns haven't had many surprises for us. They're a bad basketball team by pretty much every measure, the most obvious of which is their 6-16 record, but that's to be expected of such a young group.
The Suns are the NBA's third-youngest team, so the emphasis is clearly on long-term growth rather than more unrealistic goals like making the playoffs this year. But through the team's first 22 games of the season, what have we learned about this inexperienced team?
In order to pick apart the performances of Phoenix's hodgepodge collection of young talent and veterans, we're going to go through the roster with some individual first quarter grades.
Rather than waste our time with some of the team's older guys who will be non-essential pieces in the next chapter of Suns basketball, we'll be focusing on the team's bigger names, young cornerstones and their marquee offseason addition.
Without further ado, here are first quarter grades for the people you really care about: Alex Len, Jared Dudley, the rookies, Brandon Knight, Eric Bledsoe, T.J. Warren, Devin Booker and head coach Earl Watson.
Alex Len
Heading into restricted free agency, the pressure is on for both Alex Len and the Suns to figure out exactly what this seven-footer can become. Will he ever be capable of grounding a playoff-caliber defense as the anchor in the middle? Or is this about as good as it gets?
It seems silly to ask that question of a 23-year-old, but this is Len's fourth NBA season and we still have no idea what his ceiling is. That could be a problem next summer in free agency, though at this rate, only teams desperate for young big men will be banging down his door with offer sheets.
So far, Len is averaging 8.9 points, 7.6 rebounds and 1.5 blocks in 23.1 minutes per game, most of which have come off the bench. Though he's only shooting 48.3 percent from the field, that number has steadily risen over the last few weeks after a dismal start.
In nine games as a starter, Len averaged 10.2 points, 10.0 rebounds and 1.9 blocks per game on 56.9 percent shooting — more than acceptable numbers for a starting big man. In a game against Detroit, Len had perhaps his best game of the season with 16 points and 14 rebounds, playing physical all night to cancel out Andre Drummond.
Unfortunately, Len was also a -7.2 in his nine games as a starter, and the Suns' defense is 0.2 points per 100 possessions better overall when he's off the court, per NBA.com.
That being said, the Suns' defense is also 3.0 points per 100 possessions better with Tyson Chandler off the floor, and seeing as how the front office needs to determine Len's value and his future with this current core, Watson needs to let him take over the starting job soon.
Grade: C
Jared Dudley
Most people recognized the Jared Dudley signing was meant for more than just boosting morale with a former fan favorite, and so far in 2016-17, he's delivered on pretty much every front.
Dudley was also meant to provide a example of what a true professional looks like for the incoming youth, while also preventing Marquese Chriss or Dragan Bender from being fed to the wolves on opening night as the starting power forward.
Dudley's tenure as Phoenix's starting 4 was a lot briefer than most expected, with the 10-year veteran accepting his bench role just eight games into the Suns' season.
"Nah, overall it saves my legs, saves my career!" he said. "The whole thing was to groom Marquese and I can still groom him. I told Marquese when I first signed here, after 20 games I told Jason Kidd to start Giannis [Antetokounmpo] and I thought Giannis was ready. I don't know if Marquese is ready right now 100 percent, but that doesn't mean he can't learn on the fly and he has the tools so overall, playing is the best equalizer."
In his seven games as a starter, Dudley averaged 6.4 points and 3.0 rebounds per game on .441/.440/.500 shooting splits. In his 14 games coming off the bench, those numbers have increased to 9.4 points and 4.4 rebounds per game on .480/.404/.684 shooting.
So not only has Dudley willingly embraced a backup role, but in doing so, he's been far more effective from a production standpoint while also giving Chriss ample opportunity to build his confidence.
Dudley can still fulfill his veteran mentor role from the bench, and his passing and experience strengthen the Suns' second unit. He's still getting more minutes than Chriss and Bender, a trend that must change as the season progresses, but he's spread the floor, provided a great example of what it takes to last in this league and will continue to make the right plays off the bench.
Grade: B-
The Rookies
This grade might be a bit unfair, but to no one's surprise, two teenagers and a 5'10" third string point guard haven't exactly blown the doors down on the Rookie of the Year race. It's not their fault the minutes aren't flowing yet, but for the No. 4 and No. 8 overall picks, the growing pains have still been noticeable.
This shouldn't be surprising, since both Chriss and Bender were pegged as raw, long-term projects with high ceilings. Its still extremely early in their careers, but the next step in their progression will be earning enough minutes to really start learning the game at the NBA level.
Chriss is the starter by name, but not by responsibility. He's only averaging 15.9 minutes per game to Dudley's 24.8 and P.J. Tucker's 24.3, which makes his flashes of athleticism and perimeter touch that much more tantalizing.
Chriss is getting fairly significant playing time for a 19-year-old rookie, and Watson should be commended for bumping him into the starting rotation so early on, but Chriss ranking 12th among all rookies in scoring at 6.4 points per game is less impressive when you consider how underwhelming this draft class has been so far.
As for Bender, the minutes have been even more scarce, with the 19-year-old Croatian averaging 3.0 points and 1.6 rebounds in 12.1 minutes per game. He's been a DNP-CD far too many times for a rebuilding team with a 6-16 record, but with T.J. Warren out, he's gotten more chances than earlier in the season.
After putting up 10 points on 4-of-5 shooting and leading a bench charge in the Suns' season opener, it's been disappointing to see Bender's minutes trail off. Phoenix's insistence that he's a 3 is similarly frustrating, but hopefully Watson finds a way to incorporate this multifaceted defender into his rotation once Warren returns from his "minor head injury."
As for Tyler Ulis, he's often been an injection of positive energy for the Suns when he's gotten his opportunities off the bench, but those instances have been rare. Ulis is averaging 3.6 points, 1.8 assists and 1.2 steals in just 10.9 minutes per game.
Even in limited minutes, it's worth noting that Bender (+9 in 206 total minutes), Ulis (+15 in 142 minutes) and Alan Williams (+19 in 81 minutes) are the only rotation players on the roster with a positive plus/minus.
That would undoubtedly change with more minutes, but for long-term projects like the three Suns rookies, their limitations have largely been self-imposed. Their opportunities should improve as the losses continue to mount, but for now, the rookies' learning experiences are coming in fits and spasms.
Grade: C-
Brandon Knight
Any glimmering hope the Suns had of making the playoffs before the new season tipped off depended upon Brandon Knight — not only for him to stay healthy and play quality basketball, but to avoid disrupting the synergy in the locker room with his demotion to sixth man duty.
Devin Booker taking over the starting role was a natural but huge step for the franchise, and Knight's acceptance of his new bench role has been one of those "actions, not words" kind of situations so far in 2016-17.
Despite saying all the right things and being immediately pegged as a potential Sixth Man of the Year favorite, Knight has struggled to adjust, averaging 13.0 points per game on an abysmal 37.2 percent shooting from the field and 32.4 percent from three-point range.
He's also dead last in plus/minus on the team, with the Suns being outscored by 7.9 points per game when he's on the floor.
Games like his 32-point outing in Denver show he can be effective off the bench when he gets hot, but those instances are too few and far between. Mostly, Knight has been the guy who comes off the bench feeling entitled to take a ton of shots as the second unit's No. 1 option, and then proceeds to miss them all.
Grade: D
Eric Bledsoe
Eric Bledsoe is still the Suns' best player, which is both a testament to his immense skill and the current state of the franchise. Can Bledsoe be the best player on a playoff-caliber team? Probably with the right supporting cast, but his uncharismatic style of leadership and his on again, off again approach to the game leaves something to be desired.
Averaging 18.8 points, 5.8 rebounds and 5.0 assists per game, Bledsoe is clearly the team's most well-rounded player, especially on the nights where he also brings the defensive intensity. He's still a force when he's bullying his way to the basket, and in the games where he's at his best, there's no question he's a top-10 point guard in this league.
Unfortunately, those don't come every night, and consistency is probably the biggest thing — aside from his team's record, his mediocre shooting percentages and his 3.1 turnovers per game — keeping him out of that discussion.
Bledsoe has the worst plus/minus outside of Brandon Knight, and while that's a systemic part of a larger issue — i.e. the Suns' youth and lack of established talent — as long as Phoenix remains so far outside the playoff field, where Bledsoe excels will always be overshadowed by the flaws in his game.
Grade: B-
T.J. Warren
If not for the time he's missed, T.J. Warren's grade would probably be higher. But because of this mysterious "minor head injury" that's kept him sidelined for Phoenix's last nine and a half games, we have to take some points off.
That being said, Warren was probably the Suns' most consistent player through the first three weeks of the season, averaging 17.7 points and 4.3 rebounds per game on 45.8 percent shooting. While his three-point touch (30.8 percent) is nowhere near last year's career-high 40 percent mark, he's still one of the Suns' most effective scorers.
Warren has always been known for his nose for the basket, which makes him an obvious asset in Watson's non-offense offense. He's worked hard to improve on the defensive end as well, and he retained his starting job even after P.J. Tucker returned to the lineup.
This could be a legitimate breakout year for Warren if he returns soon and stays healthy the rest of the way, but just like last year's season-ending foot injury held him back, so too has this unfortunate head injury limited his progress by keeping him out for nearly a month.
Grade: C+
Devin Booker
There are no secrets about the future face of the franchise inside or outside the Suns organization — it's obviously Devin Booker, a 20-year-old phenom coming off an incredible rookie season where he became the team's No. 1 option on offense thanks to a plethora of injuries.
Calling what we've seen from Booker so far in 2016-17 a "sophomore slump" would be unfair and inaccurate, but he hasn't quite made the strides some were anticipating when he was named the team's starting shooting guard.
Averaging a team-high 19.0 points per game is great, and a significant improvement from last year's 13.8 points per game, but he's also playing 32.9 minutes per game and shooting just 42.4 percent from the field and 33.3 percent from three-point range.
Originally pegged as a knock-down shooter in the 2015 NBA Draft class, Booker has actually been more impressive in the other areas of his game, like driving to the basket, operating as the ball handler in pick-and-rolls and making the right pass with exemplary court vision. His three-point stroke looks as good as it ever has, but the shots just keep rimming out.
Booker still needs work on the defensive end, but offensively, he'd probably be better off if the Suns actually, you know, ran offensive sets, or maybe even plays designed to free Booker up for easy catch-and-shoot looks a la Klay Thompson. As of right now, Booker's offense primarily comes from post-ups to capitalize on his 6'7″ size advantage, and iso plays, where he ranks in the NBA's 75th percentile.
Games like his career-high 39-point night in L.A., or his 38-point outing in an overtime win in New Orleans (which included the step-back jumper at the buzzer to force OT) show the future is still bright for Devin Booker, but finding that night-in, night-out consistency is still a work in progress.
Grade: C+
Earl Watson
The Phoenix Suns were harshly criticized for not doing their due diligence in their search for a new head coach, hiring Watson in April when names like Tom Thibodeau and Scott Brooks were still available. The team's 22-game sample size is a small one, but when mixed with his time at the helm as interim coach last year, it's becoming glaringly obvious the criticism was warranted.
To be fair, the Suns don't need a championship-caliber coach right now. This is a rebuilding franchise in need of a coach that will properly develop the youth and set the stage for a new chapter and eventual return to the playoffs.
But aside from his non-stop talk about love and family that gets drowned out by the team's 6-16 record, has Watson really been that guy?
To his credit, Watson has made a few necessary calls in favor of the youth. Coming into the season, starting Devin Booker felt like the right move, but it wasn't guaranteed by any means.
Making the call to enact that change and move Knight to the bench from the start was a big one, and without all that team building over the summer, there'd probably be far more tension in the locker room of a team that's started the season so poorly.
Tucker has never been shy about praising Warren, but conceding his starting job to a third-year player took the same kind of "all for the greater good" buy-in that Watson preached all summer. Keeping Warren as the starter even after Tucker's return was another big call that may seem like a no-brainer to some, but represented a decent leap of faith in favor of the youth.
Alex Len still isn't starting over the 34-year-old Chandler, but promoting Marquese Chriss to the starting lineup in just his eighth game was another gutsy call. These moves all make sense in the context of the rebuild, but it was entirely possible the Suns could've entered the season with a veteran-heavy starting five of Bledsoe, Knight, Tucker, Dudley and Chandler.
That being said, it's hard to say Watson is a good coach outside of trying to foster a new culture. He's not playing Bender and Ulis enough, Chriss could use heavier minutes, and the Suns' offensive problems have been well-documented at this point.
The Suns rank in the bottom third in both offensive and defensive rating, they're 14th in the Western standings and they're one of the league's worst assist teams, ranking dead last in assist percentage, assist-to-turnover ratio and assists per game.
When you look over at a team like the Lakers, and observe what Luke Walton is extracting from a similar team built on youth and over-the-hill veterans, it's hard to avoid thinking about how much work Watson has to left if he wants to prove himself as a legitimate NBA coach.
Grade: D+
This article originally appeared on