Philadelphia 76ers: Will Stauskas Make The Cut?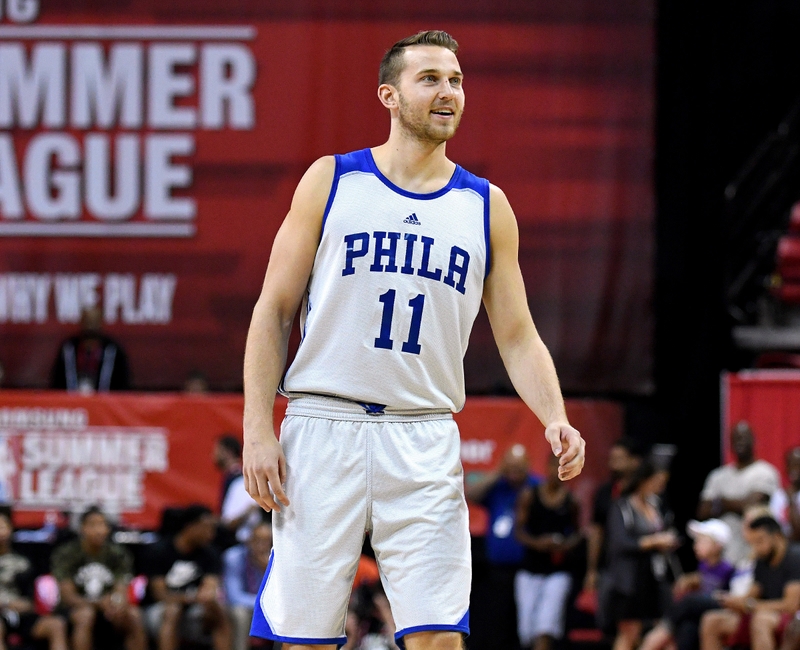 Nik Stauskas came into the NBA as an above average 3-point shooter. So far he has not lived up to that claim. Will he make the cut for the Philadelphia 76ers?
Nik Stauskas came into the league labelled as an above average 3-point shooter. So far he's definitely not lived up to that statement. He been underwhelming for the most part, displaying his potential from time to time, but it's very inconsistent. This inconsistency could cost himself on the final roster of the Philadelphia 76ers, which would be a major fall in his career.
He turned down the chance to play for Team Canada to instead fight for his roster space. He was mediocre at Summer League, against UDFA's and vet's fighting for roster spots, yet his shot was still inconsistent: 35 percent from the field, and 35 percent from the 3-point line. With Ben Simmons, Dario Saric and Sergio Rodriguez, Stauskas will mainly play off of the ball, so he will be relied upon on making open shots. If his shot doesn't start falling, it may be time to cut him and give a chance to someone like Anthony "Cat" Barber or Brandon Paul.
Also this offseason, Stauskas has got in multiple arguments with fans, blocking them and sending rude messages to Philadelphia 76ers fan pages on social media. He called one page "a joke" and telling multiple pages to "get rid of your page". This attitude towards fans can cause backlash, it's unlikely he'll have the same support from these select few fans and their followers.
If Stauskas doesn't show up at training camps then there's a very high chance of him being cut or traded. I would like to see Barber get a shot since they're tired of Stauskas chucking up shots.
Barber had a decorated college career but ultimately went undrafted in this summer's draft. His lightning speed and scoring ability could be key for Philadelphia and it gives them a different dynamic, if he's able to adapt.
Time will tell if Stauskas earn his place on an NBA roster or if he's another wasted talent.
More from The Sixer Sense
This article originally appeared on