Philadelphia 76ers Training Camp Roster Set
With a new training facility, 20 players are set to begin the 2016-2017 basketball preseason. That must mean that the Philadelphia 76ers' training camp roster is set.
It's nearly THAT time.
While many of us have satiated the need for sports with the NFL season, there is something missing. Basketball is yet to betgin. Thankfully, that will change very soon. In fact, the signs of basketball season beginning are starting to show up. The strongest indicator is the release of the training camp roster by the Philadelphia 76ers.
Check the training camp roster ⤵️

[ 📝 » https://t.co/PvTwoNRHhl ] pic.twitter.com/IiWxybPY6H

— Philadelphia 76ers (@Sixers) September 24, 2016
And so, now that we know WHO will be on the team, we simply need to determine WHERE they will play and how well when they do.
With a new season, and so many new faces, it would be an insult not to identify these players, speculate on the position and role they will play on the team this year, and assess who will and will not be on the roster come starting day.
The challenge with the roster this year is the abundance of versatile players.  From Ben Simmons to Jahlil Okafor to Robert Covington to Jerryd Bayless, determining who will play which traditional role is difficult.  Many of the players on this team can thrive in multiple positions.
But we are undaunted, and will make every effort to slot each player into the most likely roster spot come opening day.
CENTER
Joel Embiid, Nerlens Noel, Jahlil Okafor
We know the center position will be a combination of Jahlil Okafor, Nerlens Noel, and Joel Embiid.  Each could start on the team, and for many NBA teams.  But the Philadelphia 76ers were unable to find a satisfactory trade opportunity.
How will that translate into playing time this year? Well, Nerlens Noel doesn't see how this can work.
You see, it's a foregone conclusion that Joel Embiid will get as much quality minutes as he can handle this year.  After two years delay, the Philadelphia 76ers will push him to see if he can handle NBA competition, handle the load, and is as good as his reputation.
Beginning the season, that will likely mean every other game and perhaps as few as 20 minutes per game.  The remaining work at center will be doled out to both Nerlens Noel and Jahlil Okafor. Ideally, the Philadelphia 76ers will focus on one or the other after the first several weeks as the primary alternate.  However, don't look for that type of conviction to come from head coach Brett Brown very early.
Ultimately, the 76ers may use playing time for either one as a marketing tool to drive up interest in a player who has caught the eye of an NBA team.  We know that this season is Nerlen Noel's contract year, as well as a breakout opportunity for Jahlil Okafor.  That simply means that there will be tremendous pressure to get all three players onto the floor.  However, there is some belief now that the team will develop Jahlil Okafor as a power forward, and focus on defense by giving Noel the lion's share minutes at center.
However the team handles it, there will be a lot of drama and second guessing.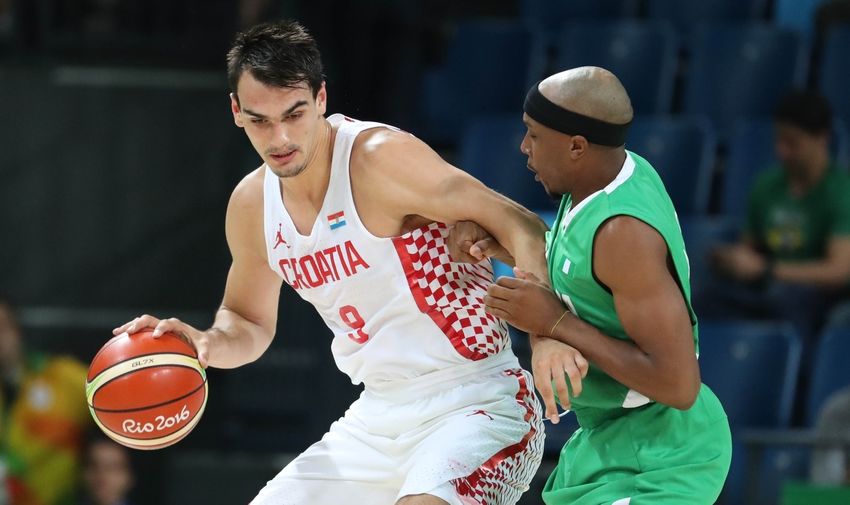 POWER FORWARD
Elton Brand, Richaun Holmes, Dario Saric, Shawn Long, Jahlil Okafor
While much of the preseason focus has been over the center position, the real competition will likely happen at the four. Why do I say that?
Veteran Elton Brand and second year Richaun Holmes are the most likely to be primarily power forwards, but neither will likely start.  That will fall to either Dario Saric or a migrating Jahlil Okafor.
Initially, I expect Saric to get the starts and the majority of quality minutes as Okafor develops his shots and defensive assignments at the four spot. However, as he learns the position and develops, I can see Brown alternating Okafor and Saric starts.
With just 15 positions, it's likely that the team will carry just three players per position.  If Okafor fills a third spot at the five, that translates into the team carrying Brand, Holmes and Saric.
Shawn Long has the uphill battle to make the roster, but I'm not prepared to write him off just yet.  While Richaun Holmes showed strong improvement in summer league play, Shawn Long was equally as impressive.
Holmes averaged 23.8 minutes, 9.5 points, 5.7 rebounds, 2.5 blocks, .3 assists and 1.0 steals per game while shooting 57.1 percent from the floor.   Long averaged 12.0 minutes, 9.0 points, 3.3 rebounds, 1.3 blocks, .2 steals and .2 assists per game while shooting 66.7 percent from the floor.
While Holmes is listed at 6-foot-10, Long has actually grown from 6-foot-9 to 6-foot-11 now.
This position may find some of the fiercest competition of any position on the team.
SMALL FORWARD
Ben Simmons, Robert Covington, Jerami Grant, James Webb III
It's a forgone conclusion that Ben Simmons will start for the Philadelphia 76ers. But where? As of this moment, he would like fill the small forward role.  But if he plays power forward, simply exchange Dario Saric's name with Simmons and you've corrected the projection.
Simmons is a swiss army knife. He shoots, rebounds, passes, blocks and can steal the ball. He runs the team this year, as he prepares to assume the point role.
This is a position that is ripe for someone to step up.  As of this moment, the reserve battle will be behind bargain Robert Covington and fresh from Team USA Select Jerami Grant.  That's simply as of now.
Covington brings that two-way potential that head coach Brett Brown loves to tout on this team. Even while he slowed in a slump offensively last season "The Lord" continued to improve defensively. Covington was the second player in scoring offense remaining from last year's team. However, his production will improve dramatically this year as the team adds scoring threats, and he gets better looks as a result.
But defense is the wheelhouse of Jerami Grant. His is the Nerlens Noel role, only from the three slot.  In fact, he led the team in blocks last year. You can figure on an even better defense from him this season.
The wildcard is James Webb III.  While unlikely to make the roster this season, he will most likely have the opportunity to sign on with the Delaware 87ers and remain on the team's radar.  As Simmons will eventually assume a point guard role, the team will need to fill the void. Webb's 5.4 points per game on just 13 minutes may not earn him a spot on this crowded roster.  But it should be enough to keep him on the team's radar.
SHOOTING GUARD
Gerald Henderson, Nik Stauskas, Hollis Thompson, Brandon Paul, Timothe Luwawu-Cabarrot
Next to the record, the team's greatest disappointment last season was the shooting guard role. Manned by Nik Stauskas, Hollis Thompson, and Isaiah Canaan, the position routinely turned into a clinic of what not to do on defense. Now don't believe that Brown wants his shooting guard to challenge each shot at the perimeter.
He doesn't.
What we expects is for his wings to annoy the opponent, but shut them down when they make a move towards the basket.  If you want to fault Jahlil Okafor's defense from last season, you will want to start here.
The fix begins with free agent Gerald Henderson.  I love this signing.  Henderson brings passion back to his hometown at a critical moment in the team's development. Rather than fearing the fans, he will tap into the emotions in the stands and channel them into his teammates on the court.
Another player I love is Timothe Luwawu-Cabarrot.  He is the highest rated two-way player at wing in this draft, and his summer league work showed that potential. He practically shut down the Los Angeles Lakers' Brandon Ingram in their matchup.
Rounding out the position are Hollis Thompson, Nik Stauskas, and Brandon Paul.  While a tie-breaker would likely end up with Thompson remaining, the spot is wide open at the moment. Stauskas gets another chance to deliver this pre-season on his potential, while Brandon Paul may slip in after a solid summer league performance.
POINT GUARD
T.J. McConnell, Jerryd Bayless, Sergio Rodriguez, Anthony Barber
The point guard role is wide open. After all, the heir apparent Ben Simmons will start the season at point forward. While that means that the team needs a player who can play some with the ball, it essentially translates into a hybrid guard role – nearly a second shooting guard.
For now the favorite to start is Jerryd Bayless.
#Sixers Brown: 'You really have some talent, albeit young & experienced. If season started today, we would give Jerryd Bayless the ball.'

— Tom Moore (@tmoore76ers) September 15, 2016
But that is at this moment. Competition for the point guard role will be incredibly fierce.  Coming in as veteran free agents are Bayless and former Real Madrid's Sergio Rodriguez.  Rodriguez, signed after Bayless, was inked to a one-year deal. That would motivate a basketball player to try to earn a second contract.
Meanwhile a battle for the final spot on the roster is likely to be fierce between T.J. McConnell and Anthony "Cat" Barber.  While McConnell is coming off a surprisingly good rookie campaign, there is a growing consensus that Cat Barber will prove to be a better hybrid guard.  Since the position will eventually require a player who can play without the ball, Barber could eek out a spot on this team.
Starters On The Bench
One of the most difficult aspects of the Philadelphia 76ers last season was the absence of true starters on the team. While you could argue about the center position, no other position was filled with NBA starting caliber talent last season. Some players held their own, some impressed, and some disappointed. But all gained valuable experience.
The essence of a championship team in synchronizing the best players possible.  Have the Philadelphia 76ers done so?  Time will tell, but at this moment it appears to be very optimistic.
While the team will see a surge in quality among the starters this season, an even greater gain will be felt at the Sixer's bench.  At each position, there will be several players who could start the season.  When Brett Brown rotates his players (and you know he loves to rotate players), the tempo will remain fast, the spacing will remain intact, and the passing will remain accurate.
This is an important season for the team.  Improve, and the momentum will bring better talent their way. Remain idle, and the window of getting better will close.
The Philadelphia 76ers, much like other professional sports teams in Philadelphia, are due to find more success this season.  How much more remains to be seen.  But the city will get its first taste of a basketball team on the rise.
This article originally appeared on