Philadelphia 76ers: Trade Jahlil Okafor and Nerlens Noel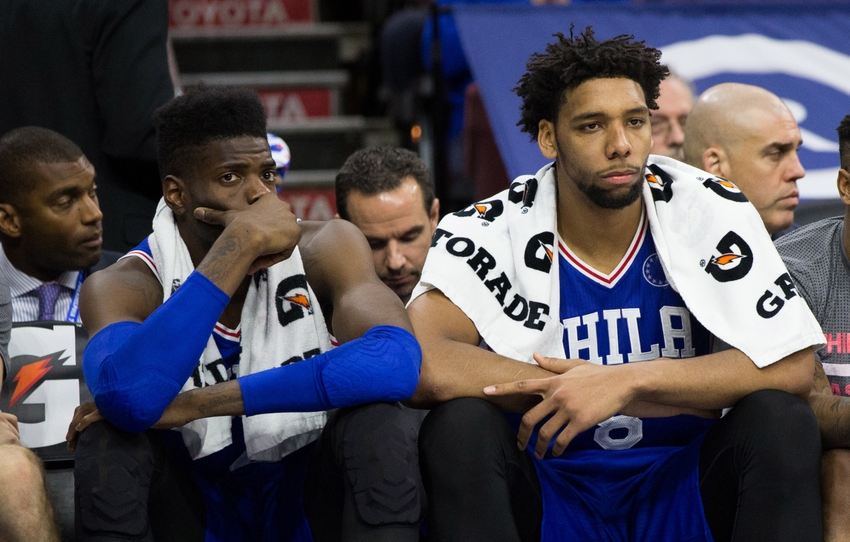 Despite heated debate as to which big man is the best fit long term, perhaps trading both Jahlil Okafor and Nerlens Noel is the Philadelphia 76ers' best bet.
After failing to make an impact on the court together last season, the thought of trading either Jahlil Okafor or Nerlens Noel by the 2016-17 trade deadline has seemed like a foregone conclusion for the Philadelphia 76ers. Joel Embiid has cemented himself as the team's cornerstone moving forward, and there's not enough minutes to spread between two extraneous bigs who are classified as starting caliber.
With all that said, the proposition of trading both has never really been a piece of the conversation.  The predetermined idea that many have decided upon is that whichever big man isn't traded will be the long term backup to Embiid. That, however, doesn't necessarily provide the best closure to the situation moving forward.
As this season progresses and Embiid continues to dominate the conversation at the five spot, it's beginning to seem like neither Okafor nor Noel is really a great fit with the Sixers' organization. Noel has hinted at his discontent for months now, and Okafor's play as Embiid's second fiddle has been, at the most, underwhelming.
With injury bogging down his early campaign and no real spot on the rotation, trading Noel seems like a given at this point. He's not really a part of their future plans from the looks of it, and I'd be genuinely surprised if that notion were the change.
Leaving Okafor as the backup, however, seems undesirable in the long term. There are some fans who adore his play style and have been jockeying for his cause since the team drafted him in 2015, but  his game really doesn't fit well — neither alongside Embiid or behind him.
In a league that has become increasingly perimeter-oriented, defensive versatility is a must to develop into a star big man. You have to be able to move your feet and make smart defensive plays around the basket to excel, and Okafor simply can't do that. His lateral quickness is mediocre at the absolute best, and he constantly wonders into foul trouble with terrible fundamentals on that side of the ball.
His defensive awareness is typically among the worst, if not the worst, on the court, and it's a sizable liability as a result. Embiid has locked down the starting rotation as an elite rim protector given his physicality, but carrying the second unit behind somebody who gives up such an easy route to the basket is a risky route to take for a team looking to compete.
Okafor's offensive game has also fallen significantly short of expectations. When he's not able to make a strong isolation move the rim, it often results in either a turnover or a jam in the interior. The ball doesn't flow around the court as fluidly when Okafor is commanding such a ball-heavy roll on the low block, and it can slow down the offense quite a bit in the second unit.
In terms of an Embiid-Okafor combination, that doesn't exactly work out either when you analyze the logistics. While the spacing certainly isn't the issue, the fact that Okafor relies so heavily on iso-moves in the post takes away from what Embiid is able to do on that side of the ball when he's playing within the flow of the offense on the outside and commanding his own isolation opportunities.
With Okafor being so heavily lauded as a third overall pick last year, there's still trade value there–and he's likely to demand a pretty hefty salary when his rookie contract is eventually over. He has several major liabilities that drag the overall effectiveness of the team down, and he doesn't make much sense financially behind Embiid either.
That somewhat overzealous appreciation of the youngster's interior scoring presence does present it's benefits, however–on the trade market. Noel's rim protection is an obvious desire for a number of teams, but there would likely be no shortage of suitors for Okafor should his name be throw into the trade market.
We saw the Boston Celtics heavily rumored as a team that was enamored with Okafor this offseason, while other teams looking to rebuild their frontcourt could wage a pretty hefty price for Okafor's upside around the rim.
He's still young at just 20 years of age, and could be the type of young piece that some teams believe they can develop into an elite presence on the low block. His throwback style of play does have room to succeed in today's league–just look at Marc Gasol–it's simply a matter of mastering the fundamentals and finding a route to defensive effectiveness.
If the Sixers were to throw both Jahlil Okafor and Nerlens Noel into trade negotiations at the deadline, there would likely be ample options. With neither having what I'd consider a strong niche with the team long term, any return that helps reassure backcourt depth or even bring in a more fitting, financially-manageable backup at the center spot could be worthwhile.
The team already has a capable backup in Richaun Holmes who can provide two-way versatility in a more affordable manner long term, while the likelihood of seizing two lottery picks in a loaded 2017 NBA Draft class doesn't leave names like Harry Giles or Lauri Markkanen out of the conversation.
The Philadelphia 76ers are finally finding an identity moving forwards, and the likes of Joel Embiid and eventually Ben Simmons are set to be the catalysts that facilitate their rise back to legitimacy in the Eastern Conference. In what was an asset-driven rebuild under Sam Hinkie, both Noel and Okafor were selected based on talent — not fit.
Now, with the team beginning to turn the corner in more ways than one under Bryan Colangelo, it's time to cash in on some of those assets. Noel's case is fairly clear, but Okafor hasn't done anything to secure a real place in Philadelphia's overarching plans past this season. It's time both big men where traded elsewhere.
More from The Sixer Sense
This article originally appeared on