Philadelphia 76ers: Top 5 Free Agency Targets
Simon Smith/FanSided via Hoops Habit

Fansided
In the midst of a promising campaign and with a boat load of salary cap space, the Philadelphia 76ers could be serious players during this summer's free agency period.
Following a combined 47 wins over the past three seasons, including just 10 last year, the Philadelphia 76ers have already seemingly eclipsed all expectations. With a 20-34 record, the Sixers are just five games behind the eighth place Detroit Pistons in the hunt for the playoffs.
Having gone through years of struggle and sacrifice throughout the Sam Hinkie Era, the 76ers are finally starting to see some light at the end of the tunnel. And when this year's No.1 overall pick Ben Simmons makes his debut shortly after the upcoming All-Star break, the future of the Sixers for years to come will be there for all to see.
Aside from the outstanding job head coach Brett Brown has done through these recent challenging times, the most profound reason for the Sixers' march up the standings this season has been the impact of center Joel Embiid.
Despite appearing in only 31 games, Rookie of the Year favorite Joel Embiid's impact has been profound. The Sixers have been a +3.2 points per 100 possessions with Embiid and on the floor, and -10.8 with him off the court.
While the playoffs are an outside shot and would be an outstanding accomplishment, the sight of Simmons and Embiid on the floor together remains what Sixers fans will be looking forward to most this season.
Once the season does end, the Sixers are again going to be in a great position thanks to the work Hinkie put in during his nearly three years in charge of the team's basketball operations.
Currently, the Sixers have just under $48 million on the books for next season. Considering the salary cap for next season is estimated to be $102 million, this represents enormous scope with which to work for the new president of basketball operations, Bryan Colangelo.
Here is a list of the free agents the 76ers should most aggressively pursue this summer.
5. Serge Ibaka, Orlando Magic
Age: 27
2016-17: 15.1 PPG, 6.8 RPG, 1.6 BPG, 48.4 FG%, 38.5 3P%, 30.6 MPG
As currently constituted, the Sixers are certainly stocked on the frontline. Aside from Embiid, the Sixers also have lottery draft selections in Nerlens Noel, Jahlil Okafor and Dario Saric. Add to this current starting power forward in Ersan Ilyasova and there is no shortage of options for coach Brown.
The only problem is that each of these players has noticeable flaws. Noel is limited offensively, Okafor struggles defensively and Saric is still young and developing. And while Ilyasova has been a positive acquisition this season, he is now somewhat of a journeyman, currently playing on his fifth team in the past three seasons.
Ibaka provides a terrific option as the Sixers' stretch-4. Paired up next to Embiid, Ibaka would give the Sixers a formidable defensive lineup. Still just 27, Ibaka has already been named to the NBA's All-Defensive First Team on three occasions, and has twice led the league in blocked shots.
Newly installed Magic head coach Frank Vogel recently observed:
"There's no question he's an elite big man. He's one of the best two-way big men in the game. No other way to put it with the way that he shoots the ball from the perimeter, he's scoring in the post and he's really trusting the pass. And he's a force on the defensive end.''
Furthermore, his current three-point conversion rate of 38.5 percent is exceptional. With the ability to spot up from deep and also work on the inside, the flexibility Ibaka would bring the Sixers would be immeasurable.
Currently in his eighth season in the league and with a trip to the 2012 Finals under his belt, Ibaka would be an excellent addition to an emerging Sixers group.
4. Otto Porter, Washington Wizards
Age: 23
2016-17: 14.5 PPG, 6.7 RPG, 1.5 SPG, 53.3 FG%, 46.4 3P%, 34.0 MPG
Porter is currently enjoying his most productive season in the league, and has been a key factor in the recent resurgence of the Washington Wizards.
Now in his fourth year, Porter leads the league in three-point percentage for players attempting at least three per game. At 6-foot-8 and possessing tremendous length and athleticism, Porter represents the prototypical "3-and-D" modern player.
Recently, his new head coach Scott Brooks noted:
"I think as this season goes on and his career goes on, I think he can be a shooting four also. He's just not going to be a three. We can add to his game and put him at the four spot because I think when you have a guy who can shoot threes at the four, it kind of changes the whole dynamic of your offensive game."
The current incumbent at the position, Robert Covington, has certainly improved as the season has progressed. But overall for the season, Covington is shooting at just 37.9 percent overall from the field and 32.0 percent from behind three. Granted, Porter has had the luxury of playing alongside All-Star point guard John Wall on a team that is now third in the Eastern Conference standings.
But Covington is 26, while Porter is still just 23 and still growing as a player. Placing Porter's length alongside the likes of Embiid and Simmons would provide endless nightmares for opponents.
The main obstacle standing in the Sixers' way is likely to be how much they are willing to spend. Coming off his initial rookie contract, Porter is likely to field multiple offers close to the maximum allowable.
Therefore, Colangelo and his staff will need to evaluate just how high Porter's ceiling is moving forward as he heads toward restricted free agency.
3. J.J. Redick, Los Angeles Clippers
Age: 32
2016-17: 15.4 PPG, 44.4 FG%, 42.3 3P%, 28.5 MPG
In keeping with the shooting theme, veteran J.J. Redick would be an outstanding addition to a young, up-and-coming team. And with the future of Los Angeles Clippers somewhat uncertain, this is where Redick comes into the picture.
Currently in his 11th season, Redick has been a picture of consistency since arriving in Los Angeles four seasons ago. A career 41.3 percent three-point shooter, Redick would help the Sixers in a number of areas. His elite shooting is something that doesn't currently feature on the Sixers' roster. His significant playoff experience would be an invaluable asset moving forward.
As a member of the Orlando Magic, he made a trip to the NBA finals in 2009. His experience in Los Angeles has seen him make a trip to the playoffs each season. Most of all, Redick has proven to be one of the elite shooting guards playing off the ball. With Ben Simmons soon to return and potentially a new point guard on the scene, Redick's attention to detail in this area of the game would be most welcome to head coach Brett Brown.
Teammate Austin Rivers recently noted:
"And I don't know many shooters better than J.J. Like there is Steph Curry, Klay Thompson and J.J. as far as pure shooters go."
The only downside from the this season has been Redick's conversion when teammate Chris Paul has been out of the Clippers' lineup. With Paul at his side, Redick has shot 46.1 percent from the field and 44.9 percent from behind three. In the 15 games Paul has been unavailable, Redick has converted at 40.2 percent from the field and 37.0 percent from downtown.
These are all factors that'll need to be considered when deciding whether a player like Redick is a good fit for the Sixers moving forward. His age will certainly come into the equation, as will his asking price.
But keep in mind that this past offseason, the Sixers made a two-year, $30 million contract offer to veteran San Antonio Spurs veteran guard Manu Ginobili. Ginobili not only has a long-standing friendship with coach Brown from his days with the Spurs. But also, his big game experience, both in the NBA and internationally, would have provided an invaluable learning tool for Embiid, Simmons and Co.
Therefore, investing in Redick could be a very real option for Colangelo and his team.
2. Jrue Holiday, New Orleans Pelicans
Age: 26
2016-17: 16.4 PPG, 7.4 APG, 3.9 RPG, 46.5 FG%, 39.4 3P%, 32.0 MPG
Jrue Holiday's departure from Philadelphia in 2013 marked the beginning of the Sam Hinkie era. Despite having just completed an excellent season and being named an All-Star, Holiday was deemed expendable under Hinkie's vision for the future of the Sixers.
Now in his fourth season with the New Orleans Pelicans, Holiday's time in Louisiana has been highly frustrating, via both injury and an under performing team. Prior to this season, Holiday had completed just 127 of 266 regular season games. This season commenced in unimaginable circumstances, where Holiday missed the first 12 games of the season to be with his wife Lauren, who was undergoing brain surgery.
It's a credit to Holiday that he has responded in such a manner this season to be posting some terrific numbers. With Holiday in the lineup this season, the Pelicans are 19-20. Without him, they are 2-13. And having missed so many games in recent seasons due to a myriad of leg injuries, Holiday' confidence has risen as the season has progressed.
Notably over the last 10 games, Holiday has posted 23.1 points, 8.3 assists, 5.2 rebounds and 2.1 steals in 36.7 minutes per game. Through this period he has shot 56.2 percent from the field and 43.8 percent from downtown. As teammate Anthony Davis stated recently:
"Jrue has a great feel for the game. Whenever he gets going, we just kind of let him go, knowing that he'll make the right play."
In his eighth season in the league and still just 26, Holiday would represent a terrific addition to the Sixers. He would complement the ball-handling skills of Simmons with his ability to also play off the ball and hit the open shot. A return to Philadelphia to recommence his career is another attraction for both the Sixers and Holiday.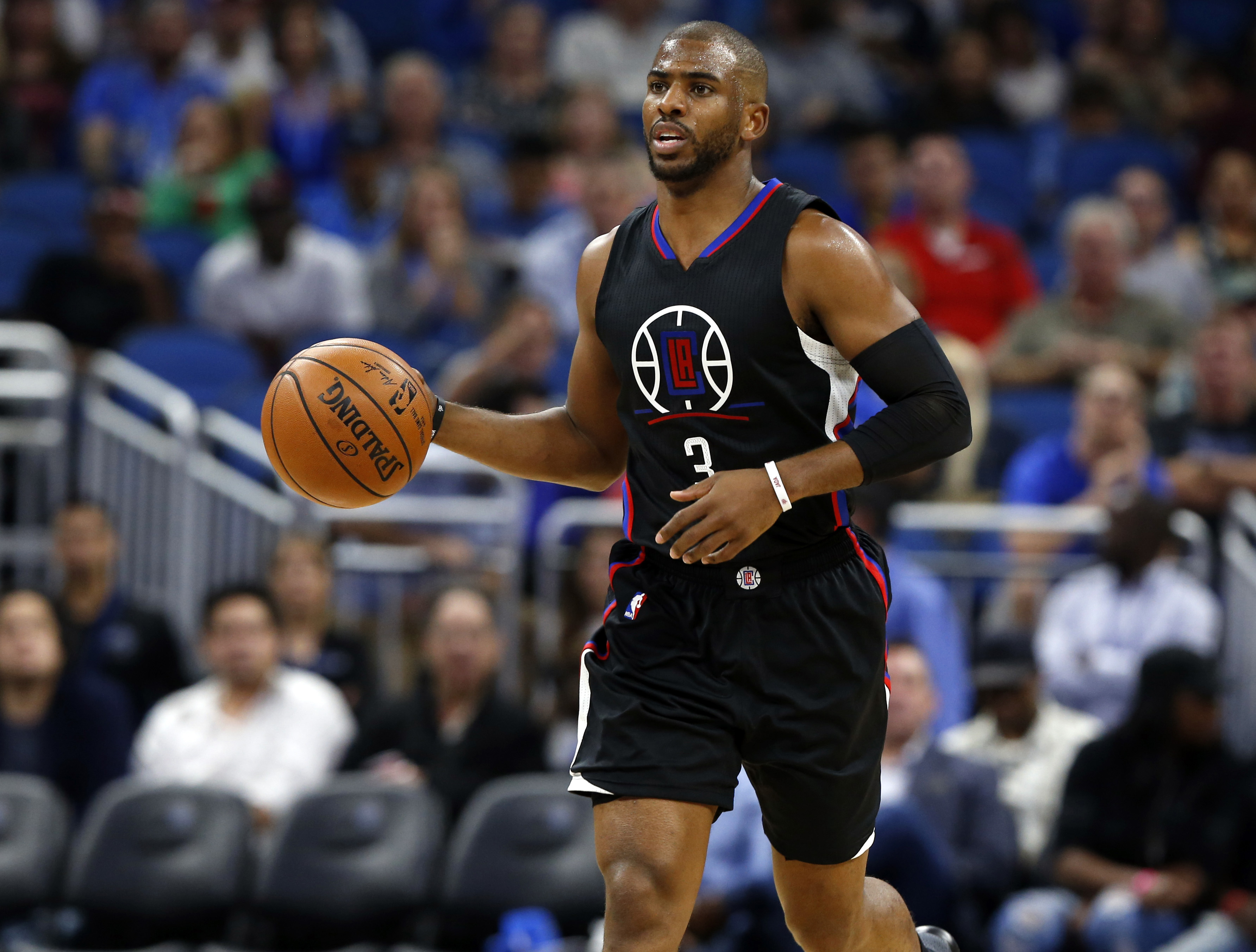 1. Chris Paul, Los Angeles Clippers
Age: 31
2016-17: 17.5 PPG, 9.7 APG, 5.3 RPG, 2.3 SPG, 47.1 FG%, 39.5 3P%, 87.6 FT%, 30.9 MPG
For the best part of the last decade, Chris Paul has been ranked among the absolute elite point guards in the game. A nine-time All-Star, four-time All-NBA First Team selection and two-time Olympic gold medallist, his resume speaks for itself.
Following a recent vintage performance by Paul, his head coach Doc Rivers had nothing but glowing praise:
"In today's world, so much is talked about, what he's doing gets lost. He's one of the greatest to ever play the game. I don't even think people appreciate it a lot. But he is. You recognize that."
Currently out with a thumb injury, his impact on the Los Angeles Clippers this season has been significant. the Clippers have been +360 with Paul on the floor, and -178 when he's off the floor. Presently, the Clippers are placed fifth in the Western Conference standings questions. And already, questions are being asked as to the team's future moving forward.
Paul will be 32 at the beginning of next season. However, his play has indicated that he has several high-level seasons left. Pairing Paul with Embiid, Simmons, Saric and potentially another big-name perimeter scorer and the Sixers would have the makings of a team that could make some noise.
The question's from Paul's perspective would be:
How much he enjoys living in Los Angeles?
Does he feel the Eastern Conference would be the wiser alternative to challenge for a title?
Could the Sixers be in a position to challenge while he's still a prime contributor?
Therefore, it would be up to Colangelo and his staff to draw out a blueprint of success to appeal to Paul this summer.
Prime Targets
The free agent targets listed here consisted of:
Player types the Sixers need the most; and
Players that are realistically obtainable.
Potential free-agents such as Stephen Curry and Kevin Durant of the Golden State Warriors are most likely to be unattainable. Part of the best record in the league, it is extremely unlikely the Warriors would fail to re-sign them over the Sixers. Another All-Star free agent, Blake Griffin of the Los Angeles Clippers, will be just 28 at the next of next season and will be a target for a number of teams.
But Griffin's game lack of perimeter shooting is not likely to attract a team that is trying to address this area of the game. Aside from the targets listed here, there are a number of other players who could fit the bill if the Sixers were unable to attract those listed to the Wells Fargo Center.
Kentavious Caldwell-Pope of the Detroit Pistons is an emerging shooting guard who is a legitimate threat from downtown. Patty Mills of the San Antonio Spurs is a terrific option if the Sixers were looking to build up their overall depth. Mills' relationship with coach Brown from his days in San Antonio makes this a distinct possibility.
Another veteran option could be James Johnson of the Miami Heat. Despite playing off the bench all season, Johnson has enjoyed a career-year and would prove to be a terrific complement next to Embiid playing at the 4-spot. His flexibility to score from all over the floor and defend multiple positions makes him a serious alternate acquisition for the Sixers.
Whichever direction the Sixers decide to head, it's going to be a busy offseason nonetheless — and the first real test of the Colangelo era.
This article originally appeared on