Philadelphia 76ers: TJ McConnell's Future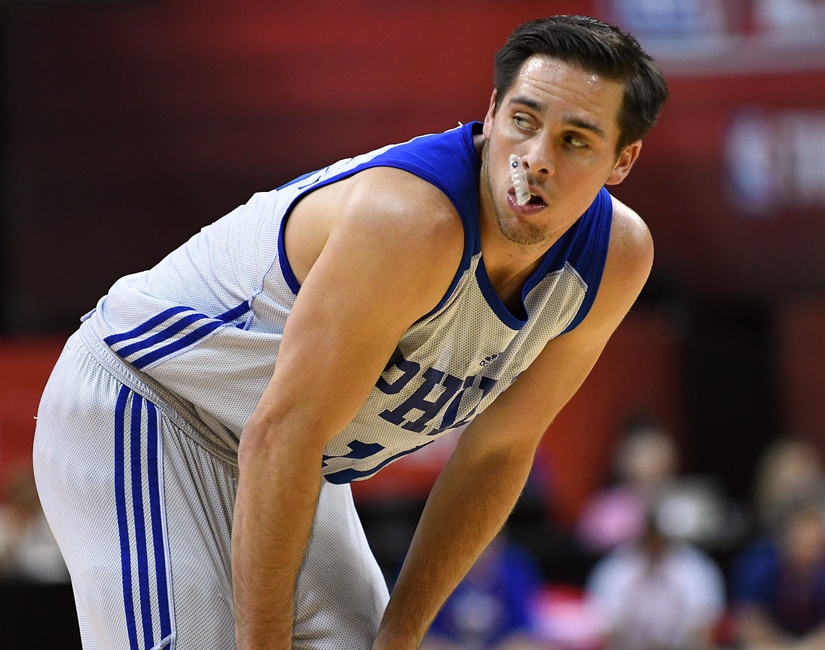 Coming in last season as an undrafted player, T.J. McConnell stole the hearts of many Philadelphia 76ers fans, but where does his future lie with the 76ers?
T.J. McConnell never really had to worry about losing his position on the Philadelphia 76ers last year because Sam Hinkie was okay with the Sixers losing. Hinkie loved giving fringe NBA players a chance (see Robert Covington, Jerami Grant, Hollis Thompson). But with Bryan Colangelo now installing a winning mentality, does McConnell fit with the new acquisitions at point guard?
I don't think many expected Rodriguez to transition this well back to the NBA. Although he played in the NBA many years ago, he's spent the last few years in Spain. It was a rather surprising signing by Colangelo this offseason, but an interesting one to say the least.
More from The Sixer Sense
Rodriguez's style of play is of a more mature T.J. McConnell — great playmaker and a decent 3-point shooter. Both have consistency problems, but it's clear to see that Rodriguez is far more prepared for the NBA. T.J. has struggled tremendously from three this year, only shooting a low 10 percent. He seems reluctant to shoot at times, maybe that's his style, or he may lack confidence in his shot.
We have only seen 15 minutes of Jerryd Bayless in a Sixers uniform, but on paper he can provide more than McConnell. We know that Bayless can bring lights out shooting, he shot 43 percent from three last year. His experience will also be of value to this young, inexperienced team.
The return of Bayless will only drop McConnell further down the point guard depth chart. It's hard to see McConnell get consistent playing time if everyone stays healthy. Given the new direction of the team, it's hard seeing McConnell get in ahead of experienced NBA veterans.
2017 Draft + Free Agency
If the Sixers attain another top 5 pick, it's almost a guarantee that they go with a point guard. Whether that be Markelle Fultz, Dennis Smith Jr., De'Aaron Fox or Lonzo Ball, there are a lot of options for the Sixers. There's plenty of choice, all of whom are better than McConnell and offer much more upside. Guard stability is the only big need, once that is sorted the 76ers are set for the future, considering all goes well.
The 76ers will also have an abundance of cap space. Maybe the middle to top tier talents may be interested in playing with Joel Embiid and Ben Simmons. The Sixers will be in a different position than last free agency because they have now proved that they are out to win, and that may attract more players from the market.
Overall, it's hard seeing TJ McConnell getting significant playing time next season since the point guard depth chart may be loaded with talent. McConnell may be sent down to the Delaware 87ers, or may even end up getting cut. It will be sad to see him go, but that's just how the business of the game works.
This article originally appeared on