Philadelphia 76ers Should Consider Starting Nik Stauskas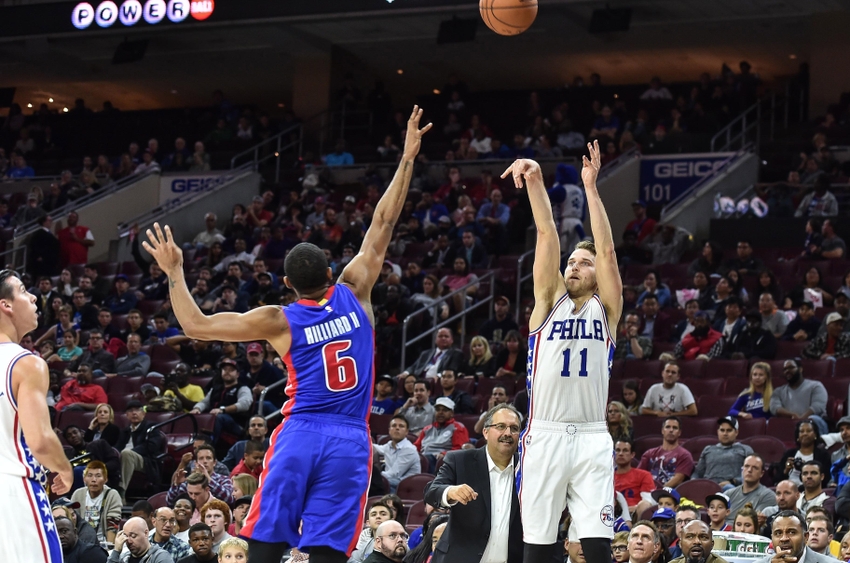 Nik Stauskas' improvements as of late should put him into a consideration for a starting role — temporarily, at least.
The Philadelphia 76ers' season thus far has been largely filled with positives. While a 3-10 certainly isn't ideal by most standards, it's a vast improvement over what we've seen in recent years under the Hinkie-induced process, and a number of individual improvements have been made throughout the roster. Joel Embiid has stolen the proverbial show from that standpoint, but one name has also stood out when watching the team as of late — Nik Stauskas.
The former Michigan star has stumbled through his first couple of seasons in the league, both with Philadelphia and the Sacramento Kings prior to that. His shooting was largely inconsistent, and he was never able to emerge as the type of lottery-level scoring talent that was expected when the Kings drafted him 9th overall back in 2014.
Stauskas' struggles had progressed to the point where he wasn't considered a lock to make the final roster this offseason, and many believed additions like Gerald Henderson and Jerryd Bayless could've pushed him out of the regular rotation.
Now, 13 games into the season, I'm advocating for something entirely different. Nik Stauskas needs to start.
While this may seem like a gargantuan leap of faith in the minds of some, the move doesn't seem all that radical when you analyze the situation. Stauskas poured in 21 points off the bench in the Sixers' latest win over the Suns, and managed to put in 15 and 13 in their two contests prior.
On a team that has been overwhelmingly unpredictable from night-to-night with Embiid and Okafor's minutes limitations and the fluxuation of minutes for guys like Ersan Ilyasova and Dario Saric, Stauskas has found a way to be one of the few points of consistency for Brett Brown to fall back on. Covington is averaging just 7 points per contest this season, and shooting a rather awful 25 percent, both from the field and from beyond the arc.
Covington's abysmal offensive play has been a real liability so far this season, and his defense hasn't been nearly enough to really justify keeping him in the same role as the season progresses. Where Stauskas has made his most extraordinary improvements –confidence and decision making — Covington has regressed in sharp opposition, and the removal of a lackluster Covington for the upbeat, inspired play of Stauskas could be a really nice boost to the starting group.
This has been the season, so far, where Stauskas has begun to put the pieces together. His confidence has allowed him to effectively get to the rim without settling for ill-advised jumpers, and he's creating more ball movement and space working off of him as a result. He's making intelligent basketball decisions, and utilizing all the tools in his repertoire to create not only for himself, but open up the game for his teammates around him as well.
He looks like the type of well-rounded floor spacer that should continue to find extensive success alongside an interior presence like Joel Embiid, and the eventual return of Ben Simmons later in the year could feasibly improve the opportunities he's already exploiting.
We've seen Stauskas and Henderson share the floor at times this season already, and neither the defense nor the offense have taken any lumps during those time periods. Covington is a better defender than Stauskas in theory, but has lacked the energy and raw effort that we've seen Nik in turn provide on that side of the ball. Henderson is skilled enough to cover three-men as well, and the likes of Covington will still be a well-utilized asset off the bench — something that would ideally energize his play a bit.
And, with that said, this would by no means need to be a permanent switch. If RoCo is able to relocate his efficiency on offense, he could easily be reinserted into the starting rotation later on. As long as Stauskas' confidence is preserved, there's nothing major in terms of commitment or value that the Sixers are giving up.
It's a chance for Stauskas to further establish himself as a viable long term option, while also an opportunity for Covington to work with different personnel and see if he's able to regain some of his own confidence by hitting shots in the reserve unit — a place he's probably best suited when thinking long term.
Sauce Castillo has been the brightest of spots outside of the Embiid phenomenon this year, and he's well deserving of an increased role as a result. He has been a well-composed, effective two-way piece in a way we haven't seen these past few seasons, and is finally worth a legitimate go in the starting rotation.
More from The Sixer Sense
This article originally appeared on