Philadelphia 76ers Set of the Week: "Zipper Iverson Elevator"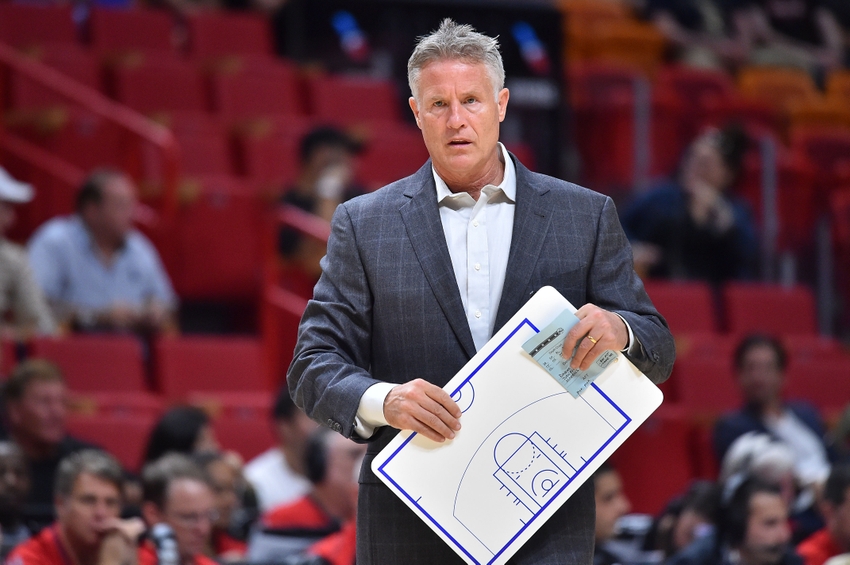 One of Philadelphia 76ers head coach Brett Brown's most used plays from three years ago resurfaced on Monday night against the Toronto Raptors.
Welcome! This is the first installment of a weekly post I'll be doing called "Philadelphia 76ers Set of the Week." Each week, I'll pick a play that Brett Brown runs during Sixers games and give you the name, how it works, [sometimes] its origin, and whether I think it is effective or ineffective for the Sixers.
First up in this series is a play called "Zipper Iverson Elevator". See the use of it in Monday night's game against the Toronto Raptors below:
Though this was the first time I've noticed it this year, this is a play we saw a great deal in years past from Brett Brown. Click here to see Brown's use of it from the 2013-2014 season.
How it works
The play will start with the point guard above either wing. The small forward will then make a "zipper cut" from the lane out to the 3-point line to receive the pass. The point guard will then make the "Iverson cut" from one wing to another. Note that these first two movements serve to occupy the attention of the defenders, but the Iverson cut also serves to create space for the shooting guard to catch the pass on the left wing.
The last and most crucial part of the play will be the Power Forward and Center forming the "Elevator Doors" to close on the shooting guard's defender and give him time to get off the shot. Notice how Terrence Ross gets squeezed between the two big men, leaving the red hot Nik Stauskas wide open.
This play originated with the Spurs several years ago, so Brown clearly kept this play in his back pocket when accepting the Philadelphia 76ers job.
The verdict
This play is extremely effective. As you can see from this example and the uses in past years, it consistently gets great room for the shooting guard to operate. It also can be used in a variety of ways and the elevator can be placed in various locations, so they're able to keep the defense guessing. Expect to see this play run for Stauskas, Robert Covington, or Hollis Thompson many times throughout the year.
More from The Sixer Sense
This article originally appeared on